TAMPA, Fla. — Tampa Bay Buccaneers offensive tackle Tristan Wirfs is still settling into a new position with the team.
But that's OK. All part of the process for the former All-Pro right tackle.
Head coach Todd Bowles has seen improvement each day in Organized Team Activities (OTAs) regarding Wirfs' new spot at left tackle.
"He's adjusting, so far, pretty [well]," Bowles said. "We're out of pads – you've got to get in pads so he can get the feel for it. His footwork is good. We like what we see over there thus far."
He was one of the most dominant players in the NFL as a right tackle ever since he entered the league in 2020 and was also highly regarded by his former teammate Tom Brady.
Still, Wirfs does not mind switching positions as long as it means keeping the winning culture alive in Tampa Bay.
"I'm just taking every day as an opportunity to keep getting better and to keep building that muscle memory over there," Wirfs said. "I told them, 'I'd do whatever you guys need me to do – if this is what you guys think is best, then that's what I'll do.'"
This isn't the 24-year-old's first rodeo playing left tackle. He played that spot briefly during his time at Iowa. However, just like how it's challenging for most right-handed people to start writing with their left hand, Wirfs is finding the same unbalance in OTAs.
"Everything is backwards – getting used to throwing my left hand instead of my right and not throwing with my right and opening up," he said. "Or my weight distribution – I always used to keep my weight in my left leg, now I want to keep it in my right. It's so similar – you're doing the same stuff – but it's all just flipped."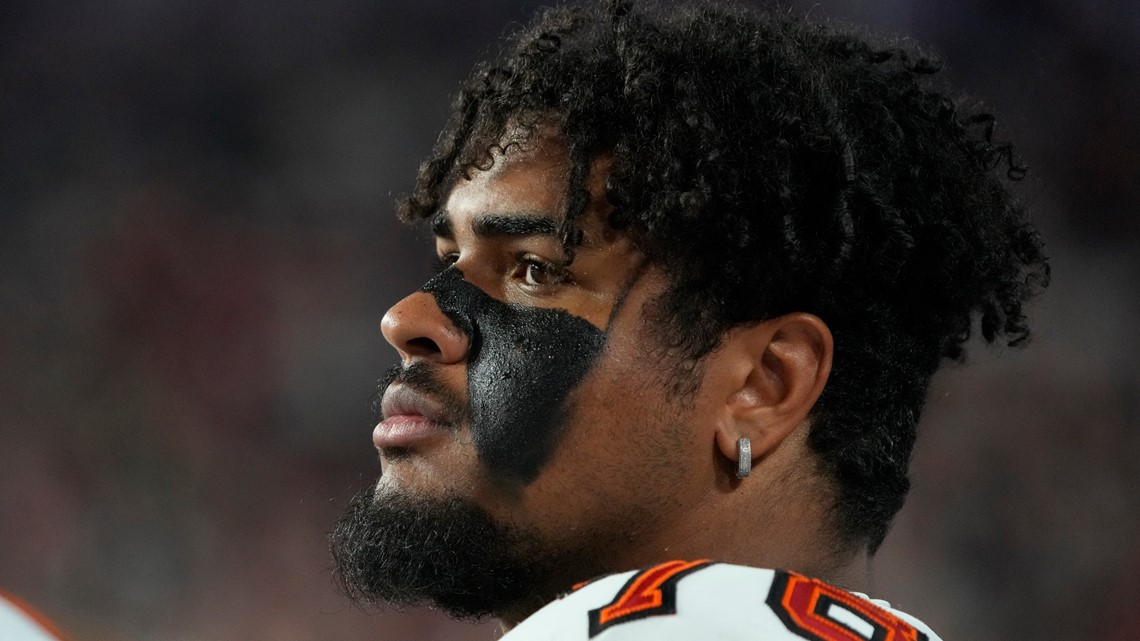 But practice makes perfect for the 6-foot-5 tackle, and being surrounded by his fellow teammates — both old and new faces — has pushed him to test his boundaries.
"I think the biggest thing is going to be my hands because my right hand was my bread and butter and [my left hand] just kind of sat here," Wirfs said. "Now, I've got to wake it up and get it to do something. My set was good, now I've got to work on my vertical set and getting that back."
His hard work out in the hot sun at One Buc Place has been noticed by other players, specifically outside linebacker Joe Tryon-Shoyinka.
The third-year NFL player said he knows Wirfs can still play at an elite level as a left tackle, but it's what's between his ears that will get him there quicker.
"He's still big as hell, still 350 pounds," Tryon-Shoyinka said jokingly. "He's going to be alright, he's going to be straight. For him, it's definitely a mental thing. He'll be straight, [there will be] no drop off."
With Wirfs' move to the left side, second-year offensive lineman Luke Goedeke is expected to be the frontrunner to fill that void. Ryan Jensen will keep his spot at center while Aaron Stinnie, Nick Leverett, Matt Feiler, Robert Hainsey and rookie Cody Mauch will battle it out for the remaining positions.
All players will be required to attend mini-camp starting next week as Bowles confirmed he is not expecting anyone to be sidelined.
Tampa Bay will play its first preseason game on Friday, Aug. 11 at Raymond James Stadium against Pittsburgh, while the season opener is scheduled for Sunday, Sept. 10 on the road against Minnesota. That game can be seen on 10 Tampa Bay. To see the team's full schedule, click here.