TAMPA, Fla. — The Tampa Bay Buccaneers have started the new season 2-0 for the third straight year – the first time ever in franchise history.
Quarterback Baker Mayfield threw for 317 yards, and wide receiver Mike Evans hauled in more than half of that yardage while also scoring a touchdown.
The defense once again proved Justin Fields is human despite his solid first drive of the game as the Chicago quarterback was sacked six times, threw two inceptions – including a pick-six – and fumbled the ball twice.
A lot of stuff went well for Tampa Bay, but of course, nobody's perfect. The team has some problems to fix before they face the Philadelphia Eagles in Week 3.
Here are three key takeaways from Tampa Bay's Week 2 victory.
Mike Evans, rushing attack have themselves a day
The words "Pay Mike Evans" were trending on X, formerly known as Twitter, throughout the Bucs' game against the Bears, and those who watched the contest know why.
The 30-year-old wide receiver logged 171 receiving yards, including an explosive 70-yard catch-and-run play in the second quarter and a 32-yard touchdown reception in the third quarter.
We've known for the past 10 years Evans is capable of producing such displays on a weekly basis, so Evans will continue to prove he is worth a big contract in the offseason.
Regardless, it's great to see that after catching passes from Tom Brady, Evans has found another QB connection in Mayfield.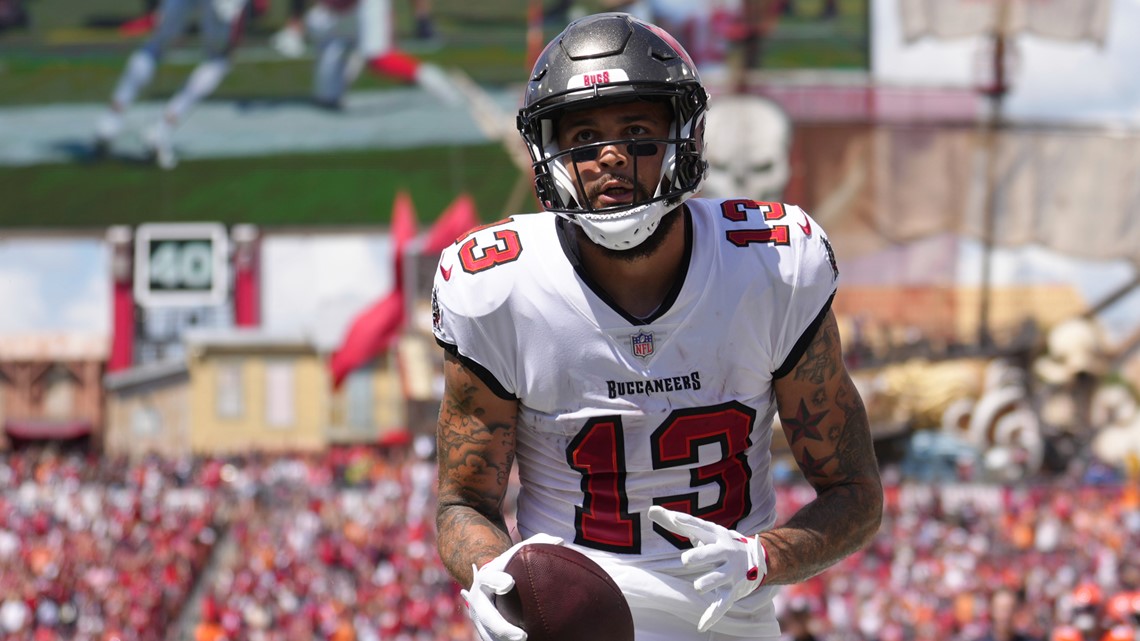 It's also great to see the rushing attack finally have some success.
After a lackluster showing last year and the first game in Minnesota, the Bucs' run game showed what it can be.
Against the Bears, running back Rachaad White ran for 73 yards on 17 carries and rushed for a touchdown. His numbers were a little more than half of that in Week 1, so seeing the instant improvement should be a sign of better things to come. In total, Tampa Bay had 120 rushing yards.
"They got better. Like I said, we're going to do whatever we have to do to win the game. I'm not sitting here saying we're hellbent on getting 150 yards rushing a game," head coach Todd Bowles said. "We rushed it efficiently – that's what we're looking for, that's what we got. We'll break some, and some games, we may not. It helps us win ballgames and keep time of possession. It was good."
With the Eagles coming to town next week, the Bucs have to put its rushing attack to the test against a disciplined Philadelphia defensive line.
Red zone worries
Mayfield and the offense entered the red zone on four different occasions and only found the end zone once.
The other three times resulted in two field goals and a blocked kick.
This was a big reason why Tampa Bay allowed Chicago to stay in the game for so long.
"We shot ourselves in the foot. It was one guy here or there – we've got to get better there. We can't have [the drives turn into] three [points]," Bowles said. "Going deeper into the season, we've got to get seven points there or we're not going to be able to pull those games out if we don't."
Adding to Bowles' point, the one-TD conversion in the red zone may work against teams like the Bears, but against the Eagles, that may not slide. And although the defense kicked butt, Bowles and offensive coordinator Dave Canales should not rely on them to get a pick-six every game.
No Davis or Kancey, no problem for the defense
What a game the Bucs defense had against Chicago.
Without rookie Calijah Kancey and cornerback Carlton Davis, Tampa Bay's defense still did its job after yielding a 75-yard TD drive on Chicago's first possession of the game.
The Buccaneers sacked Justin Fields six times and picked him off twice.
The Bears (0-2) got as close to 20-17 on Chase Claypool's 20-yard TD catch, but saw any hope for a comeback fade when Fields — throwing out of his own end zone — tossed an interception to Bucs linebacker Shaquil Barrett, who returned it for his first ever touchdown.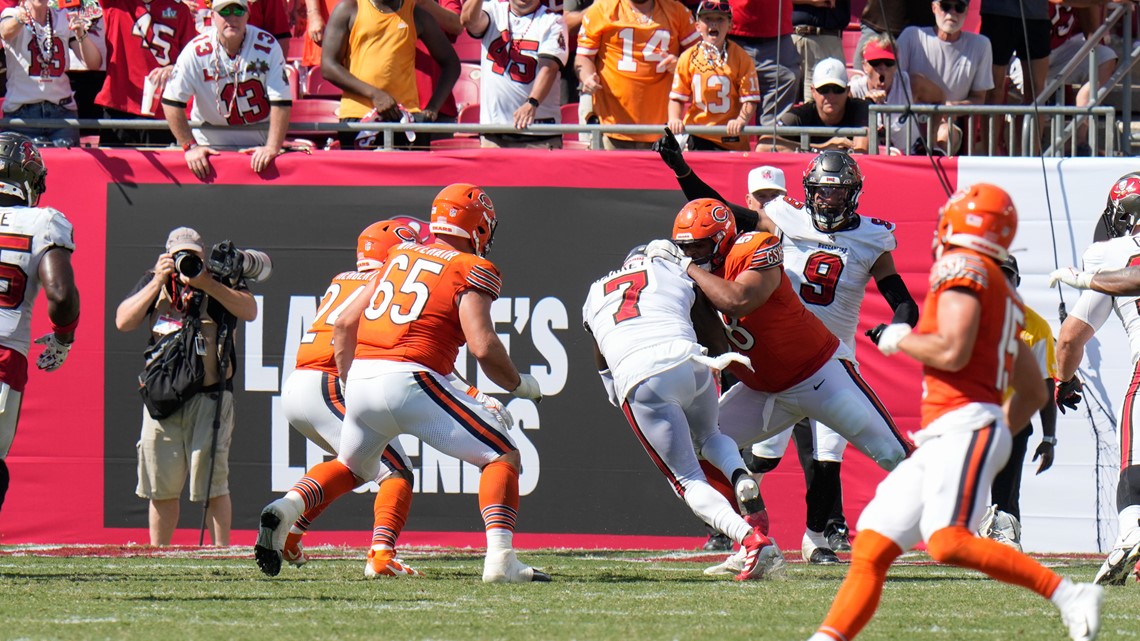 And how about undrafted free agent Christian Izien once again proving his worth to this team with another interception to his name. Oh, and Zyon McCollum had himself a game, too.
For a player who has had trouble adapting to life in the NFL, he looked solid in the backfield.
"I feel absolutely amazing confidence-wise, especially going in. I knew this was a big game for me, [so] I just put pressure on myself to say [to myself], your career can go one of two ways, and this game is a really defining moment for me, especially, being the first start of my second year," McCollum said. "So, I just took it and I ran with it. Me, athletically, I always think of myself as bigger, stronger and faster than any receiver that I'll ever line up against, and this was just [about] truly believing that.
"Just knowing at the end of the day it's me versus them, and I'm going to bet on myself every time."
The strong defensive outings in two games show this team can beat any squad in the league, even if certain players haven't been in the NFL for multiple years.
"It's a credit to the guys preparing for the game, really, and the coaches getting them ready on both sides of the ball, as well as special teams," Bowles said. "It's good to see that we can get it in different areas. During a 17-game season, you're going to have to win different ways.
"It's going to have to come from different people so we're going to have to continue that."
That's now five takeaways in two games for the Bucs. The team previously set a goal to get more than 30 turnovers this season, and at this rate, they are certainly looking to reach that number.
Kickoff for Tampa Bay's Monday night game on Sept. 25 is scheduled at 7:15 p.m. inside Raymond James Stadium. For ticket information, click here.
Be sure to watch The Blitz at 8:30 a.m. every Sunday only on 10 Tampa Bay as Sports Director Evan Closky and Sports Anchor David Schiele give you full Bucs coverage leading up to each game.
The Associated Press contributed to this report.