ST. PETERSBURG, Fla. — More than 7,500 people can't be wrong.
For its second year, the Skyway 10K sold out with participants anxious to hit the pavement of the Sunshine Skyway Bridge. The 6.2-mile course is sure to be breathtaking and better yet, it's all for a good cause.
Proceeds will benefit the Armed Forces Families Foundation, with a special emphasis on supporting projects for members of the military and their families.
➡️10News WTSP is the broadcast partner for the event; watch live coverage starting at 7 a.m. Sunday on air, on WTSP.com and on our Facebook page.
Use the hashtag #Skyway10K on social media to be part of our coverage!
A busy race weekend is coming -- here's what you need to know:
When does the Sunshine Skyway Bridge close?
The Skyway 10K takes place on the northbound side of the bridge. It will be closed to all traffic from 3:30-11 a.m.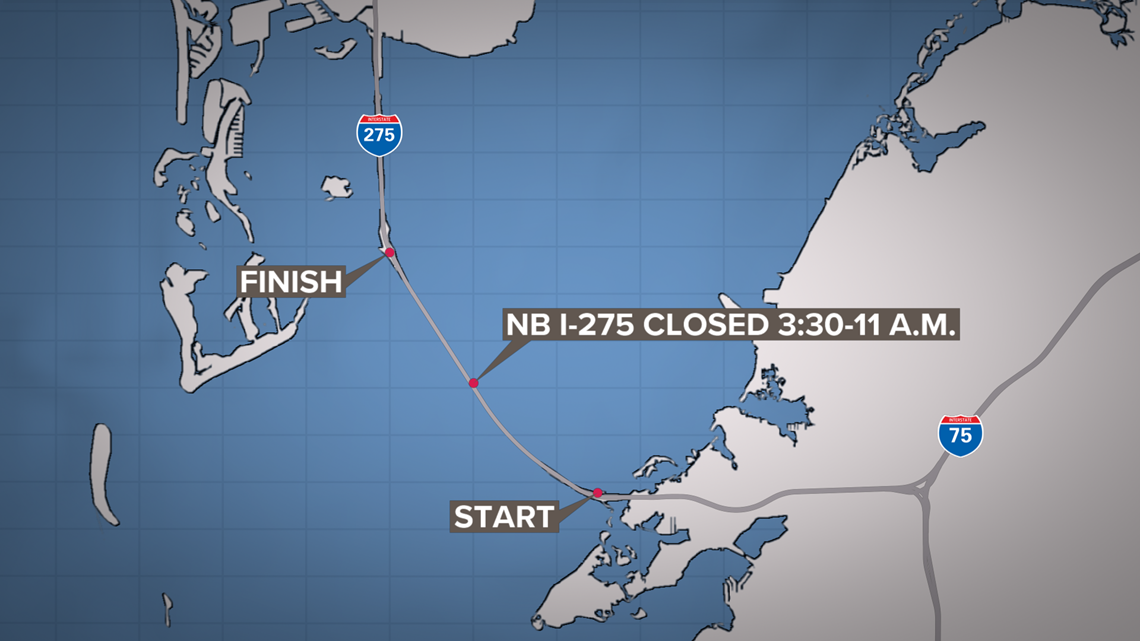 The southbound side will remain open for travel, and it only will direct traffic southward. This means people need to make other arrangements if they need to get northward during the hours it is closed.
Drivers can use Interstate 75 in Hillsborough County as an alternate route, but this detour can take an extra 45 minutes to an hour depending on traffic.
In addition, 4th Avenue South near Tropicana Field will be closed between Martin Luther King Jr. and 16th streets as the traffic flow will be reversed to move runners to and from the bridge.
How do I get to the starting line -- and back home?
Runners will be bused from Tropicana Field to get to and from the bridge -- there is no other option.
Bag check starts at 4 a.m. and buses begin loading at 4:30 a.m. Parking is free.
Those who do not yet have their race bib and packet must pick them up during the General Dynamics Ordnance and Tactical Systems Music Fest and Skyway 10K Race Expo from 10 a.m. to 6 p.m. Saturday at Tropicana Field.
Organizers note there will be no packet pickup on race day.
I'm ready to run!
Opening ceremonies are scheduled for 6:37 a.m. and about three minutes later, the U.S. Army National Guard is slated to kick off the race with a Coast Guard flyover.
Remember to enjoy the view: Sunrise is 6:53 a.m. ☀️
Organizers say runners need to stay in the two lanes designated for them on the bridge.
People who enter the emergency lane or climbs onto the bridge itself will be kicked out of the race and banned from future events.