CAPE CANAVERAL, Fla. — Saturday at 3:22 p.m.
That is when two American astronauts will hopefully blast into space aboard SpaceX's Falcon 9 rocket.
Wednesday's launch was scrubbed because of the weather.
It's been nine years since American astronauts have launched from U.S. soil. And, it's never happened aboard a private rocket and spacecraft. That will change when astronauts Doug Hurley and Bob Behnken launch to the International Space Station in the Crew Dragon capsule on top of a Falcon 9 rocket.
Here are the latest updates from NASA, SpaceX and the astronauts:
President Donald Trump tweeted thanks to NASA and SpaceX for their hard work and preparations for the Crew Dragon launch. The president also said he would return to Kennedy Space Center on Saturday for another attempt to launch astronauts Bob Behnken and Doug Hurley.
One of the weather rules for a safe launch is lightning within 10 nautical miles of the area, which was reported ahead of T-0.
The launch has been scrubbed for Wednesday because of poor weather conditions.
The next launch window is 3:22 p.m. Saturday, May 30. NASA will begin live virtual coverage starting at 11 a.m. Saturday.
Crews are still awaiting more weather condition updates and hoping for more improvements.
The crew access arm has retracted from the Falcon 9 rocket and Crew Dragon capsule. Less than one hour away, everything but the weather conditions are GO for launch.
However, NASA said the weather is "improving."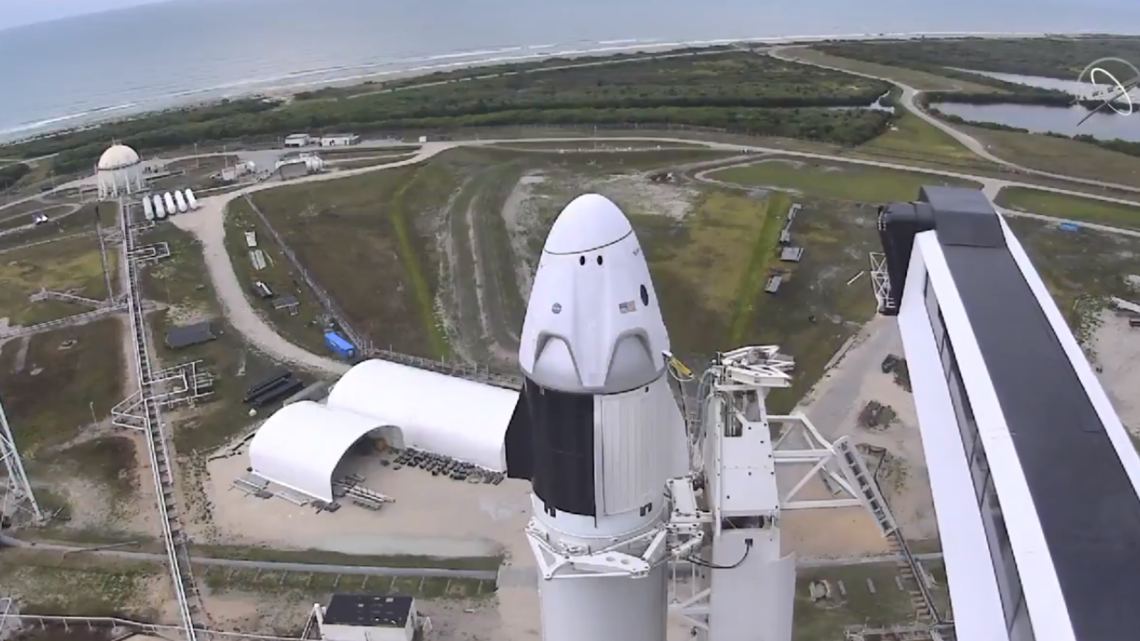 "SpaceX Dragon Bob and Doug are go for launch," the Dragon crew says.
Hurley and Behnken are also getting a weather briefing with less than one hour until launch. Next up is a launch readiness poll to decide GO or NO GO for liftoff.
Coming up next is the launch readiness poll at 3:48 p.m. when the teams vote on GO or NO GO for liftoff of the Crew Dragon and Falcon 9 rocket.
And, teams are still monitoring the weather conditions to make sure the rocket and crew can launch in a safe window.
Currently, SpaceX is working no technical issues on the Dragon capsule or the Falcon 9.
President Donald Trump and first lady Melania Trump have landed at Cape Canaveral to watch the historic SpaceX launch of NASA astronauts.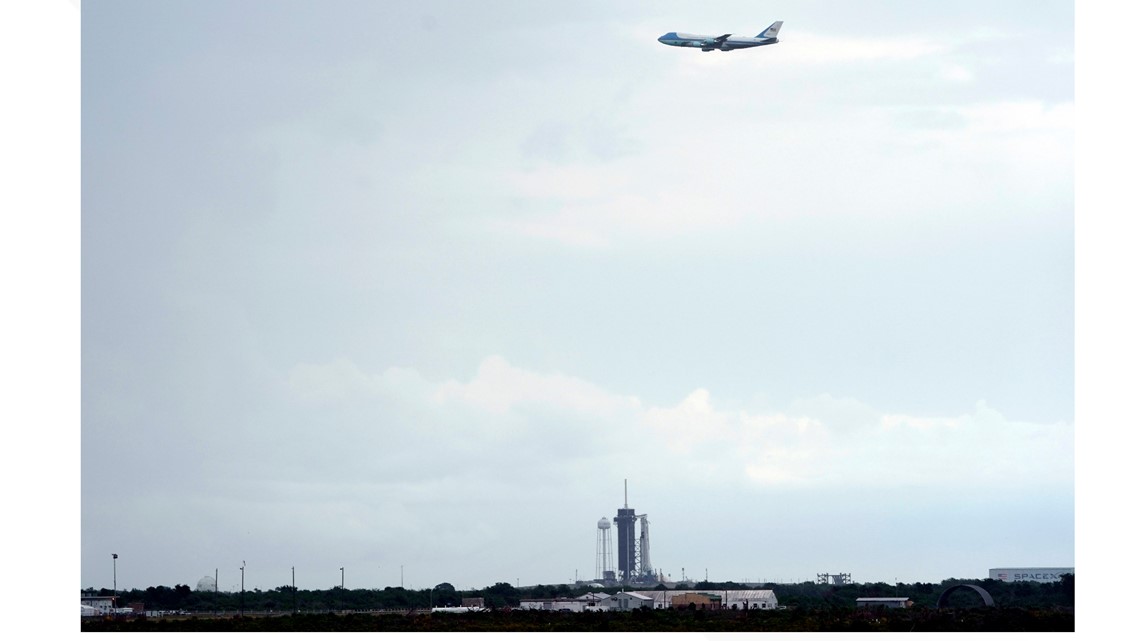 Air Force One carrying President Donald Trump is about to land in Cape Canaveral, Florida, ahead of the Crew Dragon launch.
The hatch of Crew Dragon has closed with astronauts Doug Hurley and Bob Behnken all strapped in inside the spacecraft. There is a little less than two hours until the launch window.
"Good luck, guys. Buckle in," the crew was heard saying during communications checks.
The #LaunchAmerica team chats with NASA Administrator Jim Bridenstine and SpaceX founder and CEO Elon Musk about all the preparations that went into this historic launch moment.
Musk said this launch is about "reigniting the dream of space."
While they were getting strapped in, Bob Behnken had a little dinosaur or dragon toy in the placed in the seat next to him. Some Twitter users say it could be his son's toy.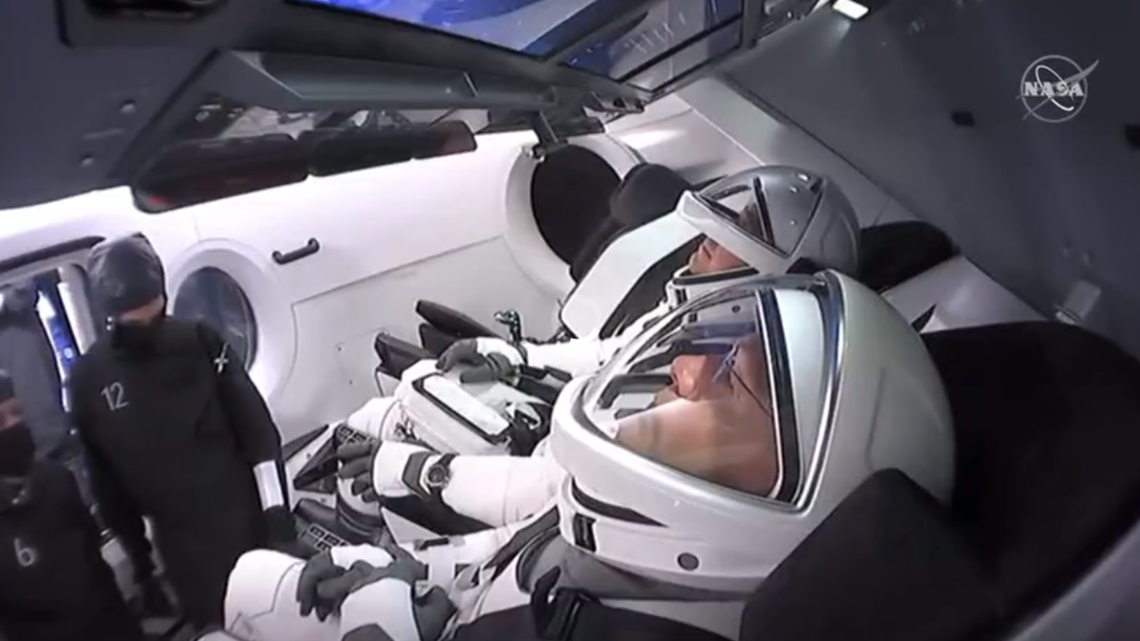 Now that the astronauts are strapped into the spacecraft, they will undergo a series of communications checks to make sure they can hear and talk to both NASA and SpaceX crews on the ground.
The two astronauts have gone through the crew access arm at the top of the Falcon 9 rocket and have boarded the Crew Dragon capsule. They are now strapped in and ready for launch.
Launch is still "go" for 4:33 p.m. EST.
Astronauts Hurley and Behnken have arrived at Launch Pad 39A inside two Tesla cars. Before heading up to the rocket and spacecraft, they get a last bathroom break.
Here's the playlist they listened to on the way over to the launch pad:
"Back in Black," ACDC
"Girl From Ipanema" from the Blues Brothers film
"The Star-Spangled Banner"
The historic walkway is the same one every Apollo and Space Shuttle astronaut has taken before heading to their rocket and spacecraft. And, Launch Pad 39A is the same launch pad that saw a Saturn V rocket blast off carrying Apollo 11 astronauts Neil Armstrong, Buzz Aldrin and Michael Collins.
The astronauts say goodbye to their families as they get into Tesla Model X cars before heading to Launch Pad 39A.
Astronauts Hurley and Behnken walk out the historic doors to say goodbye to their families and get in a Tesla Model X that will take them to the launch pad.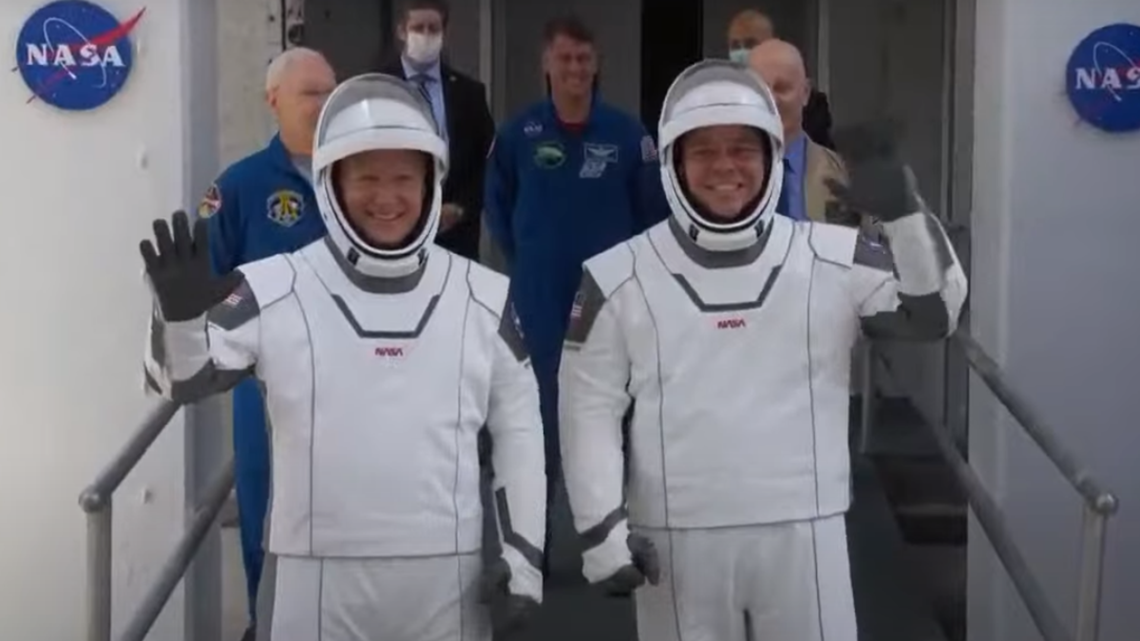 Kelly Clarkson sings the U.S. national anthem ahead of astronauts Hurley and Behnken walking out of the historic doors and head to Launch Pad 39A.
SpaceX shares more details about the custom-made suits Hurley and Behnken are wearing for the Crew Dragon Demo-2 launch.
SpaceX founder and NASA Administrator Jim Bridenstine visit the suited-up Hurley and Behnken before the astronauts head out to the launch pad.
Hurley and Behnken are formally handed off from NASA to the SpaceX crew to get suited up in SpaceX suits.
NASA and SpaceX begin live coverage of #LaunchAmerica and the Crew Dragon Demo-2 mission.
WATCH LIVE COVERAGE:
Photos: Historic NASA, SpaceX astronaut launch