CAPE CANAVERAL, Fla. -- NASA on Monday hopes to begin its next hunt for an out-of-this-solar-system quarry: thousands of planets orbiting other stars, some of which might be habitable.
A SpaceX Falcon 9 rocket is targeting a 6:32 p.m. liftoff from Cape Canaveral Air Force Station with NASA's $337 million Transiting Exoplanet Survey Satellite, or TESS.
Surveying nearly the entire sky, the minimum two-year mission expects to find some 20,000 so-called exoplanets around nearby, bright stars, ranging from rocky Earth-size planets to gas giants.
The mission will produce a huge catalog of exoplanets "with the hope that someday in the next decades we'll be able to identify the potential for life to exist outside the solar system," said Jeff Volosin, the mission's project manager from NASA's Goddard Space Flight Center in Maryland.
"We are ready to go," Volosin said Sunday during a pre-launch news conference at Kennedy Space Center.
Severe storms Sunday night that held the potential to delay the rocket from going vertical were expected to clear for Monday's 30-second launch window.
Forecasters predict an 80 percent chance of favorable conditions at Launch Complex 40.
Photos: SpaceX launches Falcon Heavy rocket, sticks 2 landings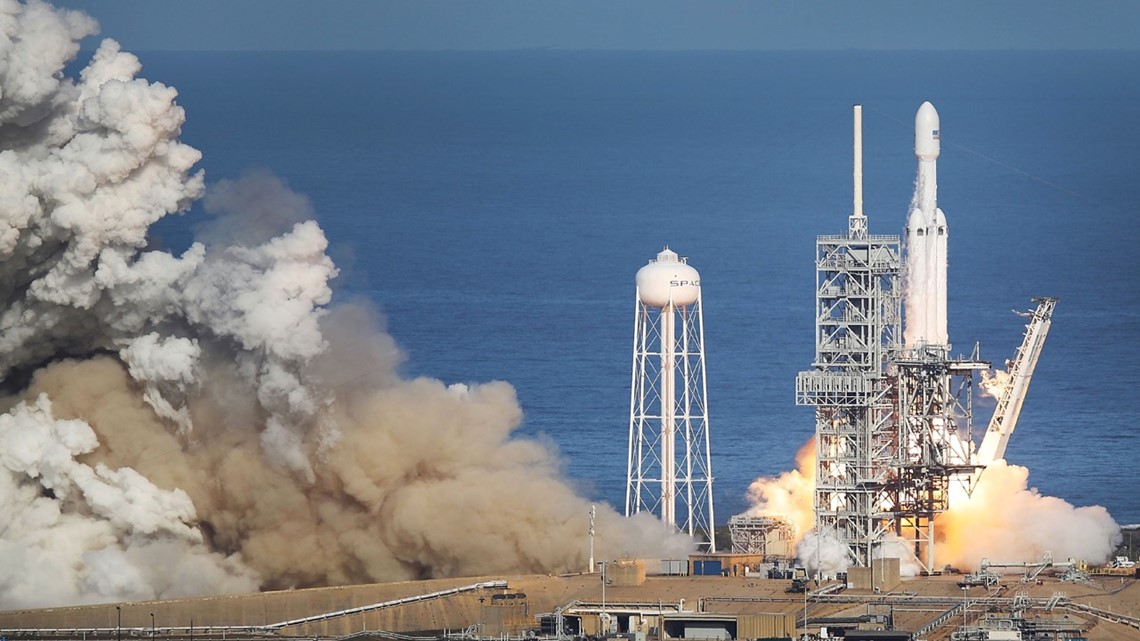 Photos: SpaceX launches Falcon Heavy rocket, sticks 2 landings
"I don't think you'll see much in the way of clouds at all, so it should be good viewing conditions, as long as those winds do drop off," said Mike McAleenan, the launch weather officer from the Air Force's 45th Weather Squadron.
The mission begins a transition for SpaceX, which is launching its last new rocket in a version known as the "full thrust" or "Block 4" Falcon 9.
An upgraded version, Block 5, is expected to debut in early May, incorporating lessons learned from more than two years of landing and, in the past year, re-flying Falcon 9 boosters.
"We're trying to summarize all of these lessons learned into a booster that then is able to fly and be recovered and fly again multiple times without a lot of refurbishment," said Hans Koenigsmann, vice president of build and flight reliability at SpaceX. "It's a reliability upgrade that combines reliability and reusability."
On Monday, SpaceX will attempt to land the rocket's first stage on a ship offshore in the Atlantic Ocean. The version of the rocket that is now being phased out only launches twice, but SpaceX expects the next model to fly 10 or more times.
SpaceX also will attempt to recover the two halves of the rocket's nose cone, or payload fairing, which will drop to the ocean under parachutes.
If that experiment is successful over time, then the rocket's upper stage would be the only part not reused.
The relatively small TESS spacecraft is equipped with four ultra-sensitive cameras developed by MIT that will detect tiny dips in light when a planet crosses its host star, an event called a transit.
Follow-up observations by ground-based and space-based telescopes will help characterize the planets' sizes and compositions, and possibly analyze their atmospheres for signatures of habitability.
NASA's Kepler telescope, launched nine years ago and nearing the end of its mission, found thousands of exoplanets by staring at a tiny sliver of the sky. More than 3,700 exoplanets have been confirmed to date using a variety of techniques.
Orbiting between the Earth and the moon, TESS will survey nearly the entire sky for comparatively brighter and closer stars — some dozens to hundreds of light years away — than Kepler saw. That will produce better targets for future study.
Some might have Earth-like qualities, others may be unrecognizable.
"If you look at what Kepler found, nobody assumed there'd be a planet that might be made all of diamond, or all that there could be worlds that are all covered in water, or things like that," said Volosin. "Everybody always says, what's your favorite exoplanet? I think mine is going to be whatever we find, and it's going to be solar systems you never imagined possible."