PHOENIX — Rebecca Nelson had ... this ... feeling she was being watched.
"I would see weird glitches," Nelson said. "Weird stuff [would] happen on my phone and computers, but I would just always chalk it up to, you know, weird glitch."
She had just gotten out of an abusive relationship. She filed a restraining order against her ex and moved in with her mom. But she couldn't shake the feeling something was off.
Nelson couldn't prove it, but she even thought her own phone was recording her as she slept.
"I would start seeing things like -- I would wake up in the middle of the night and my phone is next to me, where I left it, but it's on. It's glowing and the camera is recording," said Nelson.

"Stuff like that would happen. I started having pictures deleted right before my eyes on my photo feed. I started having files move around on my computers and my iPad. It was just all sorts of weirdness."
Just a few days after Nelson moved in with her mom, they both learned someone was indeed watching them.
Her mom had one security camera pointed in her living room. As she was on the phone with the security company on an unrelated issue, she found out someone had logged into her alarm system and set up a rule that every time the motion detector sensed movement, the camera would take a 15- second video recording and email it to somebody.
Nelson's ex-boyfriend had gotten into the security system. He made himself the primary administrator on the account, so the security company couldn't even tell Nelson and her mom who the recordings were going out to.
About 40 recordings were emailed out within just a few days, and Nelson was sure they were going out to her ex.
"I just felt so violated," she said. "The thing is, I couldn't prove it."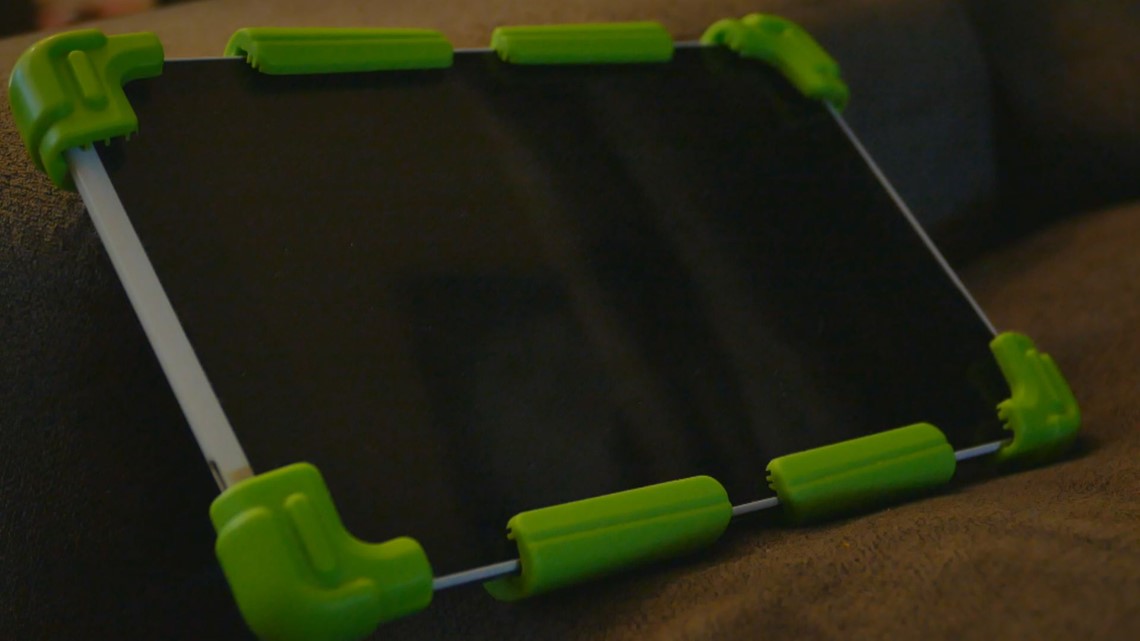 Rise in technology abuse
Nelson is not alone: Domestic violence advocates are seeing a rise in technology playing a role in controlling partners.
"It began to emerge as an issue for survivors in 2000," Doreen Nicholas, the domestic violence response manager at the Arizona Coalition to End Sexual and Domestic Violence, said.
A 2018 survey by the National Network to End Domestic Violence found that 13 percent of domestic violence survivors reported a partner was tracking their phone or another device using GPS technology. And 6 percent reported a partner had installed an app designed to track all of a child's phone behavior on their phone; that technology allows parents to track the child's whereabouts and content on their phone.
Nicholas says on a daily basis she sees technology playing a role in controlling partners in her shelters and with the survivors she helps.
She's seen abusive partners hack into accounts, steal or move money from bank accounts, install ghost apps on phones, the list goes on.
Nicholas has even seen GPS trackers on cars and placed in children's teddy bears.
"We know 97 percent of people that experience abuse with a partner and go into shelter have experienced some level of technology abuses," she said.
How bad is it?
"It's unprecedented where it takes it."
McLaughlin says he gets a lot of women coming in with phones asking him to check for spyware.
"They come in and tell me their boyfriend or ex-boyfriend seems to know everything they're doing, seems to have inside knowledge of conversations that were private," he said.
McLaughlin says most of the time it's just a matter of resetting some passwords.
"Generally speaking, that will usually fix it," he said. "A lot of times my clients come in and they were led to believe their ex was much more tech savvy than they actually are. And usually it's just a password."
But it can get more involved quickly.
Sometimes a partner will make him or herself an administrator on a smartphone or other account. That gives them the same, if not more, access than the phone's user. They can see all the photos, adjust settings and passwords.
"Whatever they need to. They can, in essence, lock you out of your own account," McLaughlin said.
They can even install spyware on your phone.
"Spyware on a phone has become more and more popular," he said. "It's really easy to install. It only takes a few minutes, and gives you access to everything that happens on that phone."
McLaughlin says that can give someone unlimited access, depending on the spyware. That means they can track your text messages in real time, listen in on your phone conversations, track your location, or even turn on the phone's microphone and use it as a listening device.
Some spyware can track what you're Googling, or even know what you're changing your passwords to.
Pay attention to red flags
Spyware can be very difficult to detect because the apps can hide themselves on your phone.
In fact, in many cases if you want to prove you have spyware on your phone you have to get it forensically tested. That can cost anywhere from $1,500 to $2,500.
McLaughlin says the biggest sign that you have spyware on your phone is the phone will act glitchy. If you think your phone is infected, your best bet is to factory reset your phone, he said.
"That will knock off any spyware that is on your phone," he said.
The good news? Spyware is not all that common. Most of the time McLaughlin can help his clients by changing a few passwords.
"It seems so basic, but in this world most people have one password they use over 20 objects," he said. "So we start by changing (the) password."
As Nelson looks back, she said she missed an obvious clue.
Before she broke up with her ex, she tried to install an app. But a message popped up telling her she couldn't because her phone had been jailbroken.
Nelson shrugged it off as a glitch and factory reset her phone, but now she thinks her ex had installed spyware.
'If you think you're being stalked, you probably are'
Nelson took matters into her own hands after months of feeling terrorized. She hired a private investigator and had her phone forensically analyzed.
She had moved out from living with her ex and had factory reset her phone several times. The investigator didn't find spyware -- but did find her ex had added himself as an administrator on her cell phone account.
"He had top level access," she said. "Every single text message, every single email, everything."
After months of being turned away by the police and being called crazy, she finally had proof.
"It was just literally complete vindication," Nelson said.
Nelson's ex died in 2018. But the stalking experience has left a mark on her and her mom.
"To this day, my mom, if she sees something weird flash on her computer, she's still got PTSD from it," she said. "She will lurch. She's like, 'Is he back or is it somebody else?'"
As for Nelson, "I don't spend my life dwelling on it, but it's very much this haunting creepiness. Every time I go to my computer, pick up my phone, those feelings are still there."
She know there are others going through something similar.
"If you think you're being stalked you probably are," she said.
Resources to help
If you believe you are being stalked by a partner, there are many resources that can help you.
You can also call the National Domestic Violence Hotline anytime at 1-800-799-SAFE (7233).
Chrysalis is another local organization supporting domestic violence survivors. Get help here.