ANAHEIM, Calif. — The Happiest Place on Earth wants to get even happier and bigger!
Disneyland has unveiled plans for a big expansion in Southern California. Plans include proposals for "possible immersive theme park" as well as parking and retail expansions.
The plan, called "DisneylandForward" doesn't go into specific details about any themes the expansions could follow, or dates that work could start or end. It does make clear though that Disney wants to squeeze in as much as possible into its 500-acre property.
Disneyland says it is currently in the very beginning stages of the entire process, and the project will be refined over time. It does make clear that Disney is not asking for public funding, more room, or more hotel rooms beyond what is currently approved and allowed. It is "simply asking to update [its] existing approvals to allow for integrated development to be located and built on Disney properties."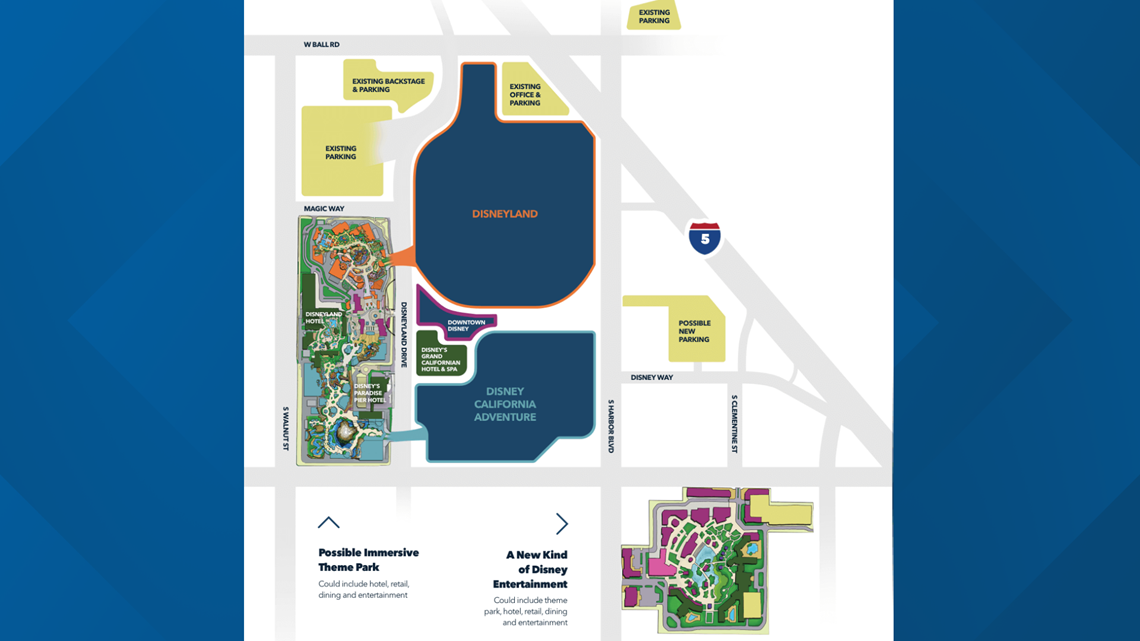 In a map showing the proposed expansion, it's unclear if the plans show new theme parks, or if it is an expansion of the current Disneyland and Disney California Adventure parks. The plans do include an expansion to include a new "entertainment destination" similar to Disney Springs at Walt Disney World.
Disneyland and Disney California Adventure are set to reopen on April 30 for the first time since the COVID-19 pandemic closed the parks in March 2020. Guests who want to visit when the parks reopen, must be California residents and make theme park reservations similar to Walt Disney World's policy.
Editors note: the video attached to this story is from June 2020 when Disneyland and Disney California Adventure were closed.