ST. PETERSBURG, Fla. — All indications pointed toward an active season this year, but Mother Nature has given us the complete opposite — so far. We are now reaching the halfway point of the hurricane season, and the numbers are well-below average.
According to Colorado State University, by this time of year, an average season would give us 6.4 named storms, 2.4 hurricanes and 1 major hurricane. So far this year we have only had 3 named storms, 0 hurricanes and therefore 0 major hurricanes.
The number of days with an active storm is also way down. We should have more than 24 days with a named storm, but currently only have 3.25 days!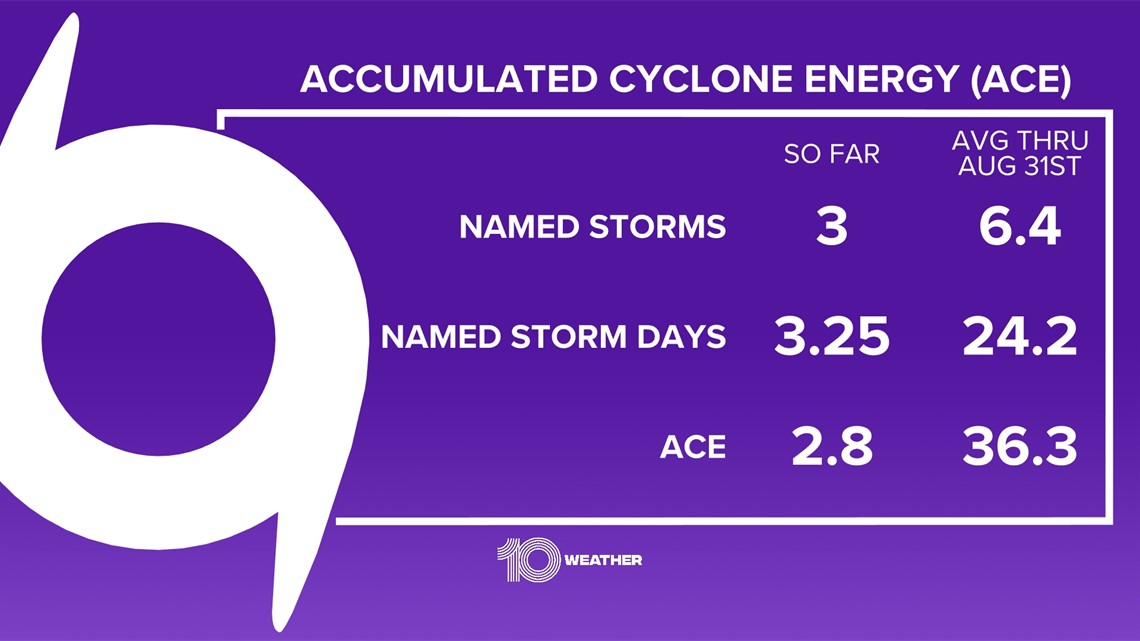 Another shocking statistic is the amount of Accumulated Cyclone Energy (ACE) from this season. This takes into account the length and strength of storms, for example, a long-track major hurricane would produce a very high ACE value.
The ACE for the end of August in a typical season would be at 36.3 but we are only at 2.8! That is only around 8% of the average!
Three tropical facts that will blow you away:
This is only the third August, in the satellite era, without a named storm.
It has been 60 days, since July 3rd, without a named storm. That is the second-longest stretch ever, only behind 1999 which had 61 days in a row without a named storm.
This is the first time ever, in the satellite era, that we had both no named storms in August and no hurricanes before September 1!
Record long stretch without a named storm:
Our last named storm was Tropical Storm Colin on July 3, which was 60 days ago! That is tied for the second longest period with 2007 when there was a gap from June 2 to July 31.
The longest stretch was in 1999 when we went 61 days without a named storm and we could get close to that.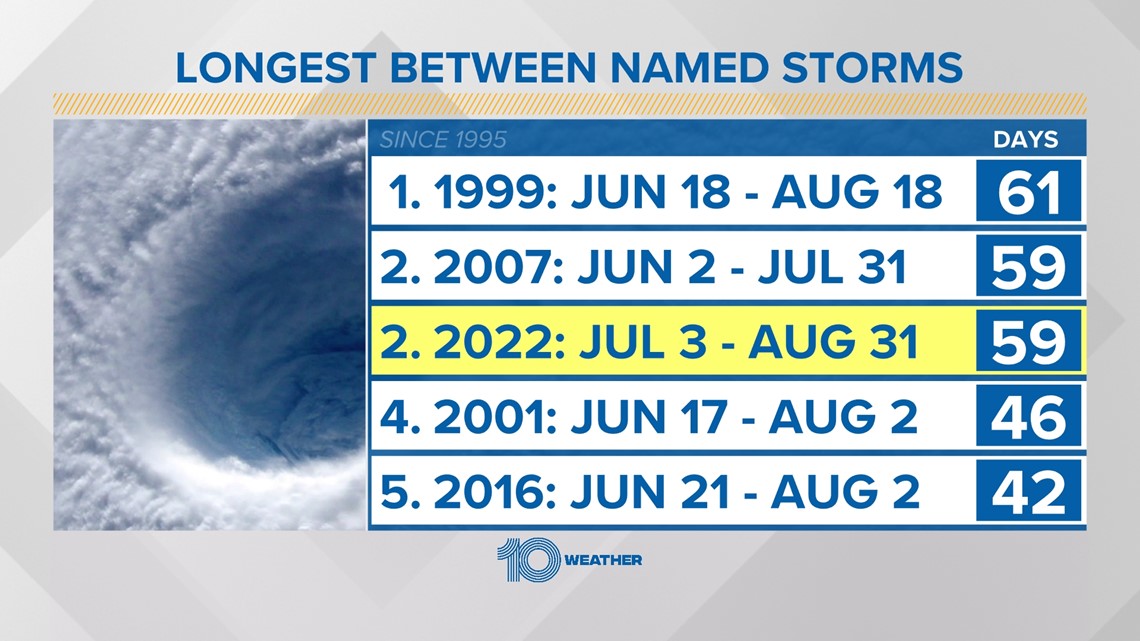 No named storms in August:
As meteorologists, we use 1960 as a benchmark for when the satellite era begin to track tropical systems. Since then there have only been two other years without a named storm in August, 1997 and 1961.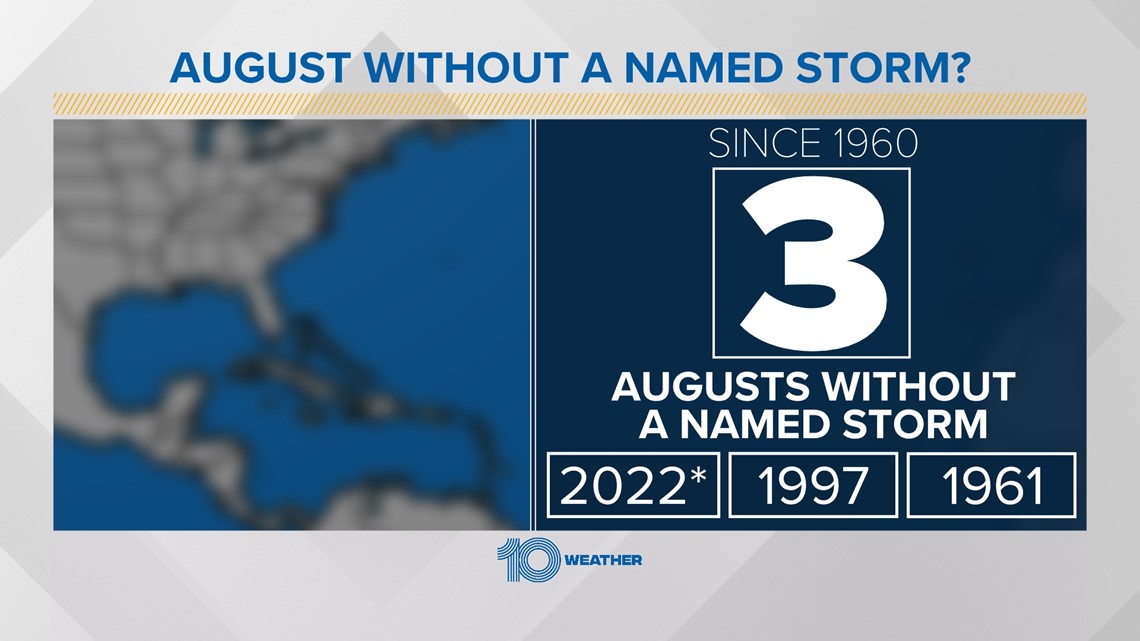 1997 was a very quiet season overall with 8 named storms, 3 hurricanes and 1 major hurricane.
1961 was the exact opposite with the season exploding with development in September and October. The season finished with 12 named storms, 8 hurricanes and 5 major hurricanes. One of those major hurricanes was Carla which made landfall in Texas as a Category 3.
That means we can celebrate the slow start but the second half of the season could still be very active.
What's ahead?
As of Wednesday, there are three areas with possible development. Invest 91-L and 93-L have a high chance of development and a disturbance coming off the coast of Africa has a medium chance of development.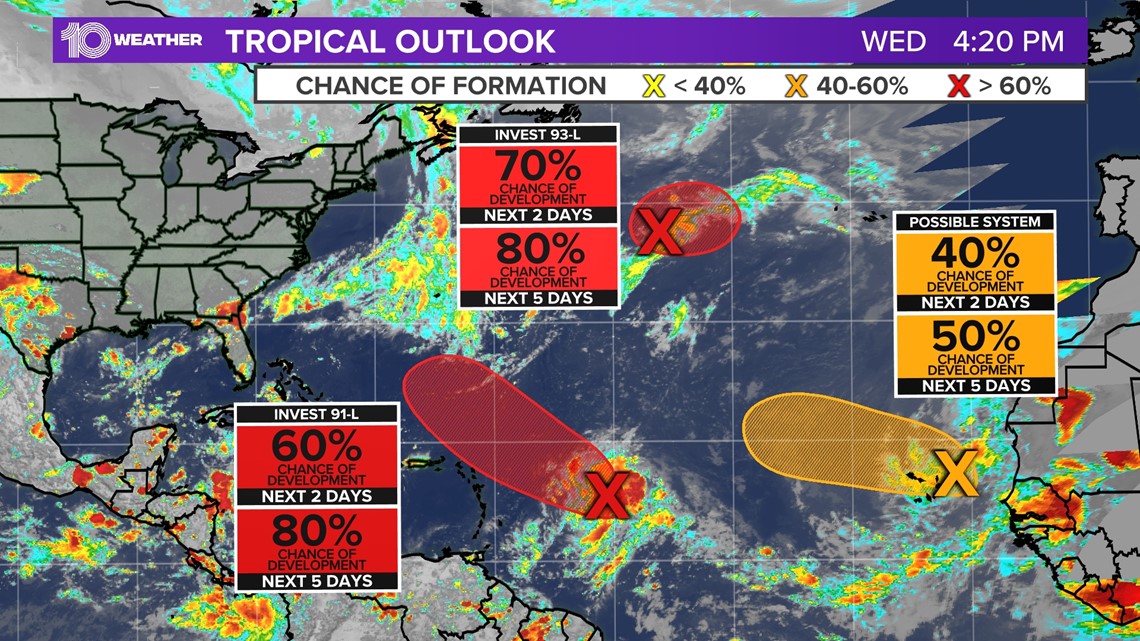 Invest 91-L or 93-L will likely be our next named storm at some point over the next few days. The good news is that all these tropical disturbances are expected to steer clear of the United States.