ST. PETERSBURG, Fla. — Colorado State University issued its forecast for the 2023 Atlantic hurricane season with numbers just slightly below average back in early April, but now it has revised its initial prediction.
The university is now calling for a near-average Atlantic basin hurricane season in 2023, which could mean one to two more possible hurricanes.
Last year was forecast to be an active season, but the slow start kept things quiet through August. In fact, the season's first hurricane didn't develop until early September.
Fiona and Ian would follow later in September, which were the only two major hurricanes of the season. Both are now retired names after leaving a trail of devastation across the Caribbean and Florida, making 2022 a season we won't soon forget.
What's the forecast for this hurricane season?
Colorado State's forecast now calls for 15 named storms, seven hurricanes and three major hurricanes, which are rated Category 3 or higher. This is up slightly from their mid-April prediction of 13 named storms, six hurricanes and two major.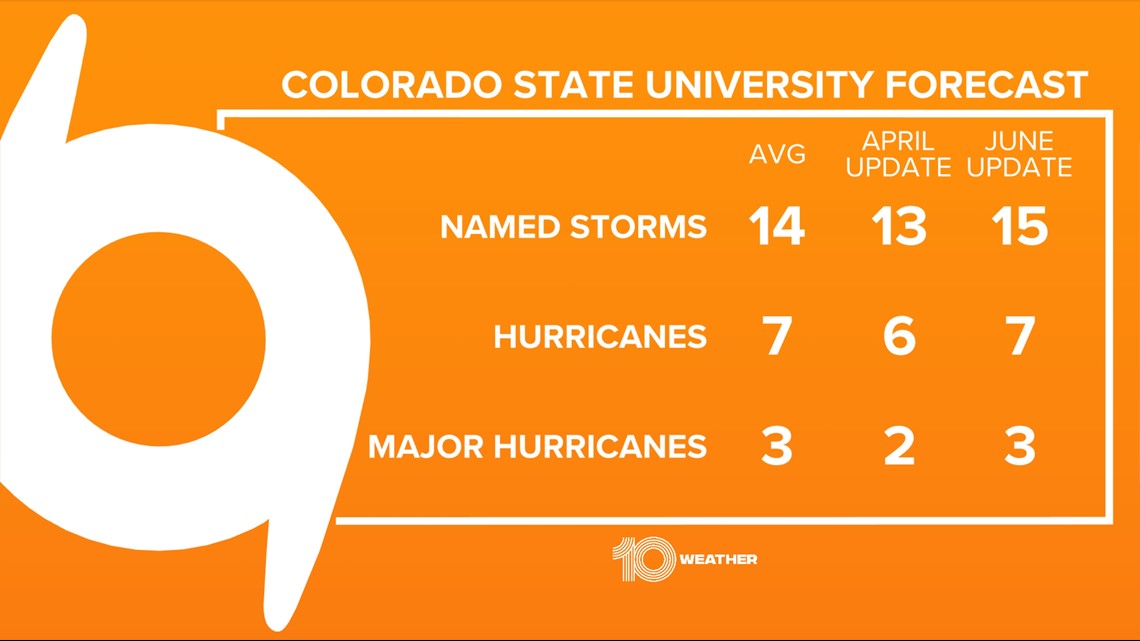 Why is this? It all has to do with the increased wind shear expected across the Atlantic basin. Wind shear tends to limit how strong a system can become, the more shear the more unorganized the storm. So even though there may be more storms than average the amount of major hurricanes should be closer to average.
A typical season averages 14 named storms, seven hurricanes and three major hurricanes. So what factors are driving this year's forecast?
One of the bigger factors is the transition from La Niña to El Niño. For the past few seasons, we have been in a La Niña phase, which typically produces above-average activity.
We are now moving into a neutral phase with an El Niño forecasted to develop by fall 2023 into winter. NOAA is now giving over an 80% chance for El Niño during the peak of the season. This tends to favor below-average hurricane activity with more wind shear across the Atlantic. Wind shear usually hampers the ability of tropical systems to organize into storms or hurricanes.