ST. PETERSBURG, Fla. — Hurricane Nigel is holding steady as a Category 2 storm after gaining some strength Tuesday.
But the hurricane has been sending the National Hurricane Center "mixed signals." On Monday, the NHC said forecasters anticipated Nigel would become the season's next major hurricane — Category 3 or higher — by Tuesday. However, due to how large Nigel's eye wall is, aiding with stability, rapid intensification chances fizzled.
In fact, forecasters now believe Hurricane Nigel has reached its peak intensity. By Wednesday evening, Nigel is expected to start weakening.
At this time, Florida and the United States are not threatened by the hurricane. Nigel formed Sunday as a tropical storm from Tropical Depression Fifteen, which came onto the scene Friday.
Currently, Hurricane Nigel has maximum sustained winds of 100 mph and is moving north at 16 mph. It's currently located about 590 miles east of Bermuda.
"Nigel has likely reached its peak intensity, with gradual weakening expected later today, followed by a faster rate of weakening on Friday. Nigel is forecast to become a post-tropical cyclone by Friday," the NHC said.
Weather computer models, including the European and American GFS, show the storm potentially impacting the island of Bermuda by mid-next week. It is almost guaranteed that the system will not affect Florida or the eastern seaboard.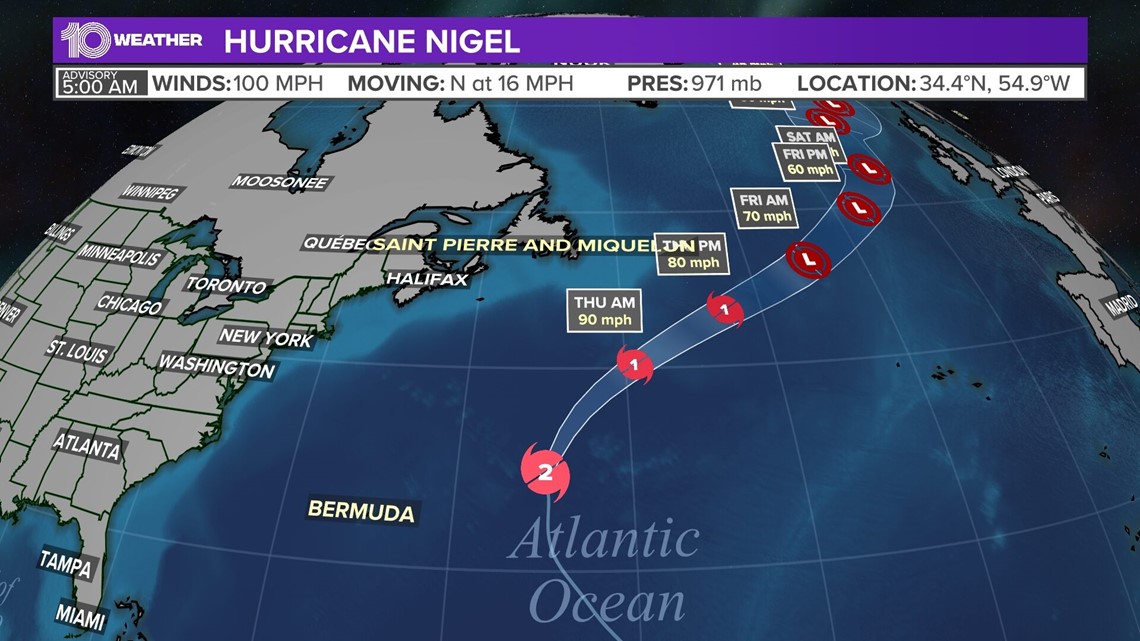 Under current forecast models, NHC researchers say they expect Hurricane Nigel to be a larger system with lower maximum wind speeds than originally predicted. Additionally, Nigel is expected to undergo a "quick" extratropical transition by the end of the week, according to all model predictions.