Hurricane season begins June 1: What do you need in your emergency kit?
Preparing during the coronavirus pandemic means you'll need a few extra supplies this season.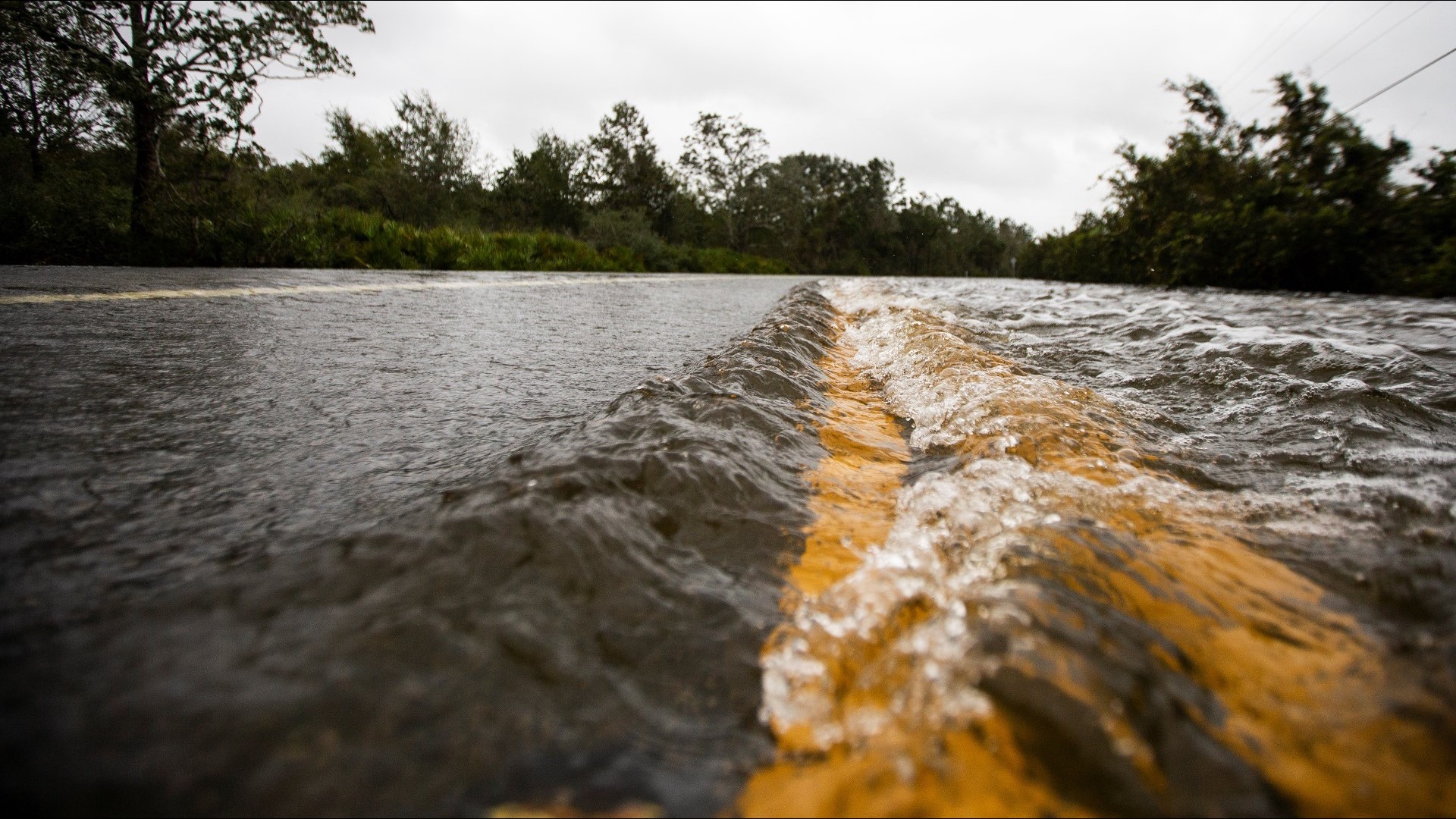 Busy. That's how meteorologists expect the 2020 Atlantic hurricane season to be.
It's the last thing coastal communities need as the United States tries to navigate isolated violence and a global pandemic. But, weather doesn't wait. Hurricane season begins on June 1.
The National Hurricane Center is already monitoring the possibility of tropical development in the gulf later this week. Already on Sunday, meteorologists were tracking a disturbance with a 50 percent chance of developing in the next 48 hours and a 60 percent chance of becoming more organized in the next five days.
Two named storms appeared before the season even began: Tropical Storm Arthur and Tropical Storm Bertha. Arthur lightly brushed by the coast of North Carolina, while Bertha brought heavy rain when it made landfall near Charleston, South Carolina.
And, those storms are likely only the beginning.
The National Oceanic and Atmospheric Administration is predicting 13-19 named storms, 6-10 hurricanes and 3-6 major hurricanes this season. The agency anticipates a 60-percent chance of an above-normal season.
The Atlantic hurricane season runs from June 1 through Nov. 30.
The 2019 Atlantic hurricane season saw six hurricanes, three major hurricanes, including Hurricane Dorian, and 18 named storms.
If you look back through history, tropical systems can and have formed (at some point) every month of the year. According to NOAA data from 1851 to 2018, February and March have had the fewest tropical storms with one apiece. September has had the most with 616.
The peak of hurricane season is September 10.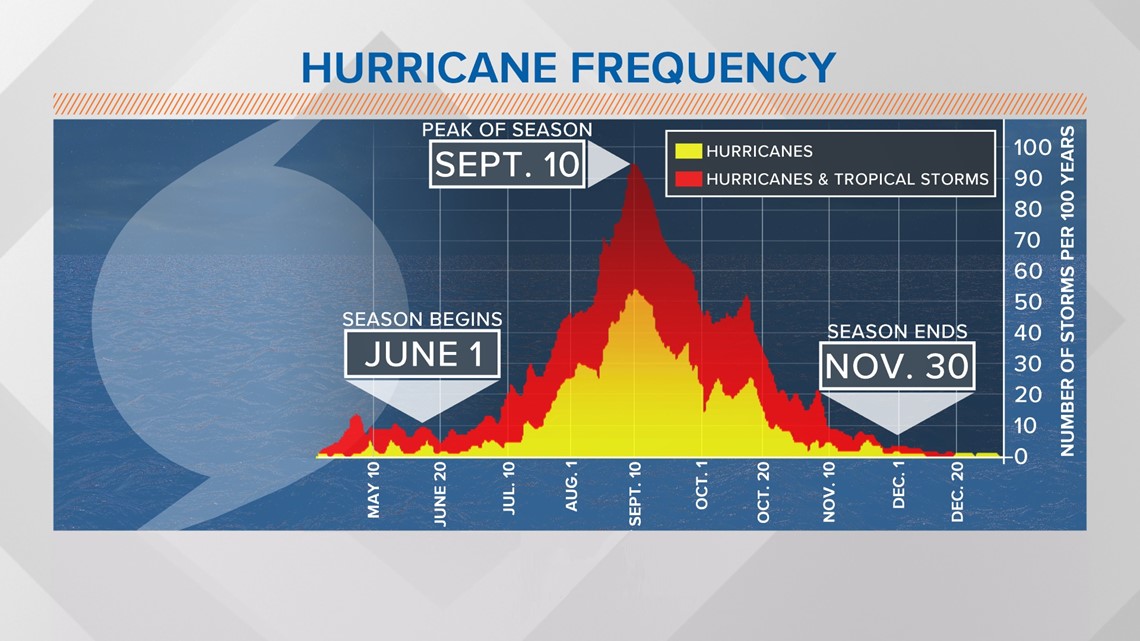 What supplies go in a hurricane kit?
:
The coronavirus pandemic means there are some extra items you'll want to include in your hurricane supply kit. Those include face masks, hand sanitizer and disinfectant wipes.
If you're new to Florida, we've got you covered. Here's a quick list of everything you'll want to be prepared for hurricane season, as recommended by the state's emergency management division:
At least two weeks supply of medication, medical supplies used regularly and a list of allergies
List of the style, serial number and manufacturer information of required medical devices
Flashlight (Do not use candles, and be sure to have enough batteries)
Radio (Battery operated or hand-cranked radio, an NOAA weather radio)
Cash (Banks and ATMs may not be available after a storm)
First aid manual
Sterile adhesive bandages of different sizes
Sterile gauze pads
Hypoallergenic adhesive tape
Triangular bandages
Scissors
Tweezers
Sewing needle
Moistened towelettes
Antiseptic
Thermometer
Tube of petroleum jelly
Safety pins
Soap
Latex gloves
Sunscreen
Aspirin or other pain reliever
Anti-diarrheal medicine
Antacid
Laxative
Cotton balls
Q tips
Important Documents (Items should be kept in a waterproof container)
Insurance cards
Medical records
Bank numbers
Credit card numbers
Copy of social security card
Copies of birth and/or marriage certificates
Other personal documents
Set of car, house and office keys
Service animal ID, veterinary records, and proof of ownership
Information about where you receive medication, the name of the drug and dosage
Copy of will
Enough food for at least 7 days (Nonperishable packaged or canned foods and drinks, snack foods, juices, baby food and any special dietary items)
Non-electric can opener
Paper plates
Napkins
Plastic cups
Utensils
Water (1 gallon per person, per day)
Rain gear
Study shoes or boots
Make sure to include any specialty items for babies, small children, people or are elderly or anyone in your home who has a disability
Keep your car or truck gas tanks filled
Maintain a list of important phone numbers, including for your county emergency management office, evacuation sites, doctors, banks, schools and veterinarians
Have a number for an out-of-town contact if you need help; could be family or friends
Face masks
Disinfectant wipes
Hand sanitizer
Pet food and water
Proper identification
Medical records and microchip information
A carrier or cage
A muzzle and leash
Water and food bowls
Medications
Supplies for any service animals
Know your evacuation zone
:
The Tampa Bay area is especially susceptible to storm surge from hurricanes and tropical storms. Like all Florida's coastal communities, there are listed evacuation zones in our area to help people get out of harm's way before a storm strikes.
It's critical that you know your evacuation zone before the storm arrives. Type your address into the interactive map below. If you can't see it when you scroll down, click here for a direct link.
Beyond your evacuation zone, it's equally important to know the evacuation route you'd take if you were told to get out. Click here for detailed information about evacuation routes and to find potentially life-saving storm surge information.
Of course, one of the best places to get instantly notified about evacuations, hurricanes and tropical storms is to sign up for the 10 Tampa Bay app. It's free and includes updates directly from our meteorologists.
If you live outside of Florida, we care about your safety too. Click here for evacuation zone information impacting other states.
Tampa Bay-area evacuation zones
Understanding hurricane strength
:
The Saffir-Simpson Hurricane Wind Scale gives hurricanes a rating based on their sustained wind speeds. Hurricanes that reach Category 3 are classified as "major hurricanes" because they are more likely to cause "significant" property damage and could cause many deaths. That said, Category 1 and 2 storms are still dangerous and shouldn't be ignored.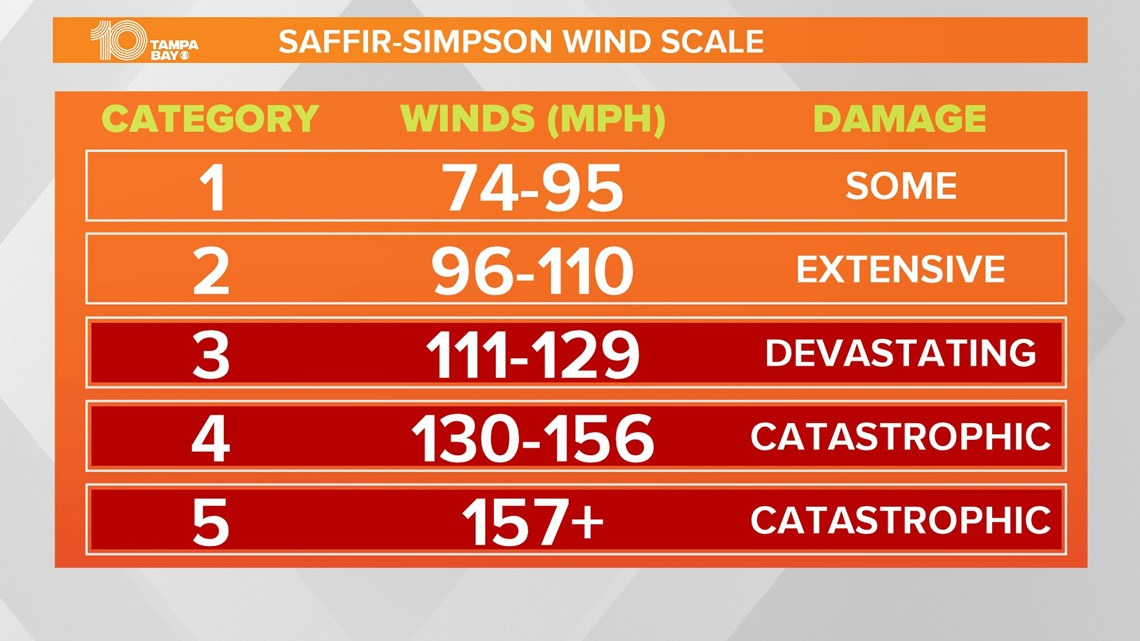 Below are the definitions, as presented by the National Hurricane Center:
74-95 mph winds
Very dangerous winds will produce some damage: Well-constructed frame homes could have damage to roof, shingles, vinyl siding and gutters. Large branches of trees will snap and shallowly rooted trees may be toppled. Extensive damage to power lines and poles likely will result in power outages that could last a few to several days.
96-110 mph winds
Extremely dangerous winds will cause extensive damage: Well-constructed frame homes could sustain major roof and siding damage. Many shallowly rooted trees will be snapped or uprooted and block numerous roads. Near-total power loss is expected with outages that could last from several days to weeks.
111-129 mph winds
Devastating damage will occur: Well-built framed homes may incur major damage or removal of roof decking and gable ends. Many trees will be snapped or uprooted, blocking numerous roads. Electricity and water will be unavailable for several days to weeks after the storm passes.
130-156 mph winds
Catastrophic damage will occur: Well-built framed homes can sustain severe damage with loss of most of the roof structure and/or some exterior walls. Most trees will be snapped or uprooted and power poles downed. Fallen trees and power poles will isolate residential areas. Power outages will last weeks to possibly months. Most of the area will be uninhabitable for weeks or months.
157+ mph winds
Catastrophic damage will occur: A high percentage of framed homes will be destroyed, with total roof failure and wall collapse. Fallen trees and power poles will isolate residential areas. Power outages will last for weeks to possibly months. Most of the area will be uninhabitable for weeks or months.
2020 Tropical Cyclone Names
:
Here are what this seasons' storms would be called, as selected by the World Meteorological Organization. We've already had Arthur and Bertha. So, the next one would be Cristobal.
Arthur
Bertha
Cristobal
Dolly
Edouard
Fay
Gonzalo
Hanna
Isaias
Josephine
Kyle
Laura
Marco
Nana
Omar
Paulette
Rene
Sally
Teddy
Vicky
Wilfred
For more tropical weather information, check out the 10 Tampa Bay Hurricane Headquarters page, which includes county-by-by county resources so you can sign up for emergency alerts in your area.
What other people are reading right now: