ST. PETERSBURG, Fla. — This summer has been the hottest ever in the Tampa Bay region and with September now here, that means the peak of the summer heat is behind us! We are now in Meteorological Fall, which means "summer 2.0" is here in Florida.
What's the difference between Meteorological and Astronomical Fall?
Astronomical Fall is what you will likely see on your calendar for the first day of Fall. It starts Sept. 22 and is based off the autumnal equinox or Earth's relation to the sun. The autumnal equinox marks the date that the sun's direct rays move to the southern hemisphere.
Meteorological Fall starts Sept. 1 and runs through the end of November. It is based off of the annual temperature cycle. Summer is marked by the three hottest months while the coldest time of the year, winter, runs from the start of December to the end of February.
Summer: June, July and August
Fall: September, October and November
Winter: December, January and February
Spring: March, April and May
Our temperatures for Meteorological Fall:
September doesn't bring much relief from the heat here in the Tampa Bay area. But it does mark the first time that our average high and low temperatures start to drop. Over the course of the month, our average high will drop from 91 degrees at the start of the month to 89 degrees at the end of the month. Our average low also drops by two degrees from 76 degrees to 74 degrees.
Our biggest drop in temperatures comes in October. Highs fall from 89 degrees to 82 degrees over the course of the month. Lows drop from 73 degrees to 65 degrees over the same timeframe.
November is when things really start to feel more like fall. For the first time in seven months, our average high temperature will fall into the 70s. Average highs start near 82 degrees falling to 76 degrees by the end of November. Lows will go from the mid-60s to the upper-50s. Sounds amazing, right?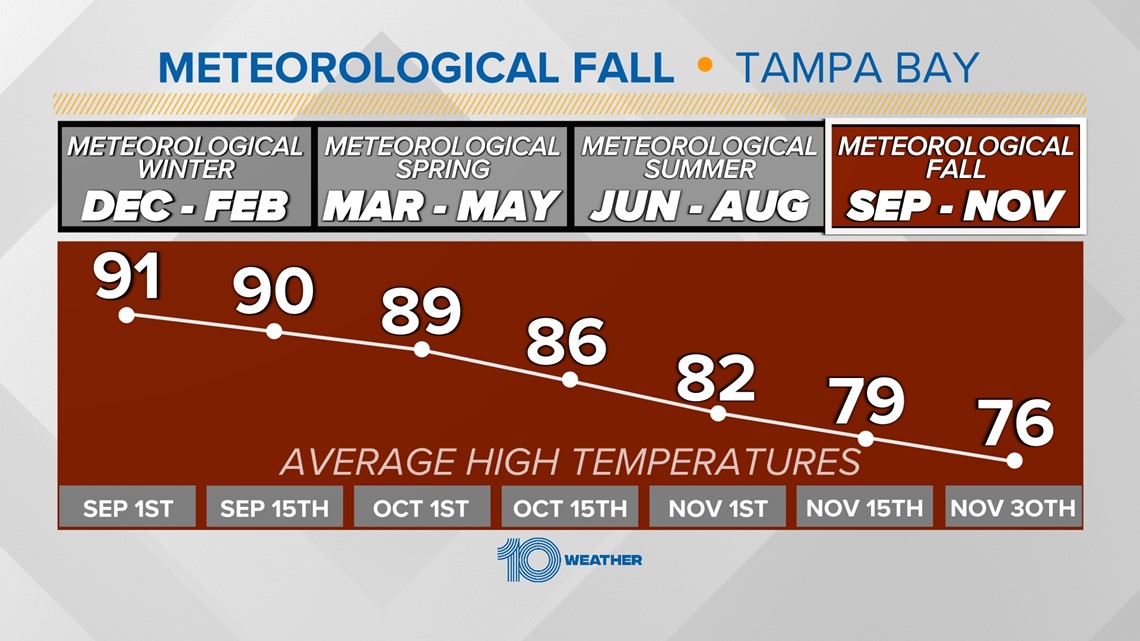 Rainfall for Meteorological Fall:
August is normally the rainiest month around the Tampa Bay region, so it is no surprise that September also sees its fair share of showers and storms. September averages around 6 inches of rainfall, which is down from the peak of 9 inches in August.
October marks the end of the rainy season, to be more exact Oct. 10. Rainfall drops off quickly in October with the month only averaging 2.34 inches of rain. That is the second driest month on average.
That takes us to November, which is actually the driest month on average with only 1.40 inches of rainfall.