MADEIRA BEACH, Fla. — The National Weather Service confirmed a tornado hit Madeira Beach on Sunday, leaving damage and debris on the yards of a homeowner and neighbors' yards.
A screen-in enclosure of one of the houses was lifted into the air and carried over the house. The homeowner's Nest cam captured it all on video.
You can see the entire sunroom start to lift up until the camera goes offline. Luckily, no one was hurt during this tornado and this seems to be the only major damage.
According to the NWS, radar data was consistent with the damage to suggest a water spout moved ashore and became a tornado. It rated as an EF-0 tornado with winds between 65-85 mph.
Neighbors say the whole thing was quick and powerful.
"And it kept closing in, closing in. Once the rain started, the wind started too. It was quick. I got an alert on my phone. And basically had just enough time to get in the house. Because it was hitting right when that alert came," explained neighbor Ted Lantagne, who lives three houses down.
Andy Migdaleck, owner of the home and sunroom was not home when the tornado hit.
"Oh I got a call from my neighbor there, Brian," he said. "And he told me was on his boat working on it and he looked over during the storm, it got windy and he looked over and saw my screened in enclosure lift up and fly over the house."
Migdaleck splits his time between Michigan and Madeira Beach. He will be heading back to Florida in two days to access the damage and begin to rebuild.
He says it's a good thing he wasn't home at the time of the tornado.
"That's exactly where I would have been at that time of day. And I do like hearing the rain so I would have been sitting out there," he added.
Sunday's severe weather brought thunderstorm warnings, heavy rain, small winds and some storm damage to the Tampa Bay area.
The warnings expired Sunday afternoon.
Severe winds blow through Tampa Bay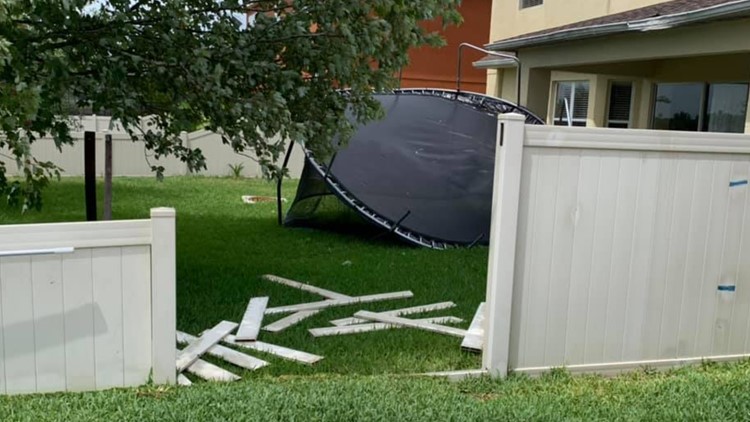 What other people are reading right now: