ST. PETERSBURG, Fla. — Tornado warnings were issued for parts of the Tampa Bay area Sunday evening as strong storms pushed through the region.
Land O' Lakes, Lutz and Odessa were under a tornado warning until 10 p.m. ET Sunday. Those warnings have been allowed to expire.
Meteorologists warned of the threat of strong winds and possible hail during the line of storms.
The weekend has been off to a great weather start around Tampa Bay. However, it's expected to end with widespread rain that will be measured in inches during the next couple of days.
A cold front will stall out right over Tampa Bay and then meander around a bit over the region. This will bring waves of rain and a few thunderstorms that will produce heavy rain at times.
The timing of the rain will be mainly Sunday through Wednesday for most of the Tampa Bay area, although the Nature Coast will see rain and storm chances increase early on.
The latest weather forecast model projections suggest the Tampa Bay area could pick up 1-3 inches of rainfall through Wednesday. Localized areas could see more.
Although thunderstorms are possible, the Storm Prediction Center isn't forecasting a widespread outbreak of severe weather. A couple of storms could be on the stronger side, however.
A marginal risk for severe storms exists just north of the Tampa Bay area -- a level one out of five.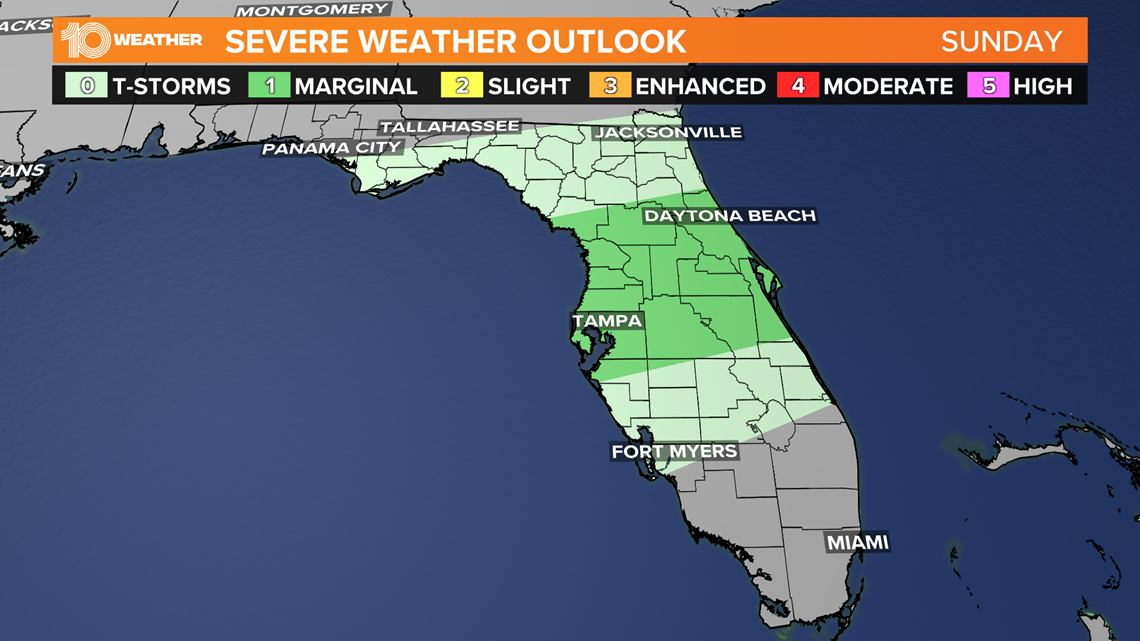 What other people are reading right now: