Looking at data collected in Tampa since 1939, the average temperature has been gradually warming. Nine of the area's Top 10 warmest years have all occurred in the last decade.

The average temperature through all of 2022 was 76.4 degrees — 0.1 degrees warmer than 2020 and 2017, which were the warmest years on record until now.
Even though the difference between 2022 and 2017 is only 0.1 degrees, you can clearly see an upward trend in the temperature over the long term. The graph below shows the average annual temperature from 1939 to 2022.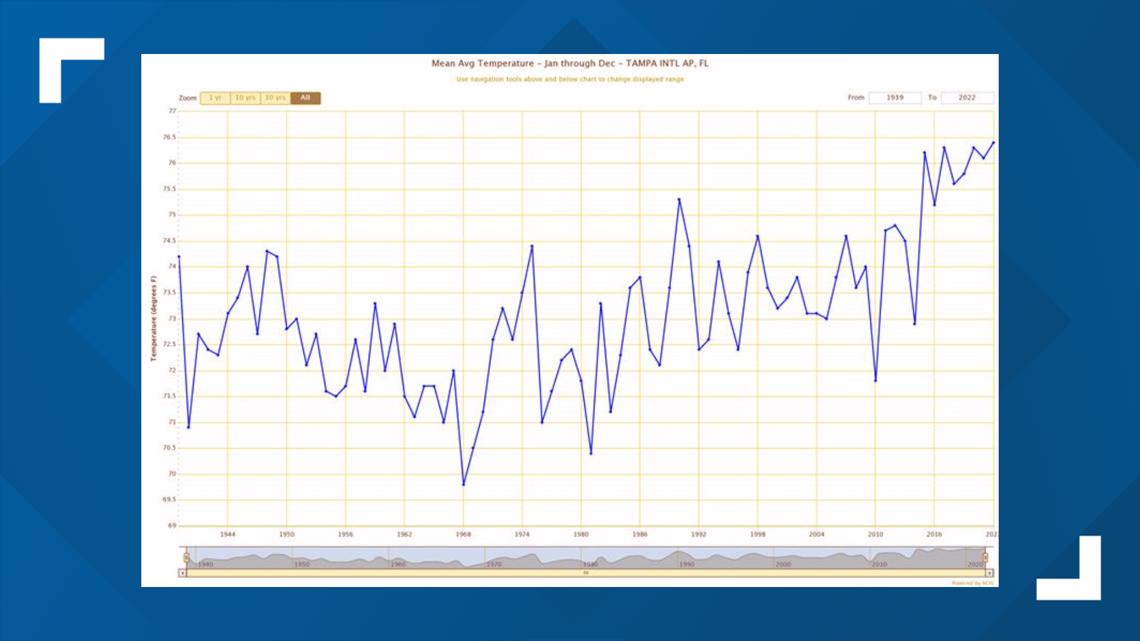 In the past 80 years, Tampa's annual average temperature has risen by 2.1 degrees. That's alarming considering that about 9 degrees separate the modern earth from the last ice age, which ended nearly 15,000 years ago, according to Peter deMenocal, a paleoclimate scientist at Lamont-Doherty Earth Observatory at Columbia University in New York.
2022 clocking in as the warmest year on record may be somewhat of a surprise after what was an unseasonably cool December for Tampa Bay. The average temperature for December 2022 in Tampa was 64.7 degrees, which was about 0.2 degrees cooler than normal, making it the 53rd coolest December on record.
All of that said, temperatures in the month of December have generally been warming over the last several decades. Since 1970, the Tampa area has seen a rise of 4.9 degrees in the month of December.

While warmth in the wintertime might be a welcome theme, the Tampa area has seen record heat through the summer months as well. In fact, this past summer Tampa recorded its hottest June-August period ever with an average temperature of 85.7 degrees. This broke the old record set in 2020 by 0.9 degrees. The average high temperature through the summer in Tampa was 92.9 degrees, which also broke the record for the highest average high temperature for a summer in Tampa.
The bigger impact of warming temperatures, especially during the summer months, is at night. Warmer temperatures at night make it more difficult for people and infrastructure to cool down and recover before more heat the following day.
The average low temperature through the summer months in Tampa was 78.5 degrees which also broke the record for the warmest average low temperature for summer. In fact, there were 35 summer nights in Tampa in 2022 where the temperature did not drop below 80 degrees.
Despite a few dips in temperature 2023, seems to have picked up right where 2022 left off. Through Jan. 10, Tampa has experienced the 5th warmest start to the year on record. We will see how the rest of the year plays out.