Whether you're hitting the road or taking to the skies, an estimated 55 million people will be traveling along with you. So how much stress could the weather be adding to your travel plans? We have a detailed breakdown for you.
West Coast/Rockies
With winter storm watches in effect, a strong Pacific system will dump a generous amount of rain and mountain snow from Washington state down to Southern California.
Elevations along Sierra Nevada Mountains above 3,000 ft. may receive as much as 2-3' feet of snow. Rain and mountain snow showers will persist through the end of the week, but major travel impacts will begin Tuesday and Wednesday.
Roads will be wet, and higher elevations will be difficult to pass.
The Rockies will receive healthy doses of snow through Friday with a break in the action Wednesday.
Rain and mixed precipitation will impact the Southwest Wednesday into Thursday.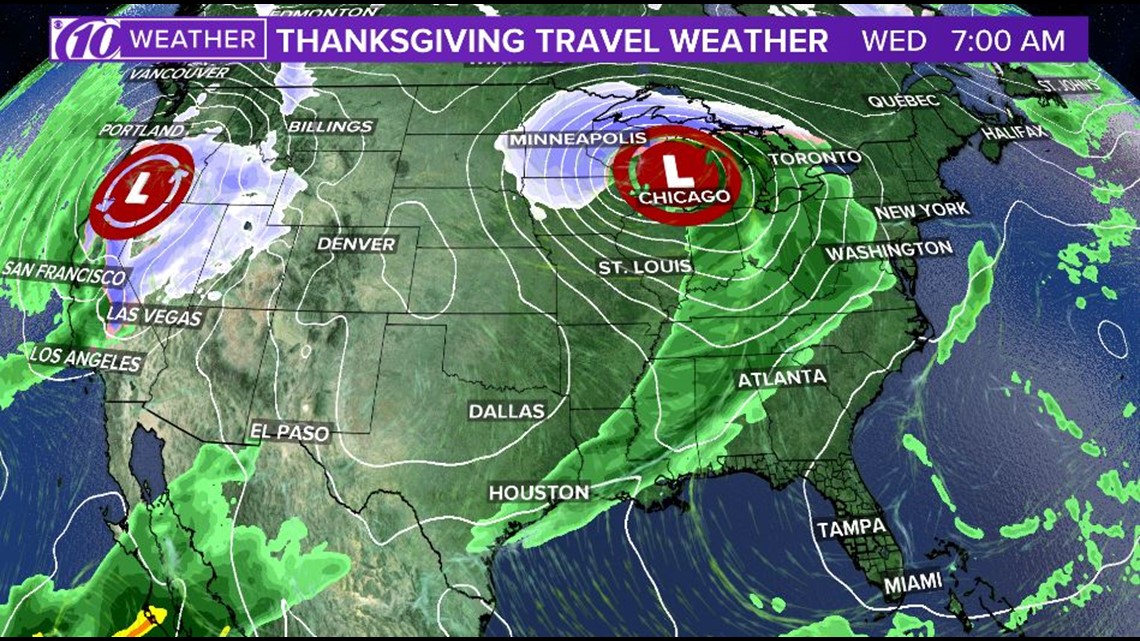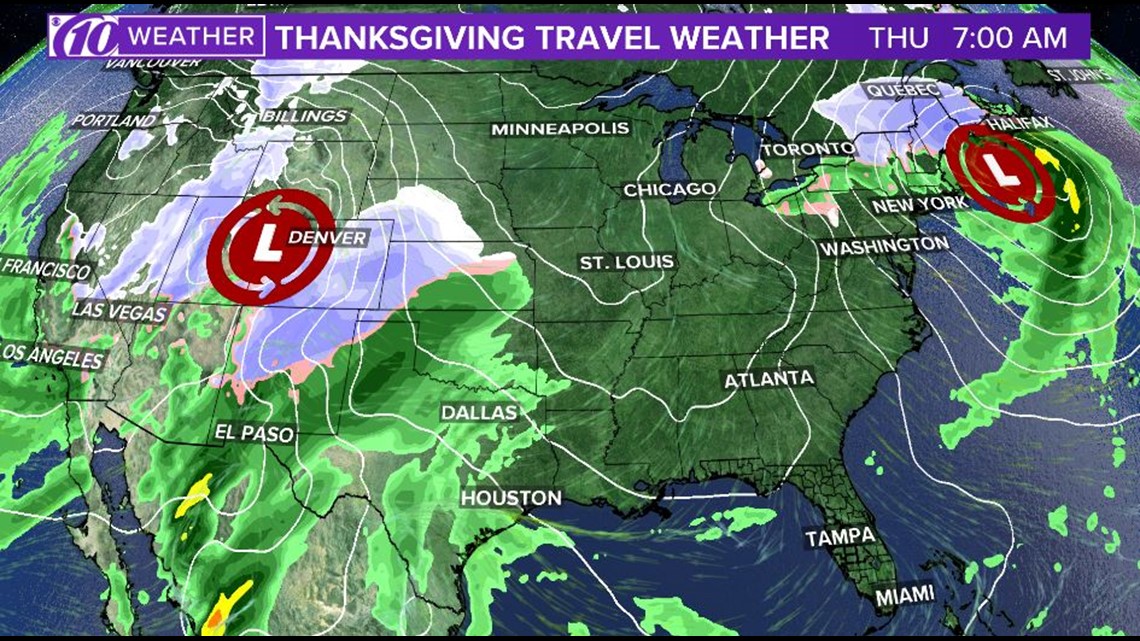 Midwest
The system impacting the Rockies will bring snow and sleet to the Plains and Great Lakes Tuesday into Wednesday. Winter storm watches for snow are in effect from Kansas to Michigan.
Great Lake cities like Chicago and Detroit will start out with rain Tuesday afternoon with that rain developing into snow late Tuesday into Wednesday.
Parts of Wisconsin and Michigan will receive a significant amount of snow on Tuesday and early Wednesday before clearing out.
Then, the chill comes. Behind the storm, temperatures will drop nearly 15 degrees in some cities, bringing Thanksgiving highs to the 30s and 40s.
East Coast
The East Coast will be quiet Tuesday, but by Wednesday morning, a line of rain stretching from the low-pressure system in the Great Lakes will stretch from eastern Texas to Ohio and will continue to move east.
Areas bordering the Great Lakes will get a bit of snow Thanksgiving morning. Much of New England will be dealing with rain, snow, and mixed precipitation throughout the day before clearing out Friday.
HEADS UP for the weekend AFTER Thanksgiving: A system will move through the midwest and Great Lakes Saturday then head east to the east coast Saturday night. This storm system may prove to cause the most travel problems as it will spread a mix of snow, ice and sleet for parts of Pennsylvania, New York and into the northeast on Sunday.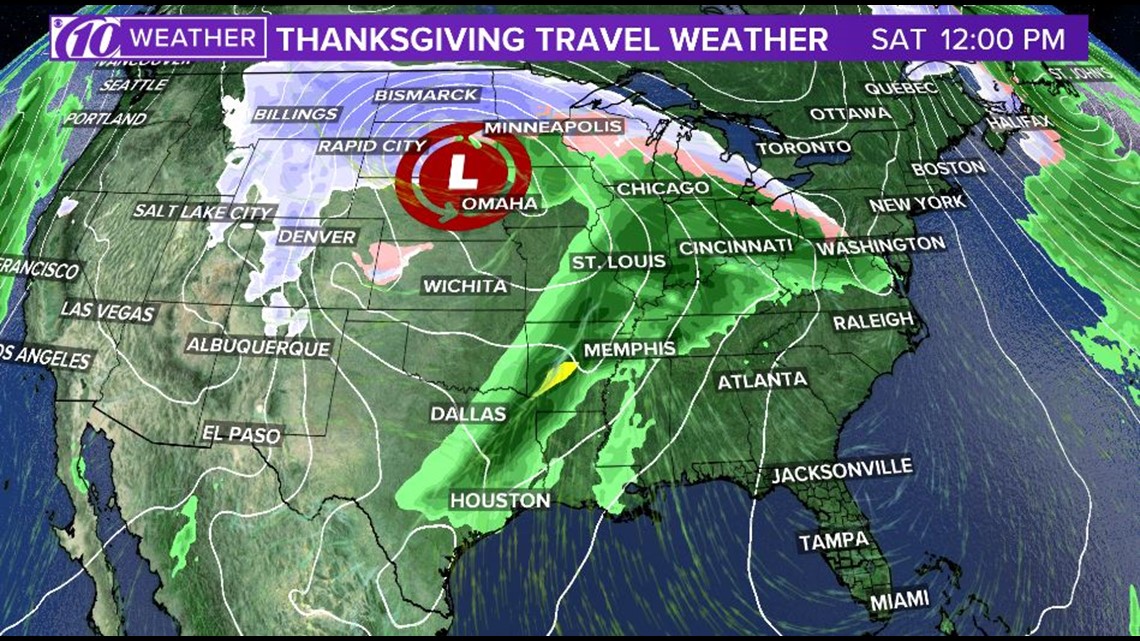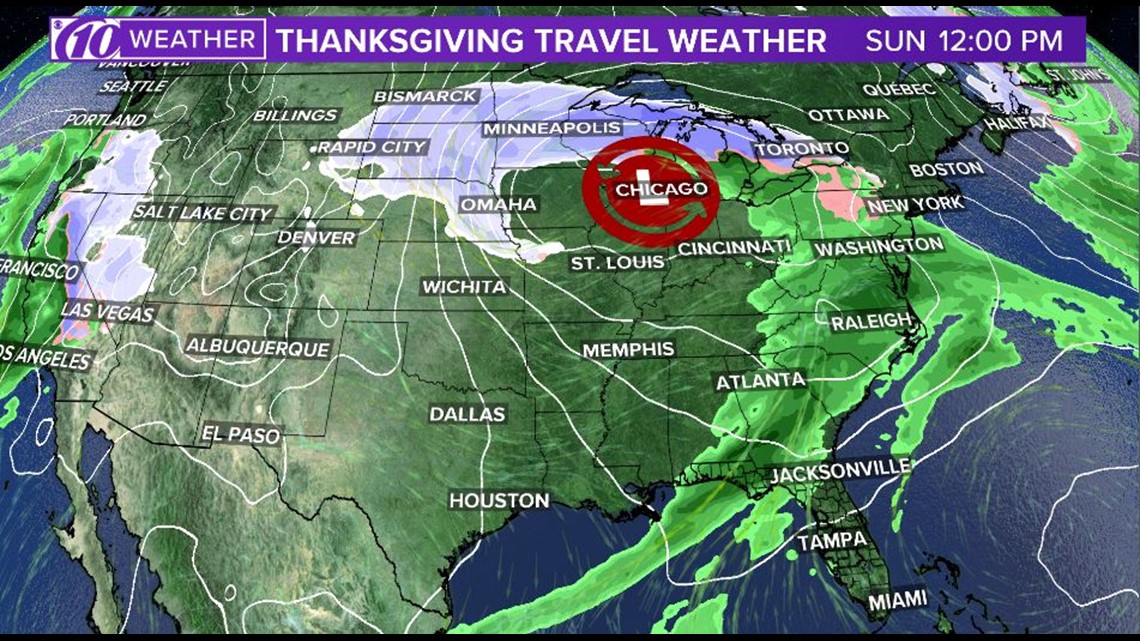 What other people are reading right now: