TAMPA, Fla. — Tropical Storm Fay made landfall Friday afternoon, at 4:50 p.m., just north-northeast of Atlantic City, New Jersey.
The system is expected to track up the Atlantic Seaboard as a big rain and wind maker. The storm poses no threat to Florida.
The National Hurricane Center says Fay is currently packing sustained winds of 50 mph with higher gusts. It's moving north at 14 mph.
Tropical-storm-force winds are extending outward up to 185 miles.
Fay is expected to drench northern New Jersey, southeastern New York and Long Island.
A flash flood warning is in effect for the area, including New York City. The storm system was expected to bring 2 to 4 inches of rain, with the possibility of flash flooding in parts of the mid-Atlantic and southern New England, The U.S. National Hurricane Center said in its 5 p.m. advisory. That's down from earlier forecasts of about 3 to 5 inches of rain.
A tropical storm warning remained in effect from Fenwick Island, Delaware, to Watch Hill, Rhode Island.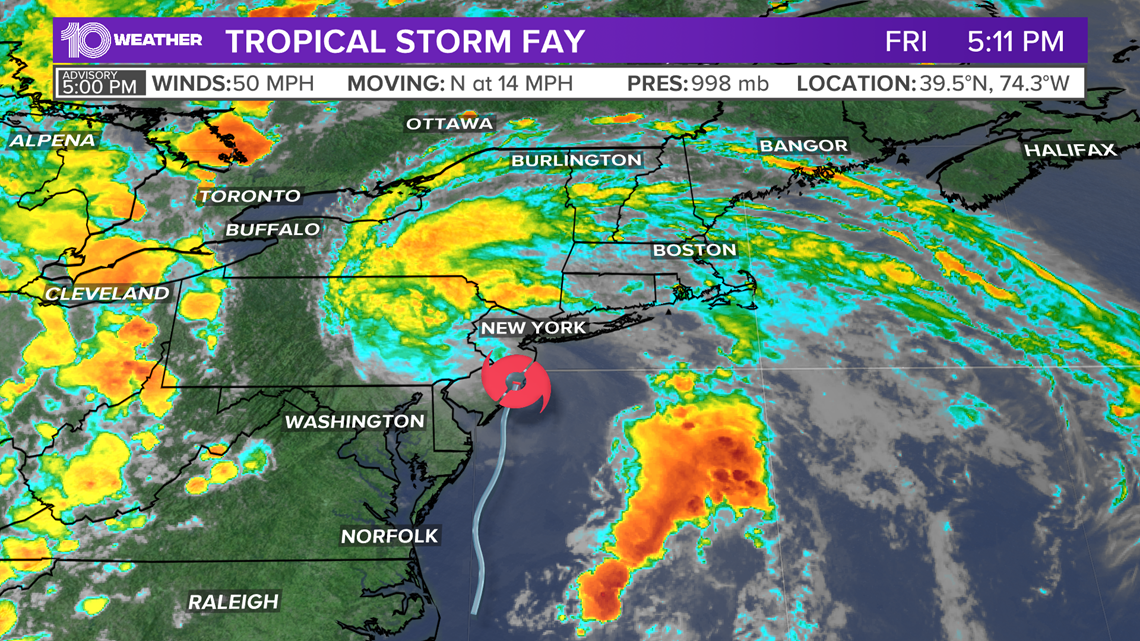 Meteorologists expect Fay to keep heading north and northwest at an increasing speed Friday night into Saturday. The tropical storm is expected to weaken to a tropical depression by Saturday morning and then dissipate on Sunday.
It's also the first tropical storm to make landfall in that region since Irene in 2011. Much of the region has already seen inches of rain out ahead of the storm. Central Park has already measured more than two inches of rainfall.
While the tropical storm will have no effect on Florida, it breaks another record in the active 2020 hurricane season.
This is the earliest sixth named storm on record in the Atlantic. The current record is Tropical Storm Franklin on July 22, 2005. On average, the first "F" name storm doesn't form until Sept. 8, two months from now.
The 2020 Atlantic hurricane season has already been record-breaking, with five named storms already in the books, two before hurricane season even started on June 1. None have been hurricanes.
Arthur brushed the Outer Banks of the Carolinas in May, and Bertha moved that way too. Cristobal brought heavy rain to the Gulf Coast, including Tampa Bay. Dolly moved harmlessly over the North Atlantic.
Remember, 2020 is expected be an above-average hurricane season. NOAA's official forecast calls for a 60 percent chance of an above-normal season with 13–19 named storms, 6–10 hurricanes, 3–6 major hurricanes. Above-average water temperatures and the lack of an El Niño are factors that would increase activity.
Other notable 2020 hurricane season events through June:
The first time since 2016 that two or more named storms developed before the start of the season.
The first time since 2012 that two or more named storms formed in the month of May.
The first season in the satellite era to have three systems form before or on June 1.
The earliest third named storm on record, upon the naming of Tropical Storm Cristobal on June 1. The previous record was held by 2016's Tropical Storm Colin, which formed on June 5.
Tropical Storm Dolly was named on June 22, becoming the third earliest fourth named storm on record, behind 2012's Tropical Storm Debby and 2016's Tropical Storm Danielle.