Warmer world, stronger storms: How a changing climate impacts hurricane season
The results of climate change are far-reaching, but the impacts on hurricanes are becoming more and more evident each hurricane season.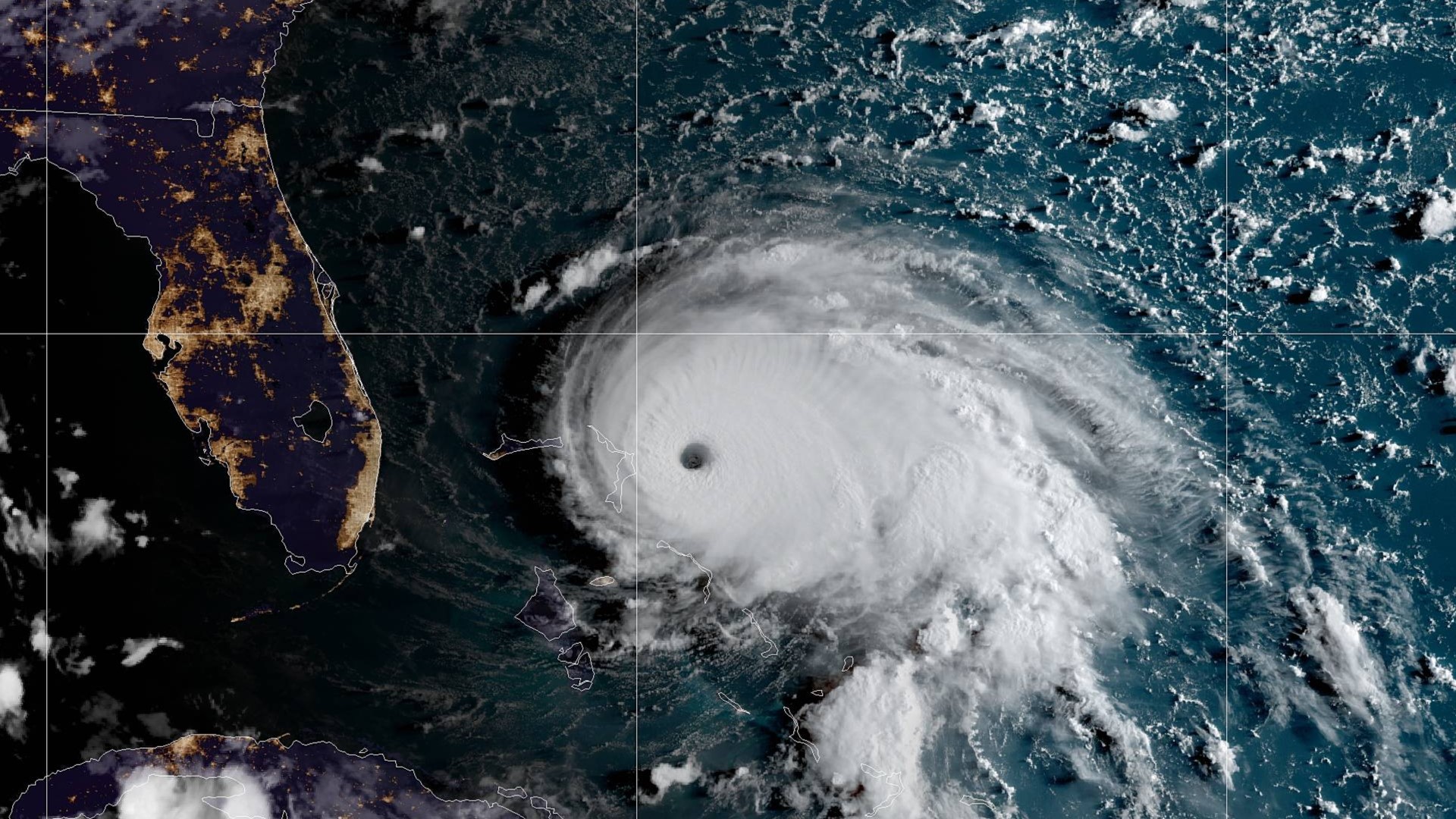 Climates around the world are changing and the warming observed around the world is very likely due to humans.
That's according to the Intergovernmental Panel For Climate Change, an international authority on climate change.
The results of climate change are far-reaching, but the impacts on hurricanes are becoming more and more evident each hurricane season. As the atmosphere and oceans warm, sea levels are rising and the threat for more devastating storm surge is increasing.
Rainfall rates with tropical systems are increasing and the most intense hurricanes are predicted to get even stronger. A warmer world, however, doesn't necessarily mean an increase in the number of tropical systems. We explore the impacts that a warmer world will have on tropical storms and hurricanes.
A changing climate
:
Climates around the world are changing with human activity very likely being the reason for it.
Let's start with the facts, climates around the world are changing. The Intergovernmental Panel For Climate Change, an international authority on climate change, states simply, "the atmosphere and oceans have warmed, the amounts of snow and ice have diminished, and sea level has risen."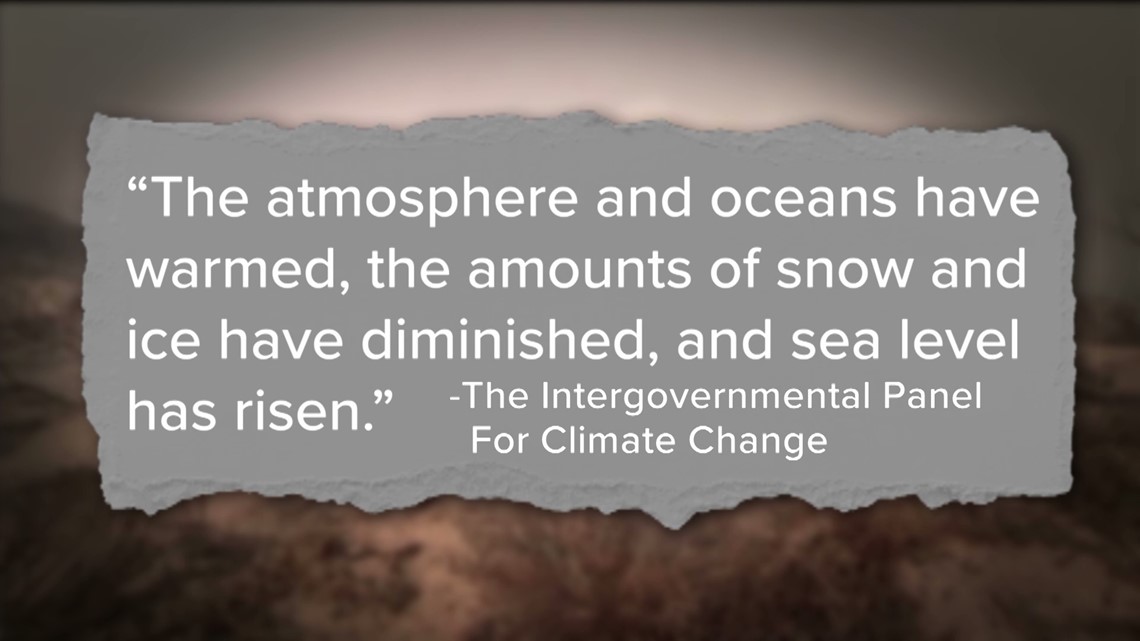 The IPCC also says most of the global warming observed over the past half-century is very likely due to human-caused greenhouse gas emissions.
Global temperatures and human-produced greenhouse gas increases are relatively easy to monitor and analyze.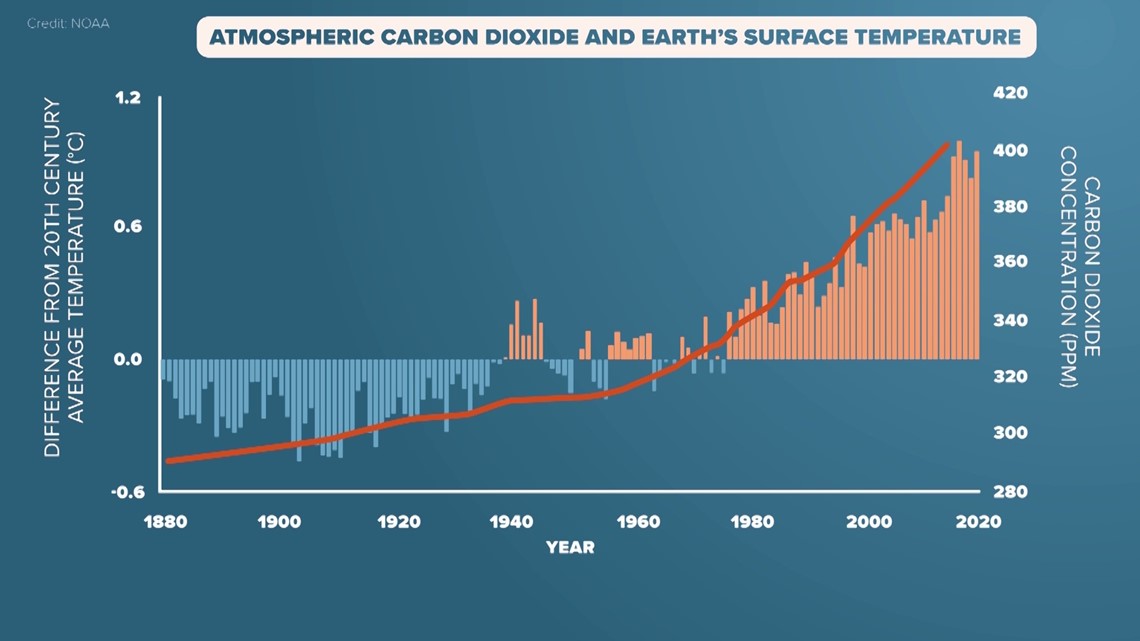 Thomas Knutson is a research meteorologist from the National Oceanic and Atmospheric Administration. He mainly focuses on tropical systems and climate change. He says connecting human-caused climate change and hurricanes is difficult.
"It's much harder to find these fingerprints of human-caused climate change in the hurricane data," Knutson said.
He went on to say this is partly due to the fact that there is simply less data to work with.
However, the ability to observe tropical systems has improved a lot over time, especially since satellites really started being used to track tropical systems in the 70s.
If there's nobody or nothing to see a hurricane in the middle of the ocean, there is no way to know if it was there. This is part of the reason why there isn't as much data about the number of storms in the Atlantic. Prior to the satellite era, the only record of tropical storms or hurricanes in the open Atlantic would have had to come from ship logs.
How storms form
:
Subtitle here
Warm ocean water, low wind shear, abundant moisture and tropical waves are elements that play a key role in tropical development and are also being influenced by climate change.
To understand how climate change could impact tropical systems, let's cover the basics of how a storm forms: There are several conditions that need to be in place for a hurricane to develop and continue to strengthen.
First, tropical systems typically only form over warm water. The ocean water must be around 80°F or warmer. If temperatures are colder, hurricanes will not form or will likely weaken rapidly.
A second and equally important factor is low wind shear. Wind shear can inhibit or potentially destroy the structure of a developing storm. Relatively weaker wind shear will allow the storm to grow and help steer it as it strengthens.
Tropical systems also prefer a lot of moisture and conditions with high relative humidity from the surface all the way through the mid-levels of the atmosphere. Dry air can limit development or even cause a storm to collapse altogether.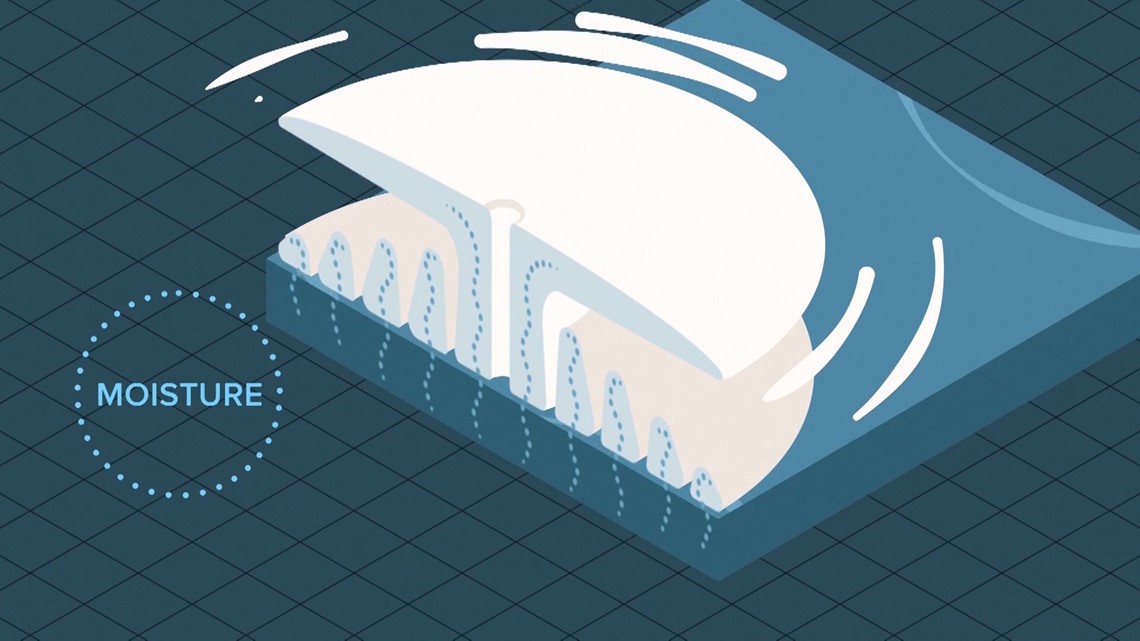 One of the final ingredients needed for development is a seed. A seed, or tropical wave, is a cluster of showers and thunderstorms that come off of the coast of Africa. When a wave moves into an environment with favorable conditions it is able to organize and strengthen into a tropical storm or hurricane.
Storm frequency
:
Subtitle here
The record-breaking tropical activity in 2020 mimics 2005, but a natural cycle of above and below-normal activity in the Atlantic makes it difficult to make a direct connection to climate change.
There's no doubt activity in the tropics lately has gotten a lot of attention, with flashbacks of 2005, the most active season on record with 27 named storms, including Hurricanes Dennis, Katrina and Wilma. So many storms formed in 2005 that, for the first time since hurricanes were named, the names ran out and we had to start using the Greek Alphabet.
The unprecedented year in 2005 and the already record-breaking year in 2020 is part of an active period in the tropics that began in 1995. Researchers have found the Atlantic goes through naturally occurring, multi-decade cycles of higher and lower activity, a result of The Atlantic Multidecadal Oscillation (AMO). This is the fluctuating cycle of warmer and cooler ocean temperatures in the Atlantic.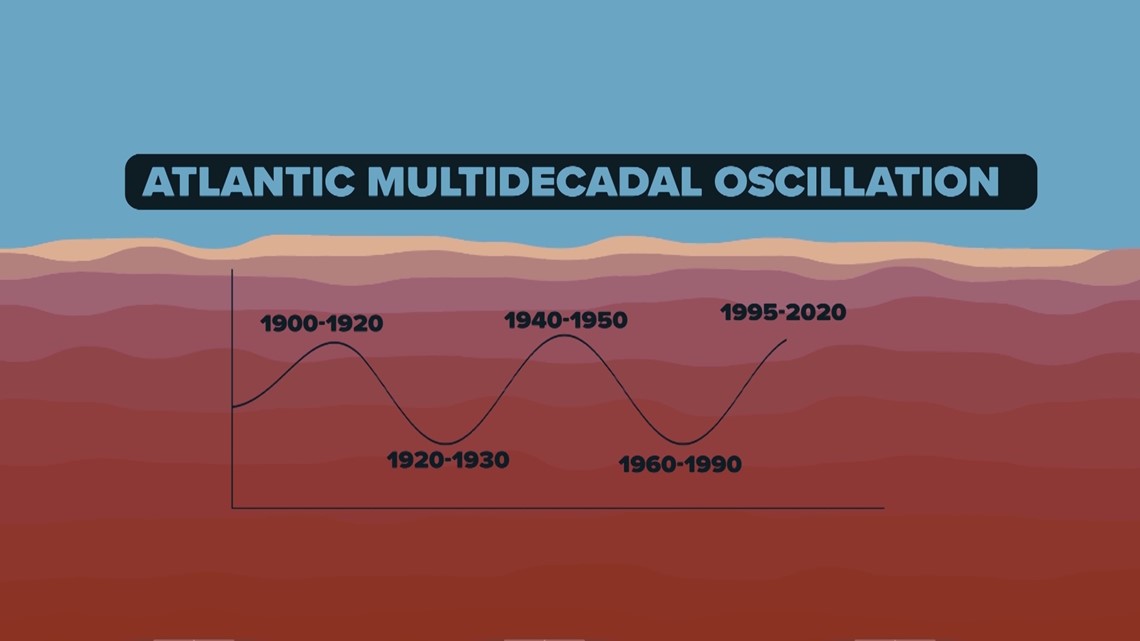 Knutson says, "this is what caused the higher [tropical] activity in the 40s and 50s, the lower activity in the 70s an 80s and higher activity since the mid 90s."
Between 1966 and 2009, the average number of tropical storms that develop each year in the Atlantic is 11, with an average of six hurricanes and two major hurricanes that are category three or stronger. Since 1995, there have only been five seasons that have produced fewer storms than that 43 year average.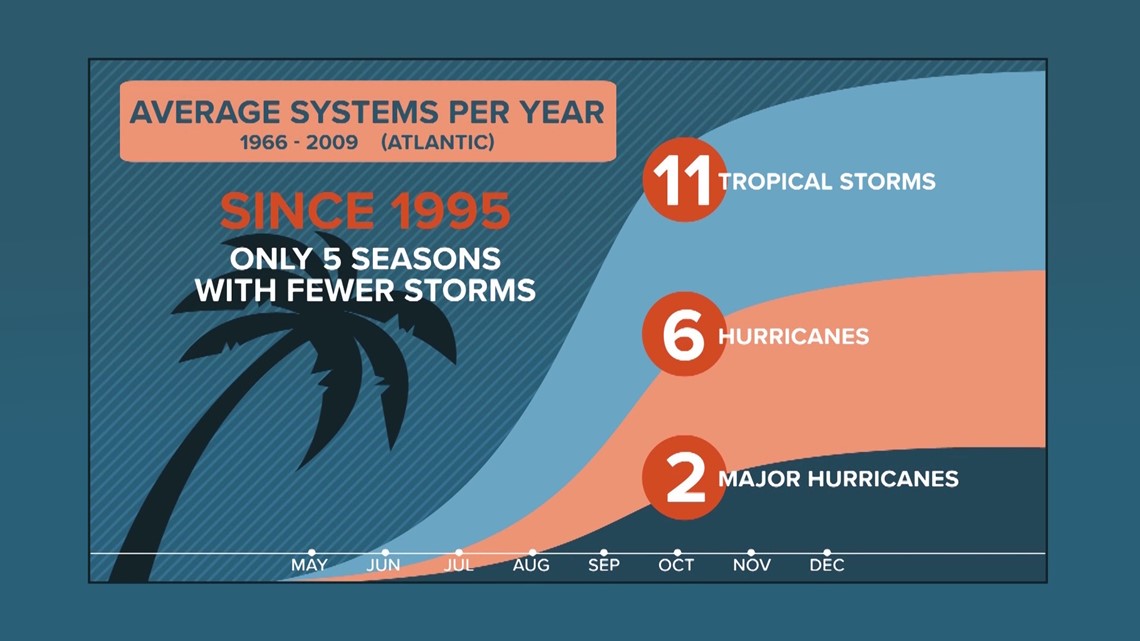 The natural swings in tropical activity over the course of decades makes it more difficult to identify if human-caused global warming is producing more storms.
10 Tampa Bay Meteorologist Grant Gilmore asked Dr. Michael Wehner, senior scientist at the Lawrence Berkeley National Laboratory, about the record-breaking activity this season and if he thinks it is a result of climate change. His response:
"I don't know. Just don't know....it could be but, but it's a difficult thing to...because the variability between one season to the next." Wehner expanded on the topic of looking at hurricane data, "It's really nice if we can have like a century-scale record to look at and sort of see when you have an unusual year to sort of see where that fits in the overall perspective of things".
Without this long term record of the natural variability of activity, it may be too soon, at least in the Atlantic, to say with high confidence that humans have already had a detectable impact on the number of tropical systems in a season.
What's interesting is a warmer ocean doesn't necessarily mean the number of hurricanes is going to increase. In fact, Knutson points out, "Most of the models are showing a decrease in the total number of storms".
Sea level rise, storm surge and rainfall rates
:
Subtitle here
Sea levels are rising as a result of global warming and land ice melting. That has increased the threat of storm surge and the rainfall intensity of tropical systems.
Sea levels are rising
Even if we take into account the natural multidecadal variability of tropical activity in the Atlantic, a warming climate does appear to already be influencing the impacts of hurricanes.
Sea levels are rising because the ocean is getting warmer and land ice is melting.
This causes a higher storm surge or water that is pushed ashore by a storm to higher levels.
"So it will create increased flood risk at the coast. No matter what happens. Even if hurricanes don't change at all," Wehner said.
Sea level rise is already being seen right here in Tampa Bay with the tide gauge in St. Petersburg showing that water levels have increased at least 7.8" -- roughly one inch a decade -- since 1946 when water levels were first recorded at this tide gauge. In other words, the Tampa Bay area already has a greater storm surge threat now than it did 70 years ago.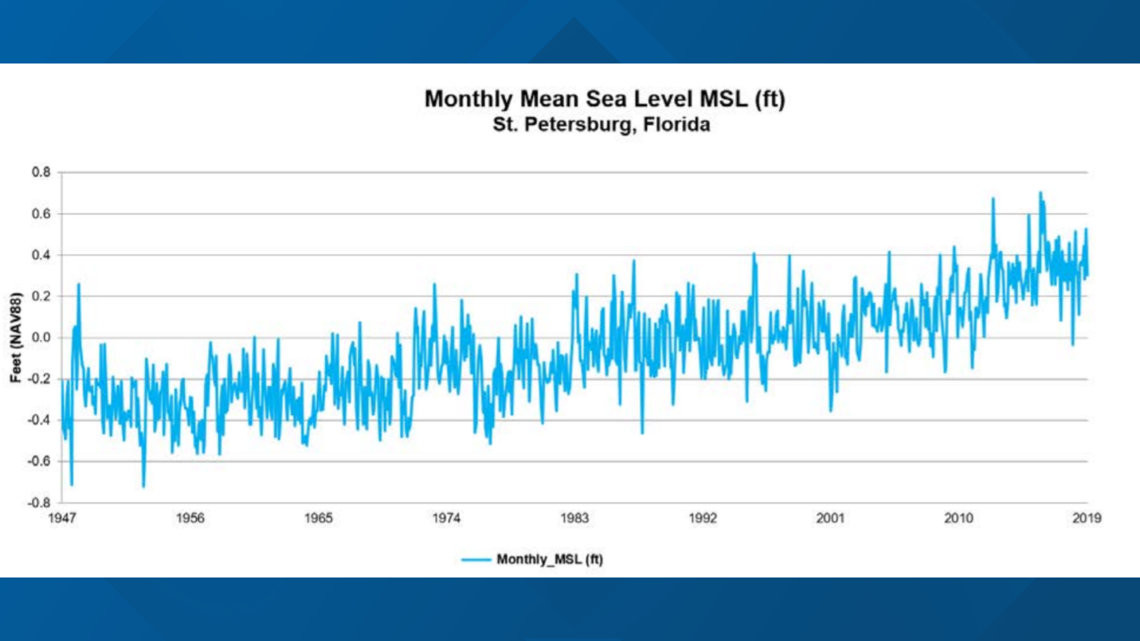 Rainfall rates increase
"What we're trying to do is go beyond that, and see how the hurricanes themselves are going to change with global warming," Thomas Knutson a research meteorologist from the National Oceanic and Atmospheric Administration said. And, the most confident thing researchers have found is rain produced by these tropical systems are very likely to increase with global warming."
A warmer atmosphere will hold more moisture and this will ultimately result in more rain increasing the threat of, not just the coastal flooding from the surge, but also the threat of inland flooding. In fact, an increase of sea surface temperatures of about one-degree Celsius has been estimated to result in a seven-percent increase in the intensity of the rainfall in a hurricane.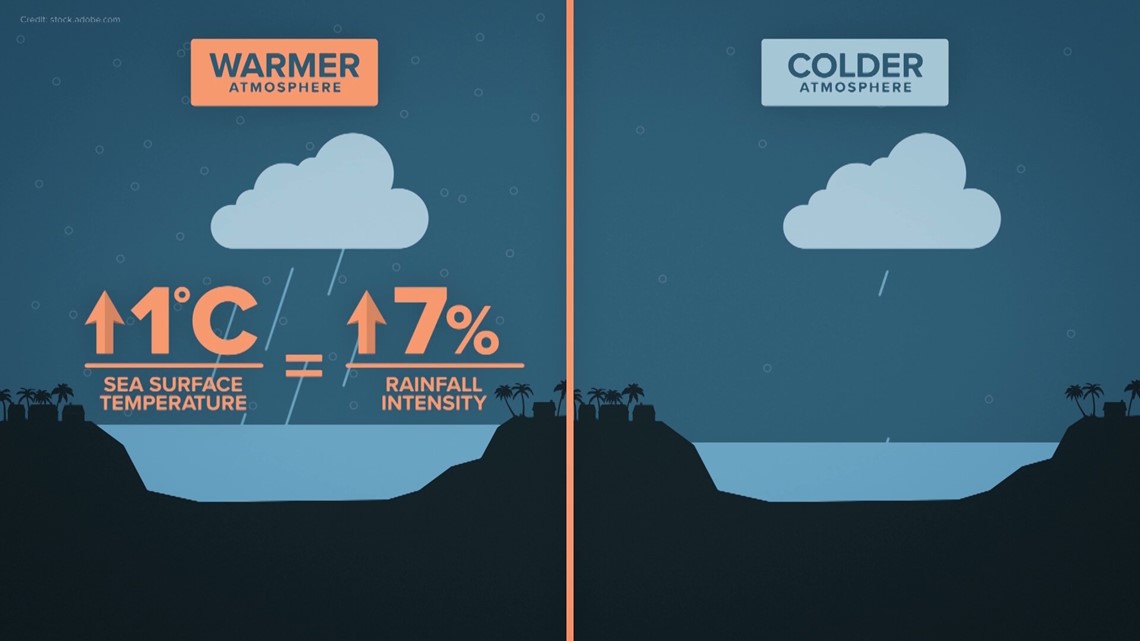 "But, with Harvey in 2017, the rate of increase was considerably larger than that, you know, as much as in our case, almost 40-percent," Whener said. "For the one degree of warming in the Gulf of Mexico, that we can attribute to human activities through the burning of fossil fuels."
When asked about how he got to that 40-percent increase in rainfall coming from human climate change as opposed to just the fact that it was a large storm, Whener turned to the models.
"Well, even without climate change, Harvey would have been a big storm, there's no question of that," Whener said.
But with climate change, it was intensified and researchers can verify that several different ways.
The first way is to run the model as the environment was in 2017 with the actual observations from the storm, most importantly the sea surface temperature.
Then run a simulation of Harvey where the ocean temperature is cooled a bit, imitating what the atmosphere would have been like without global warming.
When the two models are compared, you can see the influence of climate change.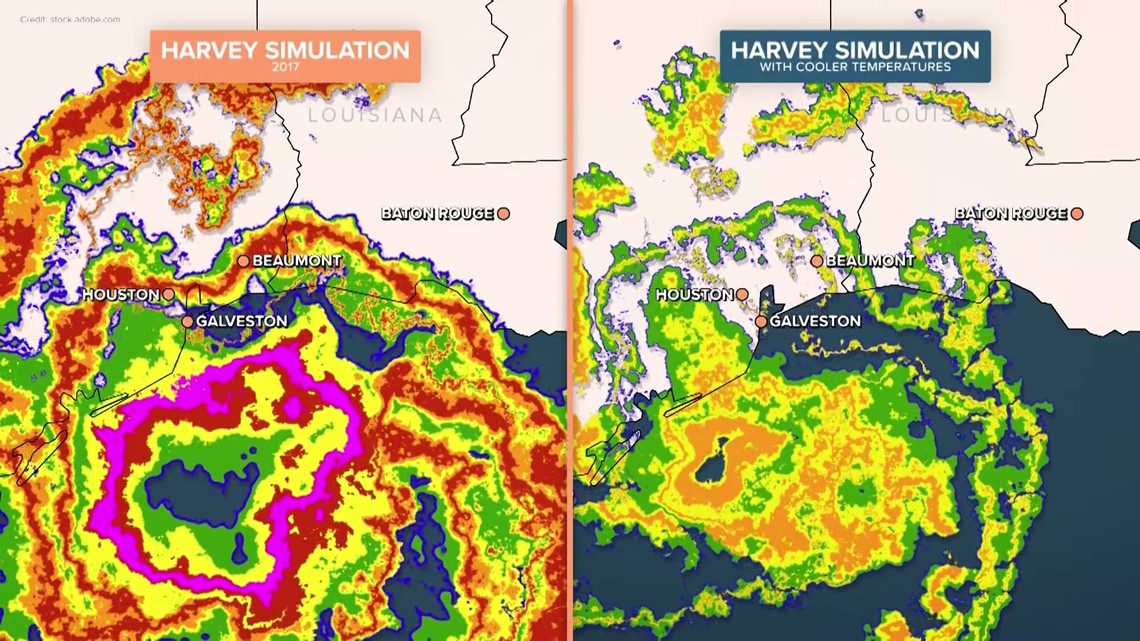 The second way doesn't use a forecast model but instead just looks at the observations from Harvey and compares them to other observations from Texas over the course of 100 years.
"And the interesting thing is that these two very, very different and completely unrelated approaches and unrelated groups, came up with essentially the same answer.", said Whener.
Tropical intensity
:
Subtitle here
As the oceans and the atmosphere warm the intensity of tropical systems are expected to increase, but the frequency of storms isn't necessarily going to increase as well
Researchers are expecting a warmer ocean to lead to more intense storms. The question they are still trying to answer is how will it affect the number of storms.
"What's interesting is a warmer ocean doesn't necessarily mean the number of hurricanes is going to increase," said Whener. "Most of the models are showing a decrease in the total number of storms."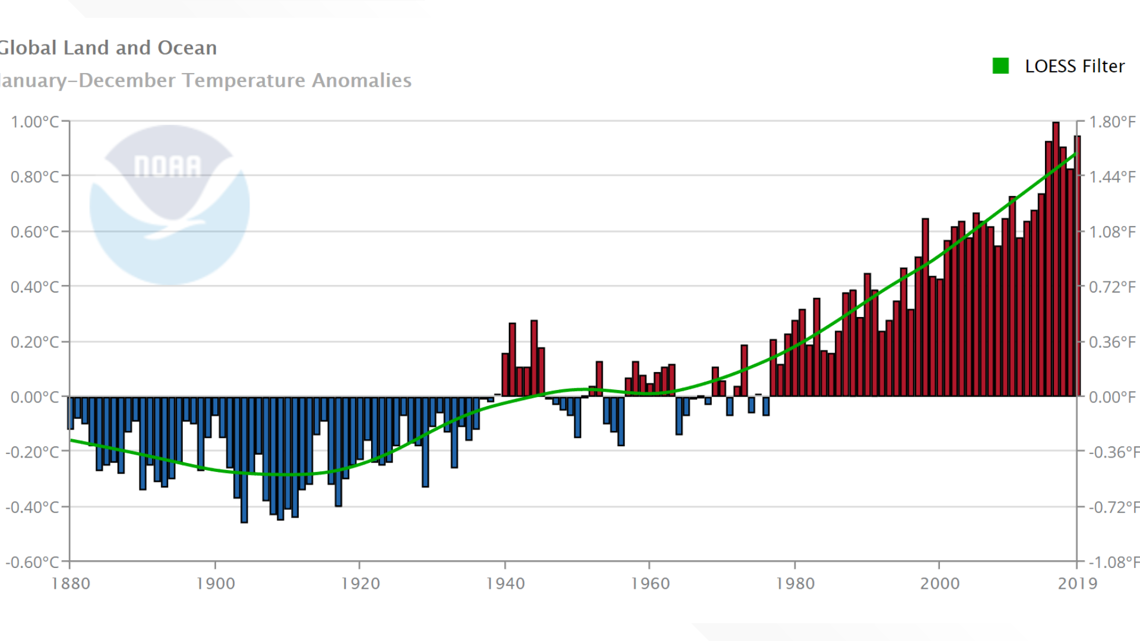 Global climate change is expected to have an impact on more than just ocean temperatures. A global atmospheric shift could result in fewer disturbances coming off of the coast of Africa, less instability for thunderstorms to thrive and the potential for other conditions that would keep a hurricane from forming.
But, when a hurricane is able to form, those storms are expected to be stronger.
A study released earlier this year in the Proceedings of the National Academy of Sciences found satellite images dating back to 1979 showed global warming has already increased the likelihood of a hurricane strengthening to a category three or stronger by about 8-percent each decade.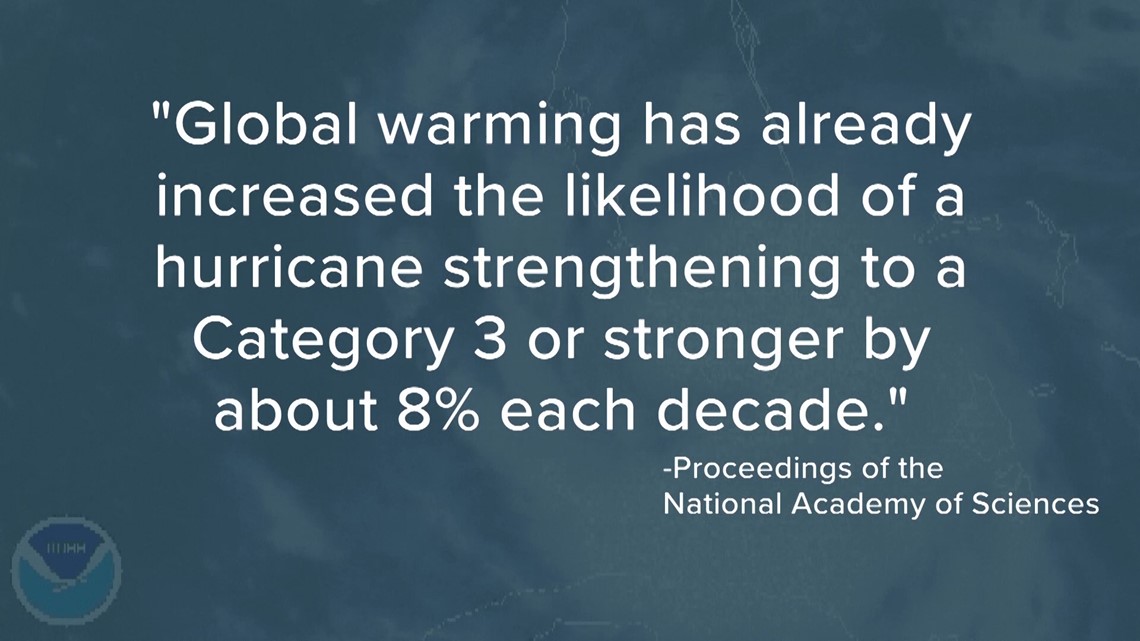 "And the thing we know very well is that in the warmer world," said Whener. "The most intense storms, Category 4 and the Category 5s, will become more intense."
The science is pretty simple here: if all other conditions are ideal, a warmer ocean will provide more available energy for a hurricane to draw from.
That literally provides it with more fuel for an already supercharged storm.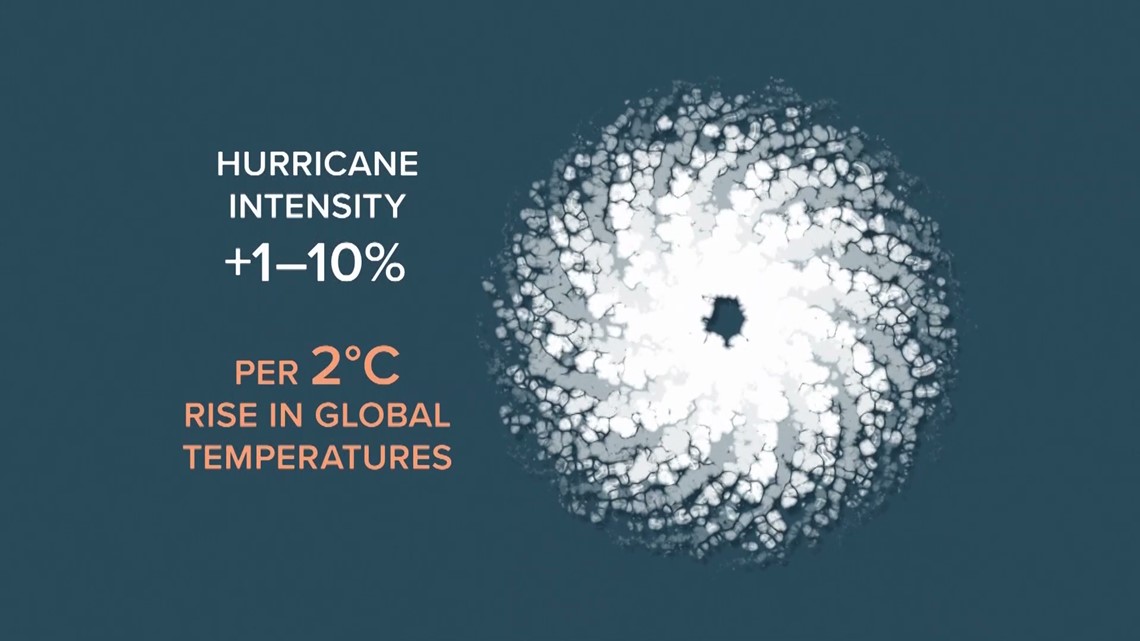 Projections are hurricane intensity could increase on average to anywhere between 1-10 percent for every 2-degree Celsius rise in global temperatures. Leading to an even larger percentage increase in the destructive potential of a storm.