TAMPA, Fla. — Nicole officially weakened in a tropical depression Thursday night and is still working its way into Georgia Friday.
All tropical storm and storm surge warnings previously issued have been discontinued.
As of the 4 a.m. Friday advisory, Tropical Depression Nicole is a 35-mph storm located about 70 miles southwest of Macon, Georgia, according to the National Hurricane Center. It's moving off to the north-northwest at 16 mph.
Nicole is expected to accelerate north-northeastward on Friday, the NHC says. The center of the storm will move over central and northern Georgia Friday morning and over the western Carolinas later Friday.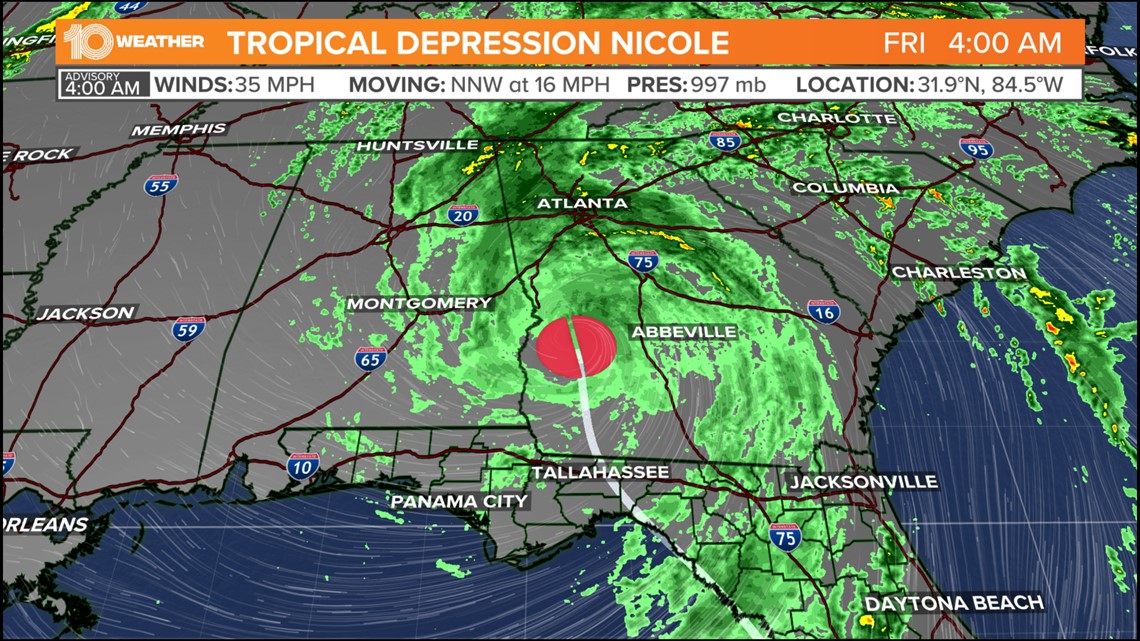 The emergency declaration, issued by executive order, is "out of an abundance of caution" to allow the state to better respond to storm response and recovery, the governor said in a statement.
"While this storm does not, at this time, appear that it will become much stronger, I urge all Floridians to be prepared and to listen to announcements from local emergency management officials," DeSantis said in the statement. "We will continue to monitor the trajectory and strength of this storm as it moves towards Florida."
The governor's office said DeSantis advises people across the state to review their disaster preparedness plans, listen to all orders from local officials, know their evacuation zone, have multiple ways to receive weather alerts and keep car gas tanks at least half fuel.