That means we're in the heart of hurricane season. So, our meteorologists are keeping a close eye on the tropics.
On Friday, they got one more system to track. But, this one will likely be short-lived.
The National Hurricane Center put out advisories just before 5 p.m. Friday for Subtropical Storm Teresa.
As of the 5 a.m. advisory, it is about 155 miles north of Bermuda. Teresa is packing 40-mph winds and moving to the northwest at 6 mph. Up to 40-mph winds are extending as far as 140 miles outward from its center, which became more well-defined Friday.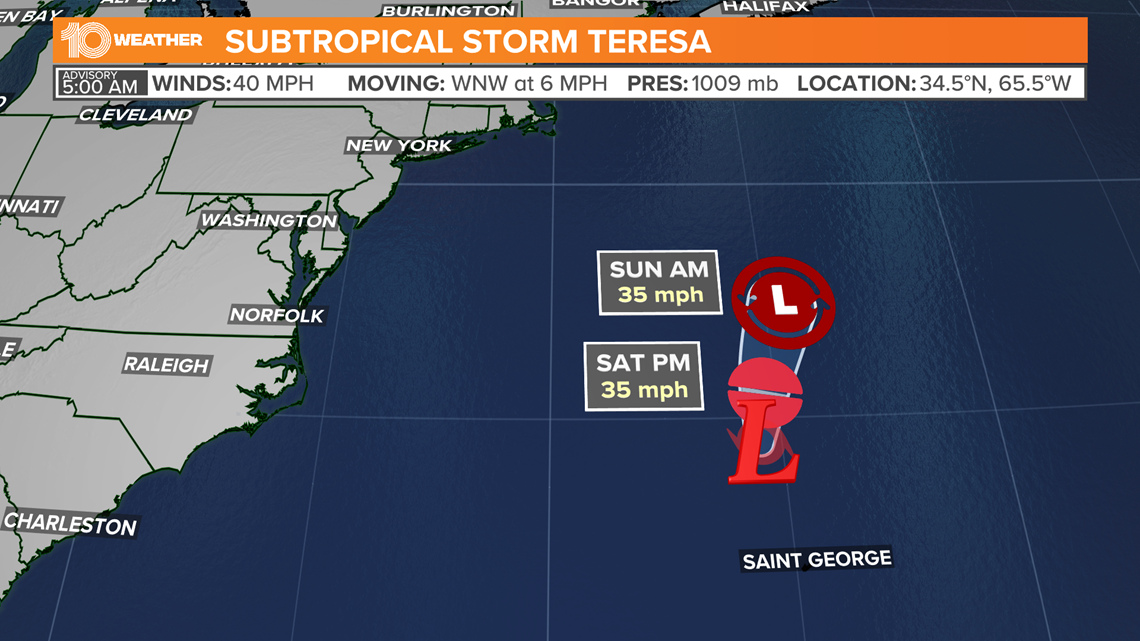 The are currently no coastal watches or warnings for it.
According to the NHC, Teresa's strength isn't expected to change much in the next day or so. In fact, it's expected to dissipate on Sunday.
Victor and Wanda are the only two remaining names from the 2021 Hurricane List before moving on to the supplemental list.
Teresa is the 19th named storm of 2021 Atlantic hurricane season. The other year in known history to have a 19th named storm so early in the season was just last year, 2020
It's 14th named storm to form since Aug. 11. This year is now tied with 2020 for most recorded Atlantic named storms to form between Aug. 11 and Sept. 24.