We know 2020 is predicted to have an above average number of named tropical storms and hurricanes this hurricane season. Dr. Timothy M. Hall, of NASA's Goddard Institute for Space Studies, says climate change is part of the reason why more major storms are expected by the next decade, beginning in 2030.
According to Dr. Hall, Tampa will see an increased landfall hazard as more and more storms are expected to shift their paths farther east. This means that more storms will threaten the west coast of Florida instead of staying farther out in the Gulf of Mexico.
"The most likely scenario in any given year is no major hurricane strike on Tampa, but when you 'roll the dice' enough, you'll get a Tampa strike. I'm projecting the odds of a Tampa strike to increase by roughly 30 percent into the 2030s. When in the 2030s? Depends on greenhouse gas emission. Under the most rapid increase scenario, we could reach that 30 percent increase by 2030. Under more moderate increase scenarios, it could be late in the 2030s," Dr. Hall told 10 Tampa Bay Wednesday afternoon.
Dr. Hall also says climate change is causing more hurricanes to reach their highest intensity. Tropical cyclones are also expected to slow and even stall more in their movement. We saw this with Dorian and Imelda last year, Florence in 2018 and Harvey in 2017. These storms caused historic damage.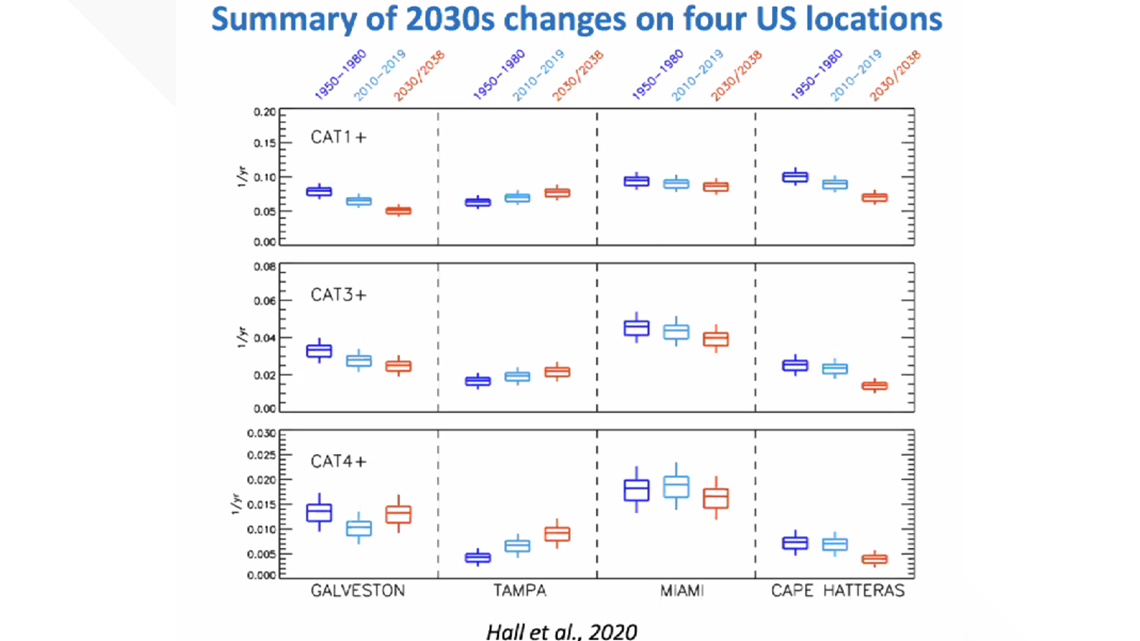 Why are storms more intense and slowing down? He says researchers aren't 100 percent sure why this is trending like this, but that climate change is likely slowing the upper levels winds in the tropics that steer hurricanes. This slows down the tropical cyclones. The weaker upper level steering winds also mean more chance for hurricane tracks to veer north before the drive further west. So, tracks that might otherwise drive to the western Gulf, instead have an increased chance of turning right (shifting to a northward direction), and hitting the eastern Gulf, say, Tampa.
Keep in mind too, warmer air can hold more moisture to help the storms intensify.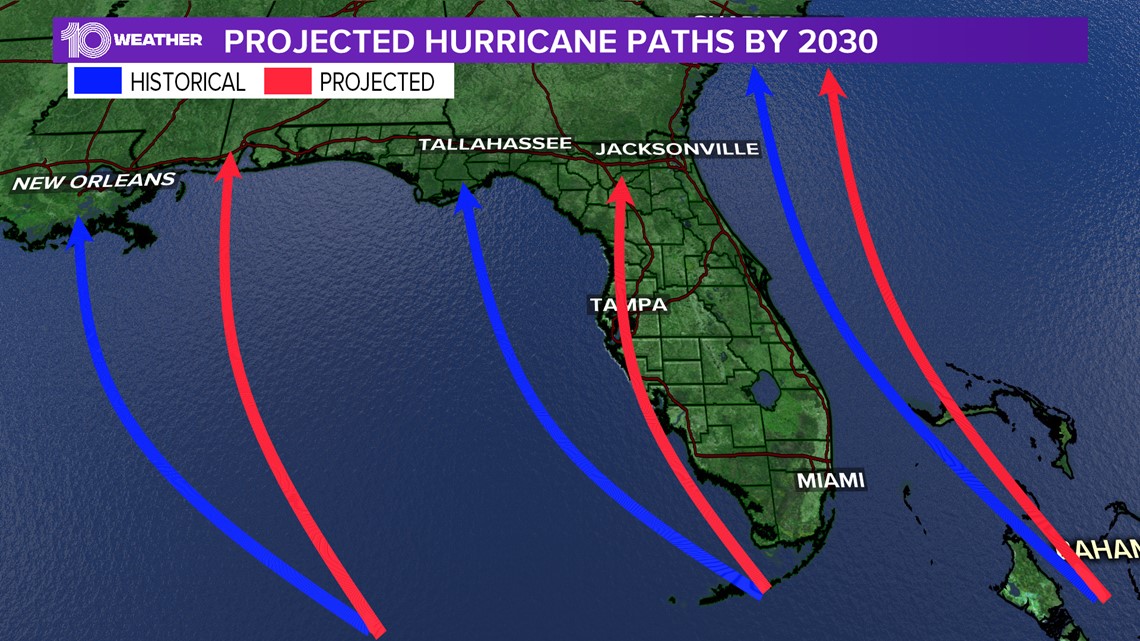 One last climate change factor to keep in mind is storm surge. As the warming climate continues to cause rising sea levels and stronger storms, storm surge can be expected to rise as well. Storm surge is a rising of the sea as a result of atmospheric pressure changes and wind associated with a storm. This water comes onto land at, sometimes, incredible heights. Storm surge can reach heights of more than 40 feet near the center of a Category 5 hurricane. This makes storm surge the most dangerous and deadly part of a hurricane.
What other people are reading right now: