A massive plume of Saharan dust off the African coast, seen on 10 Tampa Bay satellite images, may discourage the formation of tropical storms.
This is the time of year that we often see Saharan dust storms as strong easterly winds streak toward the Caribbean. These plumes of dust can be carried by upper-level winds thousands of miles west across the Atlantic Ocean.
The largest plumes can be the size of the continental U.S. While June is the beginning of the Saharan dust season, even stronger plumes can appear by July and into August.
This dust can be a real inhibitor in the development of tropical cyclones.
It's known as the Saharan Air Layer (SAL). How does this Saharan dust impact Atlantic hurricanes? The SAL is about 50 percent drier than tropical air. It is also associated with strong winds of up to 55 mph, which can increase vertical wind shear.
Since tropical cyclones need moist air and low wind shear, this dust can be a real problem for tropical storms and hurricanes to develop.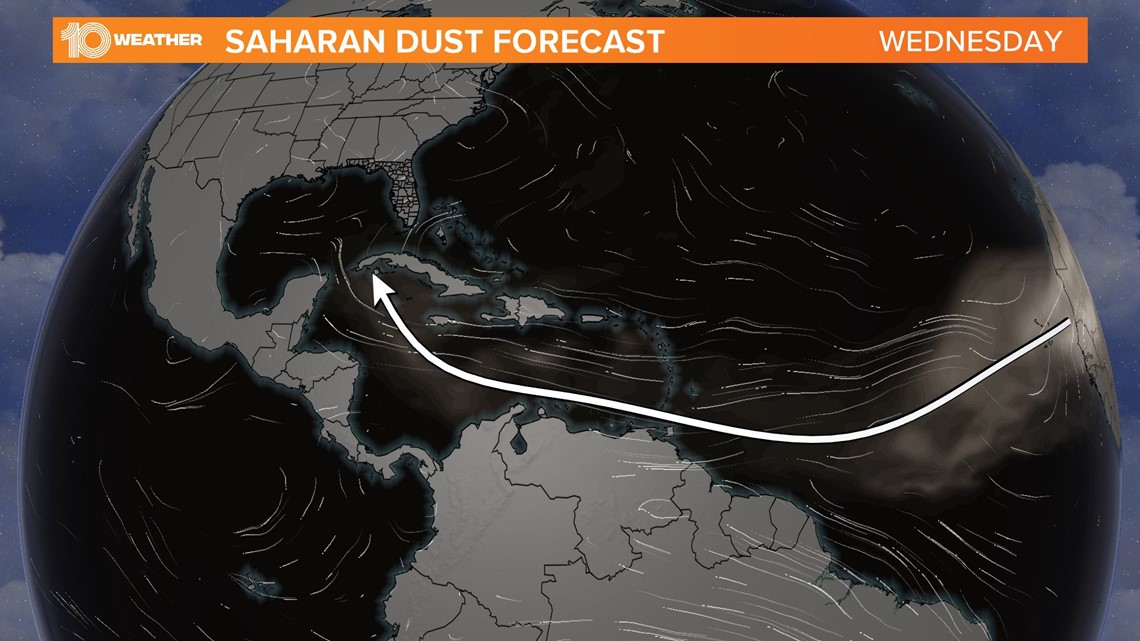 The SAL can also influence hurricane activity indirectly through its impact on sea surface temperatures (SSTs). If the SAL is thick enough, the large amounts of dust can reflect the sun's radiation which in turn causes lower SSTs. This reduces the amount of energy available to developing tropical cyclones.
In some ways, the SAL is like a blanket of suppression of potential tropical storms and hurricanes. During the summertime, these storms roll off of the African coast every three to five days. Some are stronger and bigger than others.
If the dust storms are strong and frequent enough, they can have an effect on an entire hurricane season. It's believed by many that the 2006 hurricane season was below average for the Atlantic, with only two storms making landfall in the United States. Both were weaker tropical storms because the dry Saharan Air Layer seemed to be unusually strong coming across the Atlantic.
Of course, the 2020 hurricane season is expected to be an above-average one due to warmer-than-average Gulf of Mexico and Atlantic water temperatures and a lack of El Niño. Time will tell if an active Saharan Air Layer could have an effect as well.
One other note: Not only do the dust storms help inhibit tropical cyclone development, but they can also bring spectacular sunsets across Florida and the Caribbean.