DUNEDIN, Fla. - Joan Pauwels has worked in the florist industry for nearly four decades. Good luck asking her to name her favorite flower.
"I just like them all," she said with a grin while arranging a small bouquet.
Her experienced fingers needed to work a little faster than usual Tuesday morning. Now a volunteer with Random Acts of Flowers, Pauwels was among a group of women in a small flower shop in Dunedin who had to work double-time to pump out half of the 800 bouquets needed this week for special hospital patients in the area.
"It's dreadful. Dreadful. It takes away the mind and takes away the person," Dell Kosfeld said of Alzheimer's Disease. "The stress on family members and friends, it's a dreadful, dreadful disease."
The flower arrangements will end up in the hospital rooms of people fighting dementia and Alzheimer's Disease. Over 5.7 million Americans battle Alzheimer's. Many of the Random Acts of Flowers volunteers have loved ones in that fight.
"I had someone say to me that their mom was in the hospital and my name was on the arrangement and I was like, 'Oh! That was cool,'" said Ellen Bauer, whose mom, June, has fought dementia for four years.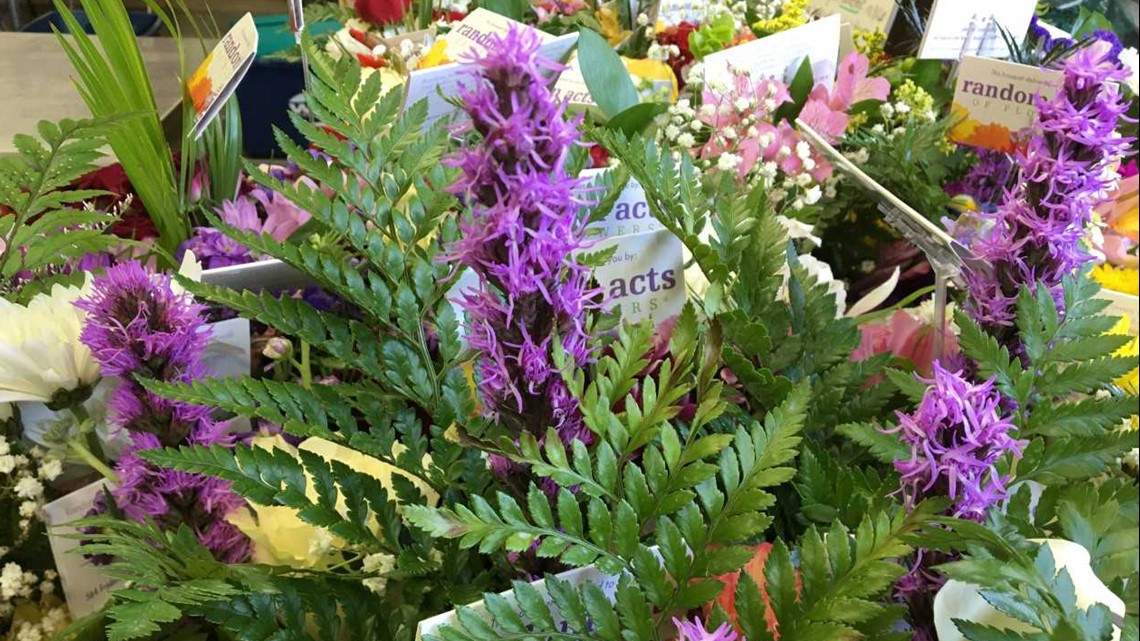 Judith Overcash's friend started showing signs of memory loss at 55. Now, at 68, she's in a locked-down facility.
"It's very sad," said Overcash, seated in front of a table full of colorful vases. "You think, 'I hope this never happens to me.'"
The Random Acts of Flowers' Alzheimer's initiative aligns with Thursday's summer solstice. It's the longest day of the year, with the most sunshine during the 24-hour period. The group decided to celebrate with what it is calling 'The Brightest Week', giving away up to 5,000 bouquets nationwide.
Locally, 800 bouquets will be delivered to 22 Tampa Bay-area facilities. The arrangements will end up on the bedside tables of people who really need cheering up.
"With some of the folks, they won't even know what this is all about," said Overcash. "But, we'll know."
Research has shown that a familiar smell can bring back memories from the past. A study from Dr. Jeannette Haviland-Jones at Rutgers University "finds flowers decrease depression, encourage companionship and enrich short-term memories in seniors."
Sunny Biden from The Pat Summitt Foundation, which fights Alzheimer's disease, says "with Alzheimer's the first thing to go is, short-term memory, so bringing flowers to someone…there's something nostalgic about a flower that reminds someone of a memory. So, if someone gets a certain flower that they loved, it might bring back a childhood memory that they're more inclined to remember than a short-term memory."