TAMPA, Fla. — The pandemic may be the defining story of 2020. But what happened to those stories that made national headlines before the global lockdown? Like the Takata airbag recall.
However, many drivers still haven't taken in their cars to get the airbags replaced.
"The unfortunate thing is that 12 million cars are still on the road right now," said Jerry Cox, who served as a consultant to the Japanese-based automotive parts company in 2014.
"People aren't getting these recall notices, or they don't realize how serious this is or how deadly this can be," Cox explained.
Cox said he warned Takata's leadership team that its airbags were dangerous but said his advice fell on deaf ears.
"We couldn't find anybody in executive leadership, who would even listen. And so, we decided neutrally that this company was a dead man walking and just mutually agreed to part ways," Cox recalled.
In 2004, a Honda driver was hurt when a Takata airbag inflator ruptured. Since then, dozens of lawsuits were filed against the company.
In November 2014, Takata issued a statement to the New York Times. It denied accusations by two former employees who claimed the company tested airbags in 2004 and found defects they didn't report to federal regulators.
The company said quote: "Takata did not suppress any test results showing cracking or rupturing in the inflators."
But, the company's tune later changed. In 2017, the company pleaded guilty to criminal wrongdoing over its airbag inflators.
Prosecutors said Takata gave automakers false test results to get them to buy faulty inflators.
Whatever was left of the company was acquired by auto components maker, Key Safety Systems in a $1.6 billion deal.
The combined company now goes by the name of Joyson Safety Systems, which did not return multiple calls or emails asking what it's doing to ensure its airbags are safe today.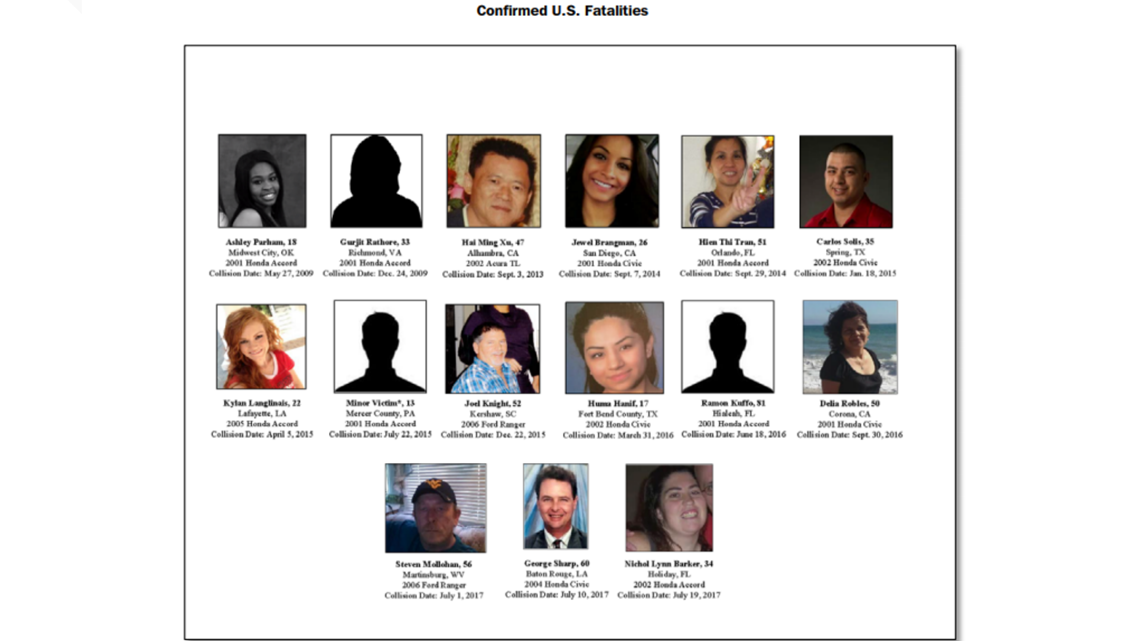 The National Highway Traffic Safety Administration confirmed defective Takata airbags were responsible for 16 deaths in the United States and at least 250 people have reportedly been injured by these airbags.
"They put them in cars like the 2002 Honda Civic, and just three years ago, a young woman here in the Tampa Bay area, a woman named Nichol Barker, was killed in a horrific situation," said Cox. "There have been cases where they have gone off without an accident."
Cox said the likelihood of a faulty Takata airbag deploying all depends on where you're located in the U.S. and how humid it is outside.
"There's a map that shows where explosions have taken place," said Cox. "Anywhere from Florida to Houston is like this Crescent of death."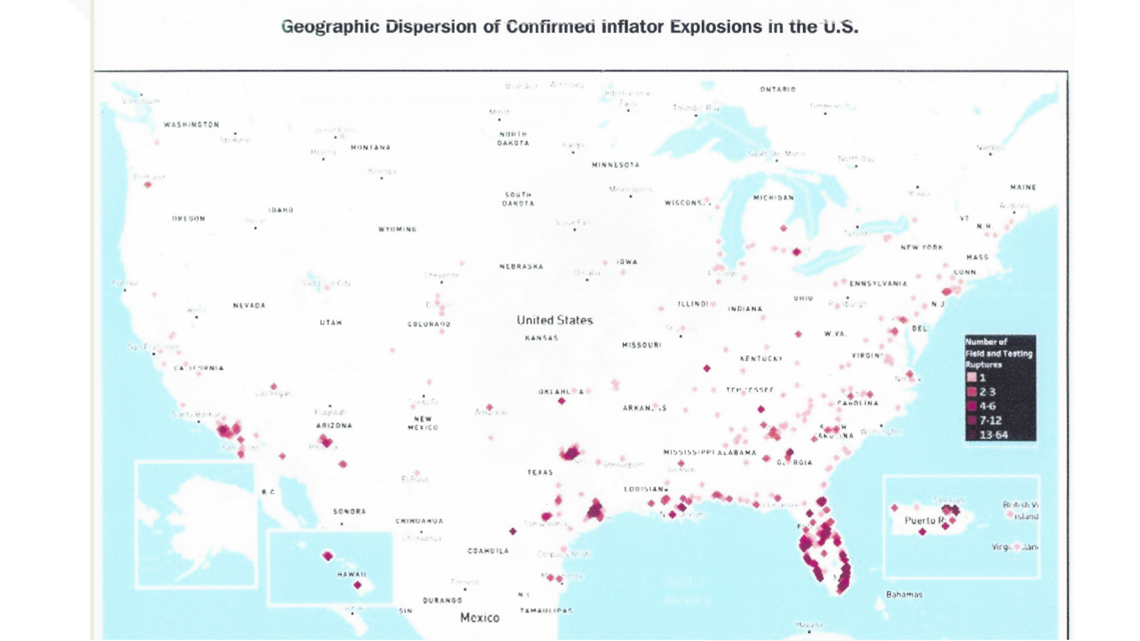 "That has occurred because of the humidity levels and because of the speed at which these things, deteriorate," said Cox.
"The only reason I'm taking the risks involved with this book is to save people's lives," said Cox.
IS YOUR CAR ON THE RECALL LIST?
You can check to see if your car is on the recall list by visiting www.nhtsa.gov/recalls and entering your vehicle identification number or VIN.
If your car is on the list, call the local dealer, and the airbag will be repaired and replaced for free.
As an extra safety measure, you can also sign up for recall alerts for any future recall affecting your car.