Dozens of improperly installed guardrails found on Florida roads
The state is undergoing a full review of every inch of its roadways after 10 Investigates showed the Florida Department of Transportation a database we compiled.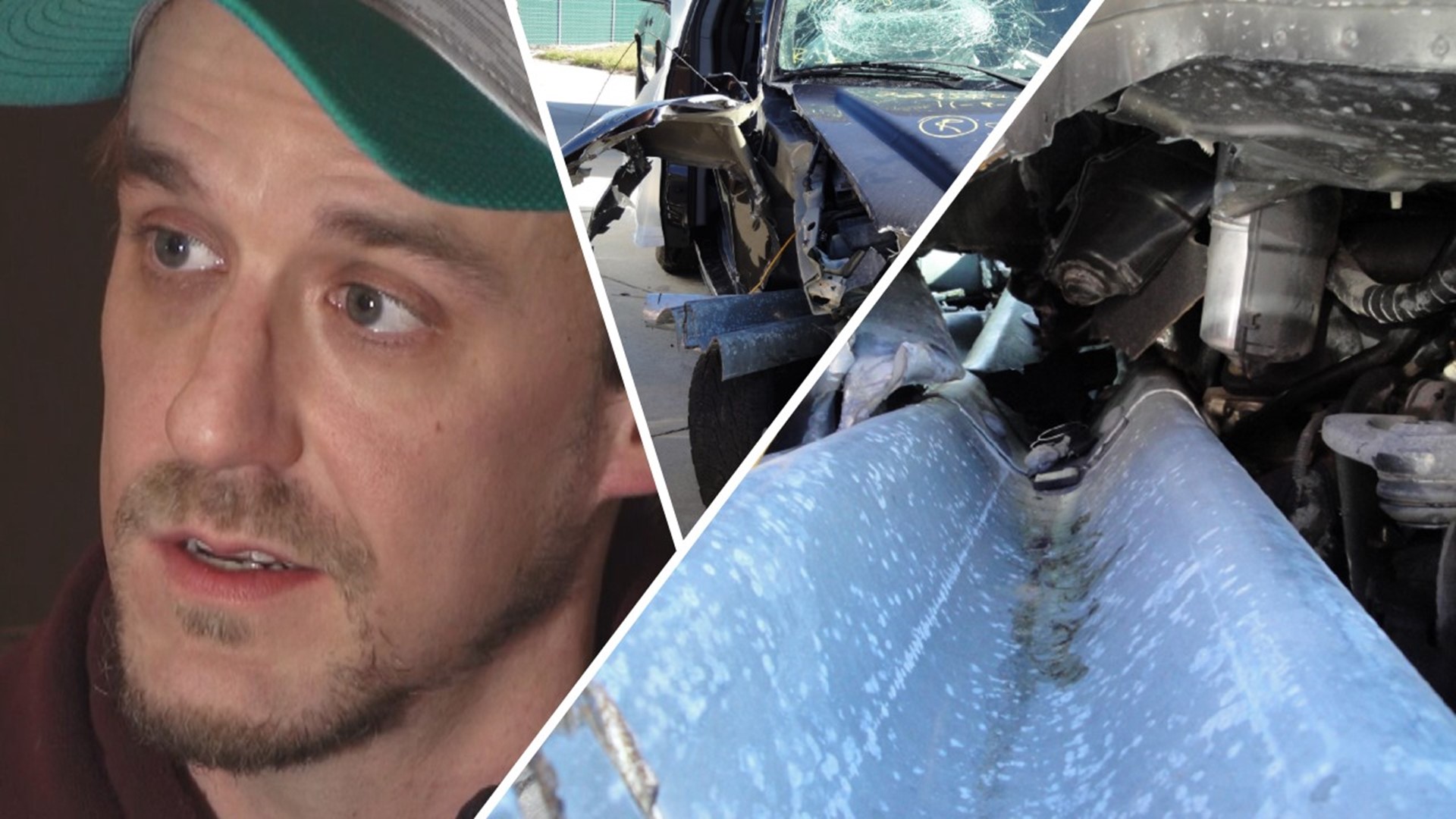 Charles "Charley" Pike, who now lives in Belvedere, Illinois, has never spoken to any journalist before but told 10 Investigates, "It was time for my story to be told."
Pike lost his leg after crashing into a guardrail.
His story begins along State Road 33 in Groveland, Florida, on Oct. 29, 2010. He was a passenger in a pickup truck.
"I remember we were driving...We swerved to miss a Labrador or some big dog. We swerve like this — we touch the dirt and the back left of the tire — the truck slides a little bit," Pike described.
"To my understanding, guardrails are supposed to crumble like an accordion, kind of give cushion...This thing impaled the truck like a harpoon, Pike said.
From the crash: Guardrail pierces through Pike's truck
The guardrail went through the truck and into the passenger side where Pike was sitting. He said he didn't think the impact was that bad until he went to move his leg which had been impaled by the guardrail.
Emergency crews had to use the jaws of life to try and remove Pike from the truck. They airlifted him to Orlando Regional Medical Center.
"I woke up and was without my left foot," Pike said. "I was like, 'Mom, did I lose my leg?' And she was like, 'Yes.' ...I just — water works on me. I started crying. I didn't think I was that hurt."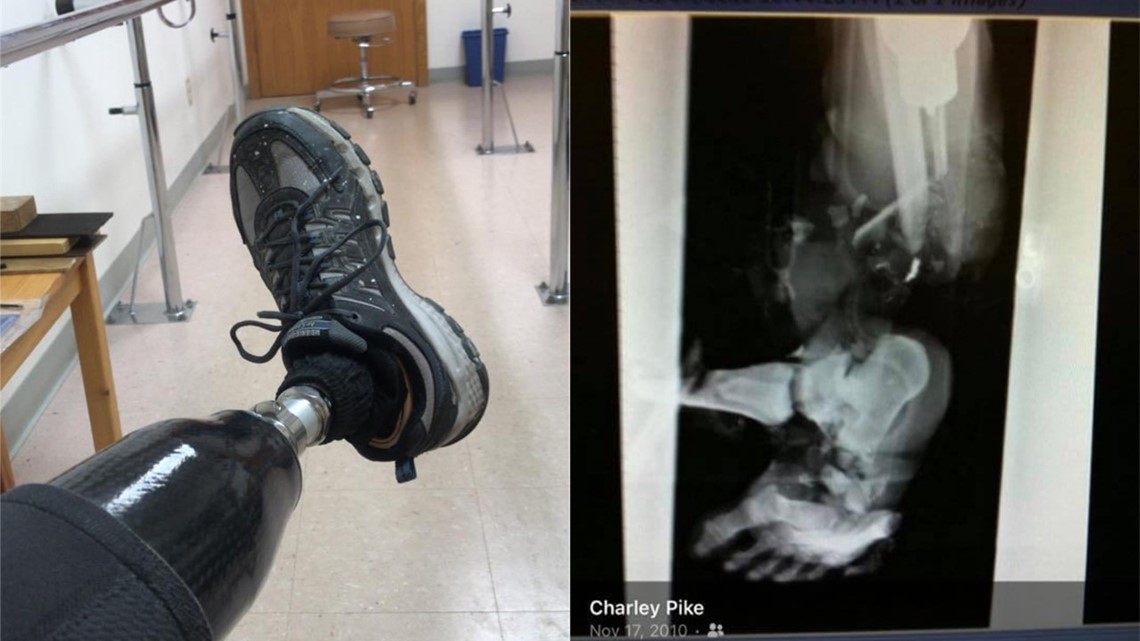 Pike says he was in the hospital for about a week until he was released. He underwent intense therapy to learn how to walk again. He was given a prosthetic from the knee down.
"Nowadays, I would say — good about four," said Pike, referring to his pain on a scale through 10. "On a bad day, when it's cold...27."
It's a pain Pike says he shouldn't have because the accident should have never happened.
"I was mad because if that guardrail wasn't there, we would've been fine," Pike said. "I felt cheated, kind of, and anger very — because of the whole situation."
Pike filed a lawsuit against the Florida Department of Transportation after the accident. The lawsuit claims the truck crashed into a guardrail that Florida inmates improperly installed and says the state was negligent "in failing to keep, operate, repair and maintain" safe conditions on State Road 33.
"If you're going to put something to help people, you gotta make dang sure it's built properly so it helps people," Pike said.
The lawsuit ended up going nowhere.
But 10 Investigates, along with safety advocates, located dozens of improperly installed guardrails across the state 10 years after Pike's crash.
"It makes me upset that I got hurt for nothing and nothing changed. Um, nothing," he said.
INVESTIGATIVE SUMMARY: For the past four months, 10 Tampa Bay reporter Jennifer Titus, producer Libby Hendren and photographer Carter Schumacher traveled across Florida — and even made a visit to Illinois — as they uncovered improperly installed guardrails on the state's roads. If a guardrail isn't installed properly, it won't work like it's tested, turning some guardrails into "monsters." Our team found these from Key West to Orlando and from Sarasota to Tallahassee. Now, the Florida Department of Transportation is doing a full review of every inch of guardrails on their roads.
Bad guardrails across Florida
:
10 Investigates randomly located guardrails that could be very dangerous in a crash.
We compiled a database of improperly installed guardrails in Miami, along Interstate 4, I-75, Plant City — and just feet away from the Florida Department of Transportation headquarters in Tallahassee.
"There's a bolt through the rail where it shouldn't be. If they cannot protect themselves or Gov. DeSantis, how? It's gotta change — it has to come from their culture," said Steve Eimers, who advocates for safer roadways.
Eimers lost his daughter, Hannah, after she crashed into a guardrail.
Our team worked with Eimers to create a database of the improperly installed guardrails. We randomly located guardrails throughout the state and added them to our list.
"Hitting the end of a guardrail, hitting a guardrail can be a very violent act. The outcomes can be very spectacular and ugly. It's very easy to miss the fact that one bolt — one bolt in the wrong spot — can kill you. An upside-down part can kill you," Eimers said.
Steve was an EMT, not an engineer. He never went to school to study guardrails. But Eimers' life was changed forever by a guardrail.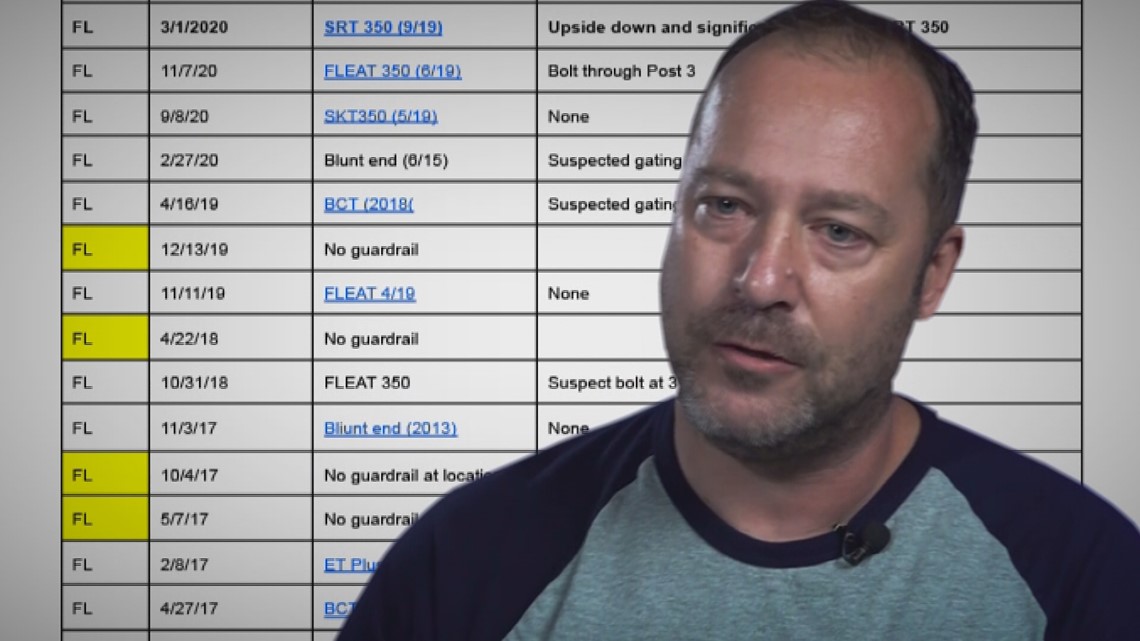 "I knew my daughter's situation was reportedly critical. I said, 'Would there be any transports,' and they said, 'No,'" Eimers said. "I didn't need a police officer to knock on my door at that point. I knew my daughter was dead."
Hannah died at 17 years old after her car crashed into a guardrail on a Tennessee roadway.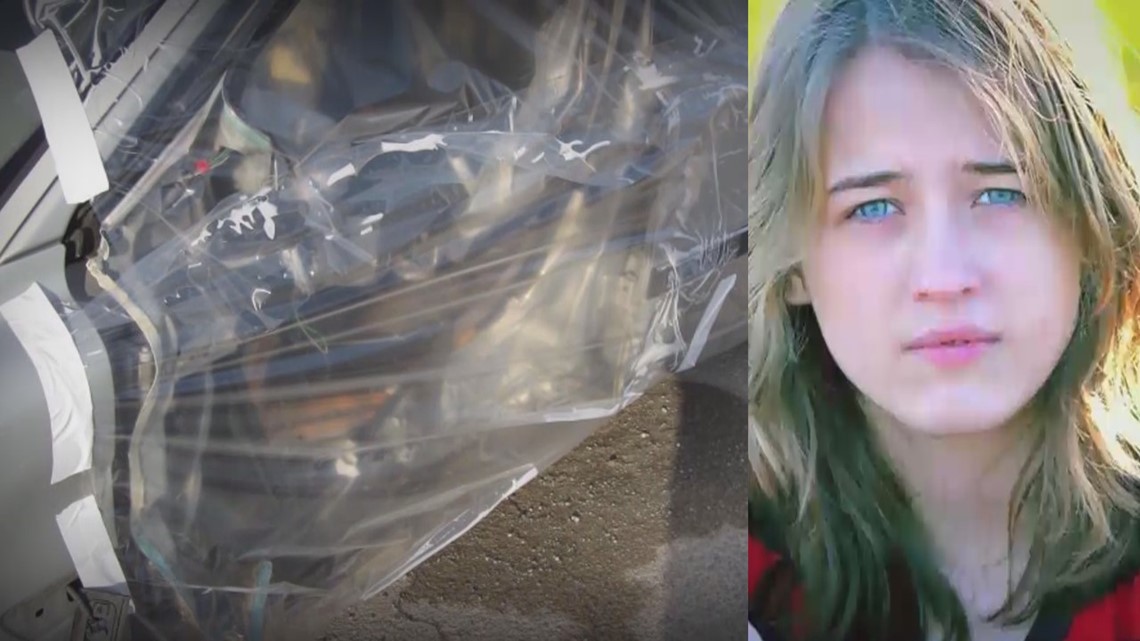 "She walked out of our lives on the [October] 31st and we never saw her again," Eimers said. "She had a guardrail go through her head...We were not even able to see her one last time — and it sent me down a rabbit hole that I'm not yet out of."
That rabbit hole has led him to analyze guardrails on roadways across the country.
We connected with Eimers back in December and within weeks of working with him, our database had 72 identified improperly-installed guardrails.
"I've looked at that tiny, tiny percent. We are probably talking hundreds of potentially improperly installed guardrails," Eimers said.
'Oh my gosh. That's it.'
:
The parents of a 22-year-old killed in a crash with a guardrail recover a truck door.
Christy and Mike DeFilippo's son, Hunter Burns, was killed after crashing into an improperly installed guardrail.
The couple lives in Louisiana now but travels back often to visit the site their 22-year-old son was killed.
"I miss him so much," said Christy while visiting the site.
There, the couple also came across something else.
"That's it right there," Mike said.
It's been three years since the crash, but the emotions are still so raw, especially when they came across a truck door — laying rusted along a fence — feet away from the crash site.
"Wow, oh my gosh," Christy reacted.
The rusted truck door, they say, was part of the truck Hunter was driving the morning of March 1, 2020.
"It's hard to be strong, and it's hard to talk about him," Mike said.
Christy chimed in, "Hunter was the most amazing human. He just lit up the room when he walked in. He had the biggest personality. He was loved by so many people."
They say the crash happened early Sunday morning. Christy remembers the time on the clock reading 6:46 a.m. when they heard a knock at the door.
"I spring out of bed, and there stands the two Florida Highway patrolmen. They tell us Hunter had been in an accident and that he had not made it," Christy said.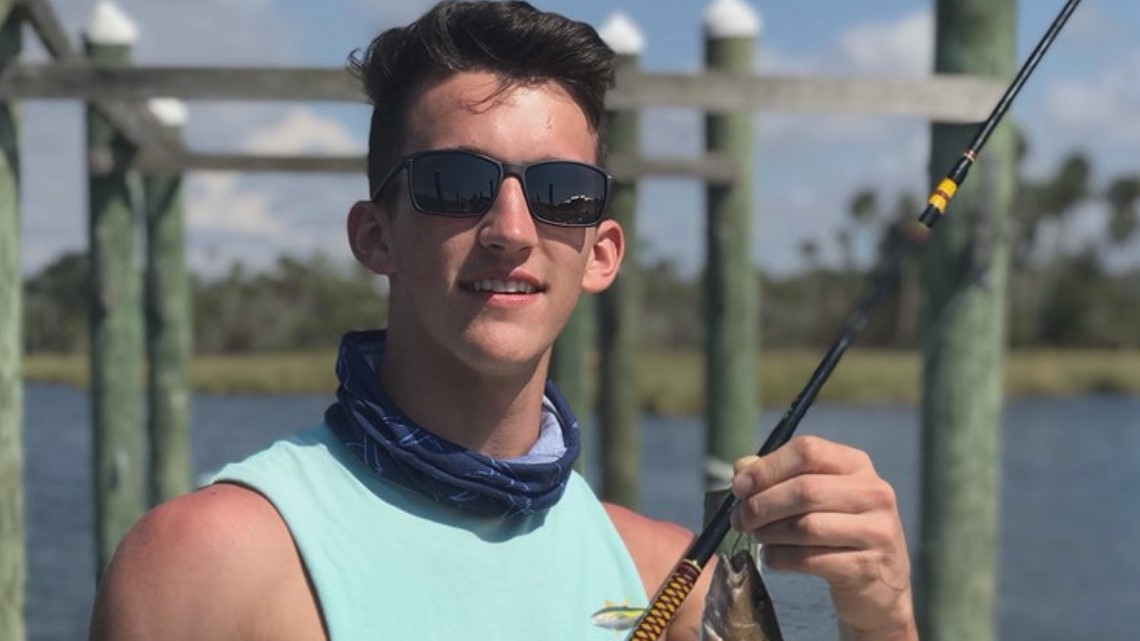 According to this crash report, Hunter's truck collided with a guardrail end. That impact forced the truck to rotate counter-clockwise before overturning and colliding with a large overhead traffic sign support pole.
"Nothing ever set well with me about it," Christy said. "Something just didn't sit right."
'Frankensteined'
:
When guardrails turn into monsters.
Then she got a call from Eimers.
"This is one of the most egregious installations I have ever found involving a fatal crash. They've gotta figure out how it happened and it can never happen again. We had a 22-year-old young man who hit a signpost and was incinerated. Yeah. I am mad, and I think people in the state of Florida should be mad, too," Eimers said.
"Frankensteining goes back to the monster Frankenstein. It's when you take parts from different systems and mix them together," Eimers said.
The parts that don't work together ultimately create a monster on the roads.
The guardrail Pike crashed into was also "Frankensteined."
"When you go to move your foot, and nothing moves — that really freaks you out," Pike said.
The lawsuit that Pike had filed, goes on to say:
"During the collision, the ET-Plus guardrail failed to perform as designed because it was improperly installed. Because the end terminal used a cable anchor system that was bolted to the guardrail instead of being fastened by self-releasing hooks, the guardrail could not feed through the extruder head and flatten and slide away from the impact. Thus when the guardrail was impacted by the Ford truck, the end terminal and guardrail pierced through the Ford truck's passenger side front fender, cowling and floor board, and entered its passenger compartment."
The database we created with Eimers not only included improperly installed guardrails but also those that were "Frankensteined."
"I've never seen an installation where you have to work very hard to install it this wrong. Just doing it the right way would've been so much easier," said Eimers, referring to Burns' crash. I don't know how you mess this up so much. To have it missing parts, to be inserting parts that do not belong in this system. I hope FDOT looks deeply into this crash. They need to figure out what happened here."
"For the most part, I was able to confirm what he said and found a lot of other things, too, that were wrong," Schrum said. "The fact that a lot of those errors were very consistent, and the same error was a little bit alarming."
Schrum says it comes down to the education of contractors.
"You have contractors that install guardrails, and that's the primary source for installation across the country, but when the installer doesn't know how an end treatment supposed to work, a lot of times, they'll just make the installation work," Schrum said. "They cut out holes together that they think are supposed to be together or put holes through holes they think are supposed to be there, and if they don't understand functionality of the terminal, they won't understand why doing so is bad or why it won't work."
Getting results
:
"...FDOT is conducting a statewide review of all guardrail installations on state-owned roads throughout Florida."
We sent our database to FDOT. They denied our on-camera interview request.
"It's very important to install those components the way they are crash tested and in the manner in which the installation's instructions tell you to based on what's provided from the manufacturer. Because if you don't, you know, creating increased stiffness in the system can lead to results like you see on the screen here, where the guardrail kinks and doesn't extrude properly or becomes a penetration hazard into the vehicle compartment," said Sheppard in the YouTube training video.
The DeFilippos still have a hard time understanding how this guardrail made its way onto the roadway.
"My human mind doesn't understand how logically that's OK. I don't understand how it's OK for people to be able to pass away and die from these things, and they are still not installed properly by people that are not skilled to do that, so I think that's what my issue is," Christy said. "You are taking people's lives into your hands because you're not properly doing it the first time."
The Florida Department of Transportation sent us a statement.
They are not only doing a full statewide review of every single inch of guardrail on Florida roads, "the Department is re-emphasizing the safety and importance of our policies and procedures to crews and contractors who are responsible for installing and inspecting guardrails and attenuators on our roadways."
The department's full statement reads:
"With the Florida Department of Transportation's (FDOT) top priority being safety, FDOT is taking your concerns very seriously. The incident you mentioned involving Mr. Burns in 2020 is a heartbreaking loss of life and FDOT extends our sympathies to his family.
"For your background, the FDOT has nearly 4,700 miles of guardrails with 2,655 crash cushion attenuators deployed on our state-owned roadways. The Department has policies and practices around all equipment used in our facilities, including guardrails and attenuators. Guardrail installations and in-service repairs are performed using components designed and selected specifically for each location, usage, and compatibility. All products used in Department facilities must be from Department approved manufacturers as this helps to ensure component compatibility. Additionally, inspections for each guardrail location are performed every two years or immediately after damage.
"The Department also strives to ensure the timely implementation of the industry's latest crash testing standards. FDOT policy requires all existing guardrail installations to comply with NCHRP Report 350 (Recommended Procedures for the Safety Performance Evaluation of Highway Features) crash testing standards. Furthermore, in 2014 FDOT instituted an implementation plan to adopt the AASHTO Manual for Assessing Safety Hardware (MASH), the current crash testing standard. The Department has updated its guardrail standards and approved products list to require MASH-compliant hardware for all new installations or complete replacements. Also, in 2019, the Department ordered the replacement of all X-lite guardrails throughout the state. As a result, all X-lite guardrails were removed from our state facilities.
"The initial list we received from you totaled around 40 locations from around the state where potential installation discrepancies could be present. After receiving the list, we immediately dispersed the locations under concern to our regional offices to further inspect and review the locations on state-owned roads where FDOT has jurisdiction, which ended up being approximately half of the list (around 20). The initial list of 20 state-owned locations represents 0.7% of FDOT's total statewide inventory and efforts are either underway or were recently completed to bring any locations with incorrect installation into compliance. In an effort to verify with absolute certainty that every single mile of our roadways has guardrails and attenuators in compliance, the Department is instituting a statewide review of all guardrails and crash cushion attenuators. Every mile of our roadways will be reviewed to ensure the safety of our residents and visitors.
"Additionally, as FDOT is aggressively focused on this matter, the Department is re-emphasizing the safety and importance of our policies and procedures to crews and contractors who are responsible for installing and inspecting guardrails and attenuators on our roadways.
"The FDOT also received the additional list from you, which we have shared with our regional offices to immediately review and address as soon as possible. As for locations on both lists that are not within our jurisdiction, we have shared them with our local contacts to have them address the locations in their purview.
"The records you have requested have been submitted to our public records office. We will be in contact as soon as those records are available. The requests are in our queue, and we do not currently have a time estimate for when your records request will be complete.
"It is absolutely terrible to hear of such a tragic roadway incident like the one that occurred this week in Plant City. Life lost under any circumstances is devasting but even harder to hear when it occurs on our roadways. Our hearts go out to the families dealing with this tragedy. Once the investigation is complete, as the Department routinely does, FDOT will review the report and analyze any contributing factors related to the incident to determine if there are any improvements, we can make to further enhance the safety of the roadway.

"The FDOT appreciates you sharing these concerns with us and your efforts to ensure the utmost of safety to the traveling public. The Department truly commends your advocacy for safety and our communities. Please refer to this information in lieu of an interview. Thank you."
Michael Williams
Florida Department of Transportation
Deputy Communications Director
When asking them for more information on "Frankensteined" guardrails, they sent us this:
"The Florida Department of Transportation works closely with Asset Maintenance contractors who maintain and manage equipment assets along our state-owned roadways. They work directly with vendors on the Approved Product List (APL) to procure needed items for repairs. The APL provides the manufacturer installation instructions and a parts list for each item with part numbers for easy identification. This information ensures the Asset Maintenance contractors are able to meet their contractual obligation that warehouses have all parts clearly marked and complete installation instructions for each item on the APL.
"The Department is taking steps to ensure all employees in our District Operations and Maintenance Units, as well as our Asset Maintenance contractors, understand the installation requirements for all variations of guardrails and guardrail approach terminals on the FDOT APL. While several guardrail approach terminals on the APL have similar visual characteristics, they each have unique installation requirements. The Department understands and is reemphasizing to our employees and contractors how important continuing education is. As new products are introduced and technologies evolve, all department employees and vendors should have a full understanding of how each product is intended to function as installed. Regarding your question about the Florida Department of Corrections inmate work program, that program has not been in use since 2020.
"The list of guardrail approach terminals you provided did identify discrepancies in installation requirements. While the discrepancies found represent less than 1% of FDOT's guardrail approach terminal inventory, FDOT is conducting a statewide review of all guardrail installations on state-owned roads throughout Florida. These inspections will bring any deficiencies into compliance.
"Thank you for your questions and your willingness to partner with FDOT to keep Floridians and visitors safe on our roadways."
Editor's note: 10 Tampa Bay did not partner with the Florida Department of Transportation for this story. We repeatedly asked for on-camera interviews, which were not accommodated, and supplied the department with our database upon request.