TAMPA, Fla. — An archived police report uncovered by 10 Investigates shows Dr. Martin Luther King Jr.'s November 1961 visit to Tampa was marked by two bomb threats, not one — as historians previously thought — showing despite his prominence, his presence in Tampa and his message of equality were not welcomed by all.
"No one ever bothered to look for the police report until you did," said Rodney Kite-Powell, a historian at the Tampa Bay History Center. "So, it's an interesting thing to see the police report because one, that there even was one, that there even was an investigation."
King came to speak at the Fort Homer Hesterly Armory on North Howard Avenue in West Tampa at the request of the Florida State Conference Branches of the NAACP. Although he was still two years out from his famous, "I Have A Dream Speech," King was already at the forefront of the Civil Rights Movement as head of the Southern Christian Leadership Conference.

King traveled nationwide, giving speeches to galvanize Black communities into action against racism and segregation. He attracted a crowd of more than 4,200 people when he came to Tampa.
Doris Ross Reddick, 95, was one of them.
"Martin Luther King. Oh boy, we definitely wouldn't have missed that," Ross Reddick told 10 Tampa Bay in 2022. "My cousin, Flo, was one of the persons responsible for bringing Dr. King here."
The speech was scheduled for 7:30 p.m. on Nov. 19, 1961. According to a police report uncovered by 10 Investigates, at 8:05 p.m., a radio dispatcher received a call that someone placed a bomb in the armory. The report described the voice as sounding like a white male.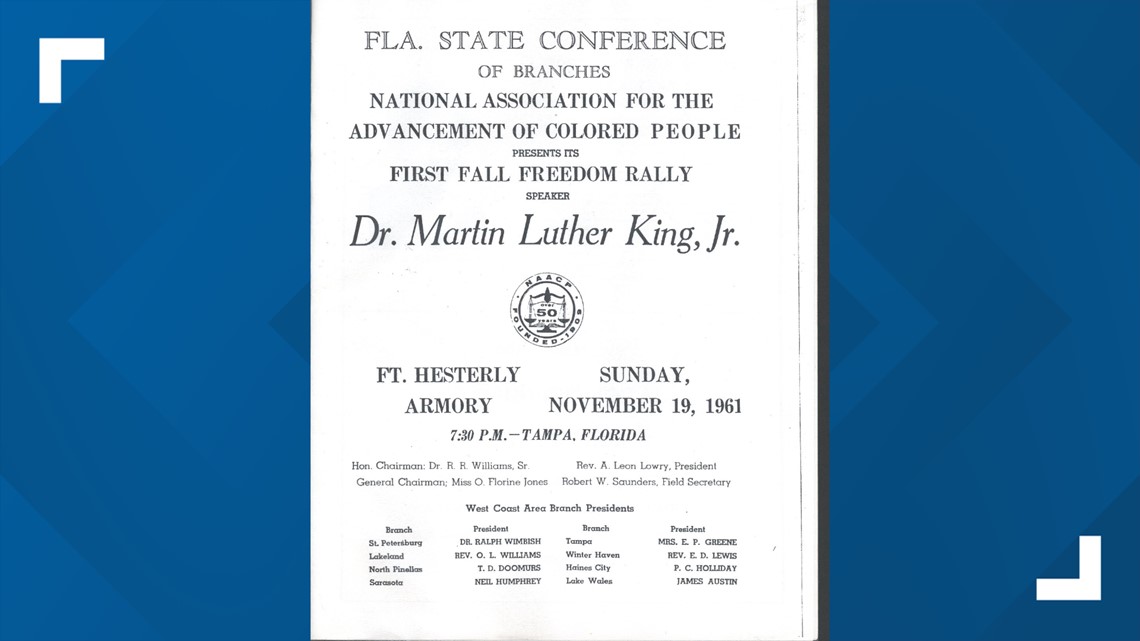 Two minutes later, police notified the FBI and evacuated everyone from the building. According to the report, Tampa Fire Department Crews searched for the bomb and found nothing.
By 8:38 p.m., the building was declared safe to occupy again.
However, around that time, someone described in the report as an "elderly sounding white male" called a second bomb threat to the police radio dispatcher. The FBI was also notified of this threat.
"It was a kind of a frightful experience, but it was one that I wanted to be a part of, I suppose," Ross Reddick said of attending the speech. "I've always dealt in activities that were a part of Black life. I am Black."
Police notified the program promoter at the armory of the second bomb threat, and the promoter decided to continue with the program as scheduled.
King himself was no stranger to bombs or threats of them. In 1956, someone bombed his home while his wife and daughter were inside.
He also was no stranger to the fierce opposition to his message against white supremacy, racism and segregation. Historians say bomb threats, like the ones that happened in Tampa, were examples of ways people tried to intimidate him and his audience and thwart his message of equality.
Ross Reddick, told 10 Tampa Bay in 2022 that at her age, she doesn't remember all the details of King's 1961 Tampa speech, but does recall the overall message.
"The general message was...that we had to do whatever was necessary to make progress," she said.
A Tampa Tribune article reported King spoke about a "new order" and said, "we are standing on the border of the promised land of integration."
It was a critical message for Black Tampanians still living under the rule of Jim Crow.
"You still were 10 years away from school integration…" Kite-Powell said. "And so, you have kind of the progress but still the potential. And so, I'm certain that the population that was here, the African-Americans who were here celebrating Dr. King's visit and hearing his words, certainly grew inspiration, major inspiration from that and continued the fight that still needed to be fought."