'We almost lost our house': 40-year realty contracts tangle 100s of homeowners in court
For a little cash up front, some Tampa Bay-area homeowners find themselves bound to 40-year agreements that operate like liens and costs thousands to escape.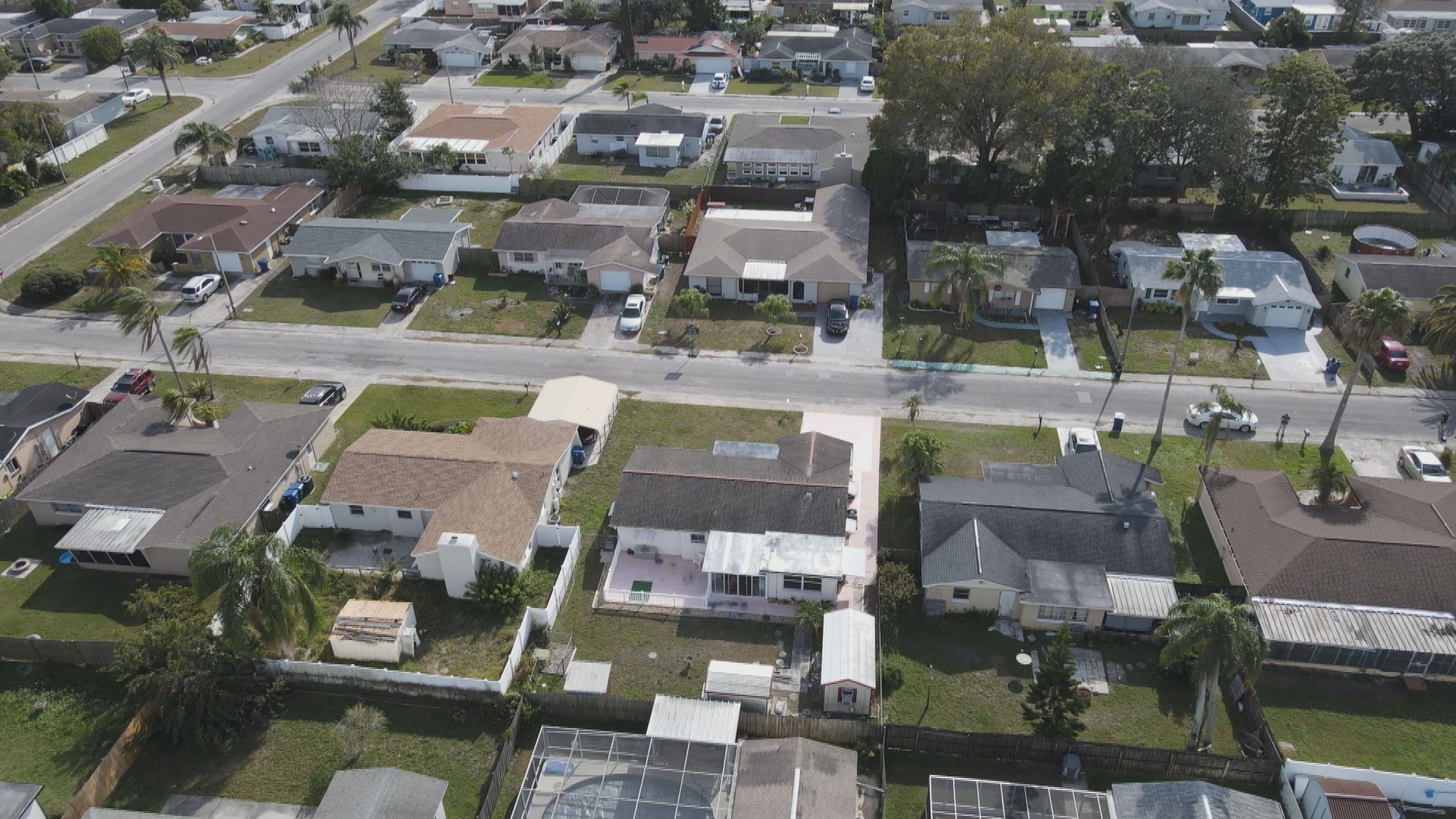 A house is usually a homeowner's biggest asset. But for hundreds of Tampa Bay-area homeowners, 40-year contracts, liens and lawsuits have threatened what many have worked years to acquire and maintain.
In exchange for small sums of quick cash, Delray Beach-based MV Realty gets homeowners to sign contracts giving them exclusive rights to be their realtors if they ever decide to sell their homes.
What many don't realize: The contracts are 40 years long and are filed with the courts as public record attorneys say operate like a lien. What many learn too late, breaking the contract often results in a lawsuit for a lien on the property and 3% of the sale value of the home.

Cash and contracts
:
When a family needed money quickly, they turned to MV Realty.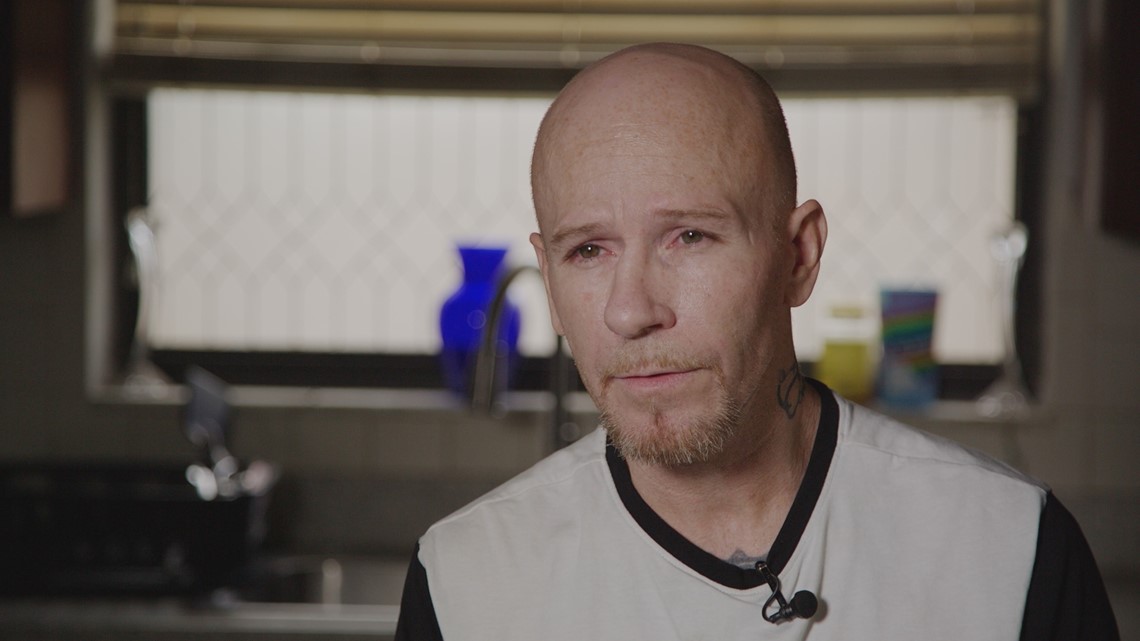 When COVID-19 hit and Lawrence Grenier lost his job, he and his family needed money fast.
"That's when everything started piling up," he said.
Desperate to stop foreclosure, he decided to sell his Pasco County home. His wife came across MV Realty.
"We were in a financial hardship. You know, we needed money," Nichole McLean said. "We needed to get this house sold as we were about to lose it to the bank…they made it sound like a dream come true."
Through MV Realty's Homeowner Benefit Program, the company paid Grenier $860 in exchange for the opportunity to be his exclusive realtor.
"[A company employee] told us that somebody would be by the house to sign an agreement. So, we signed it," said McLean, who says the company had a short window to list their home but never followed through.
"I texted them and emailed them, called them. No call back, no email, nothing. And so, we went with a different agent after this new agent had put it up on the listing. That's when we heard from them. They signed papers saying that there was going to be a judgment on our house because we went with a different agent."
Court records show MV Realty sued Grenier in September, asking the court to impose an equitable lien on the property.
"I got part of my retirement in there, as well," he said. "So, it's very much my life."
Homeowners by the hundreds
:
Families across Florida hit with similar issues.

Grenier isn't alone. 10 Investigates found that MV Realty has filed similar lawsuits against hundreds of homeowners across the Tampa Bay area.
Daniel Barnes knows this well. He found himself handling two MV Realty contracts for his sister's North Port homes in Sarasota County because of her substance abuse struggles.
"We went to go sell [one of the properties]," Barnes said. "Real estate agent called me and said, 'MV Realty has a lien on the house we can't sell.' And at this point, I was putting Kathy into a rehab in Maryland and we needed money as soon as possible."
Under the Homeowner Benefit Agreement, MV Realty gave Kathy Barnes $1,200 for her home on Cranberry Boulevard and another $1,000 for her home on Atmore Avenue.
Court records show the company sued after Barnes hired another realtor to sell the homes.
"We paid them $12,000," which was about 3% of the home's value, Barnes said.
He expects to pay even more for his sister's second house. Barnes says he only hired another realtor because MV Realty made no genuine effort to sell.
"It seems to me that, you know, they're waiting for you to get fed up with them and for you to go to another real estate agent," said Barnes. "And then when you go to sell the house at the last minute, they're putting a lien on the house and then you have to pay them some kind of money."
In Tom Skinner's case, it was $14,000 in penalties.
"It was so much stress. I spent hours and hours away from my family dealing with this and it was horrendous," Skinner said.
10 Investigates found Skinner in one of the many lawsuits MC Realty filed across the state. He got $700 for his Wesley Chapel home through the Homeowner Benefit Program.
"Things are tight sometimes," he said.
Like Barnes, Skinner eventually wanted to sell his home but said he got no help from MV Realty.
"It was clear that they weren't really interested in selling the house," Skinner said.
He ended up getting another realtor and had to pay MV Realty 3% of the sale price of his home to get out of the contract.
Fighting back
:
Florida's attorney general gets involved with a lawsuit.
Scanning court records for foreclosure cases is not a normal to-do list task, but for Tampa attorney Ryan Torrens, it's routine.
"Recently, my paralegal and I were looking at the foreclosure listings, and we saw that there were a significant number of cases being filed by MV Realty," he said. "I was really taken aback by what MV Realty was doing. And at least in my independent judgment, it looked like it was most likely illegal."
Torrens, who ran against Attorney General Ashley Moody in the 2022 election, said he reached out to his former opponent.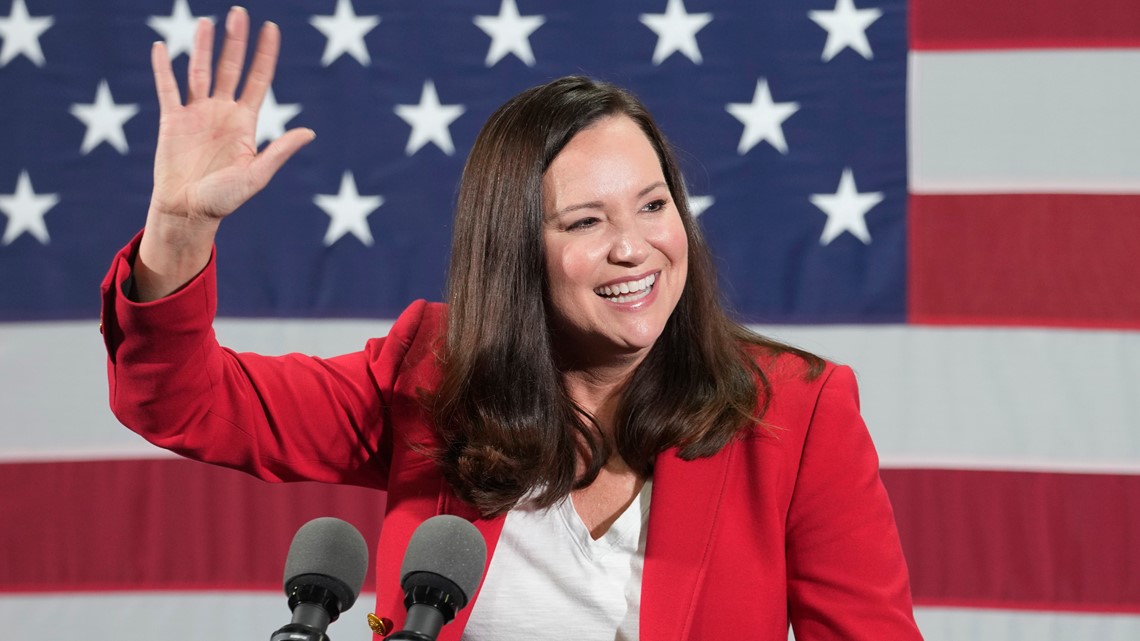 "I decided to write a letter to the attorney general," he said.
She took notice and filed a lawsuit.
Moody filed a lawsuit in December against MV Realty, accusing the company of using "a complex and deceptive scheme that attempts to skirt existing Florida law with the goal of swindling consumers out of their home equity."
Moody's office declined an interview request from 10 Investigates due to pending litigation. But according to the lawsuit, MV Realty has filed more than 9,100 public record memorandums of its Homeowner Benefit Agreement, which operates like a lien, clouding homeowners' property titles.
Hillsborough County has some of the highest number of filings in the state.
Other attorneys general have taken notice, as well. Massachusetts and Pennsylvania's attorneys general have also taken legal action against MV Realty.
Refuting claims
:
MV Realty responds to homeowners' complaints.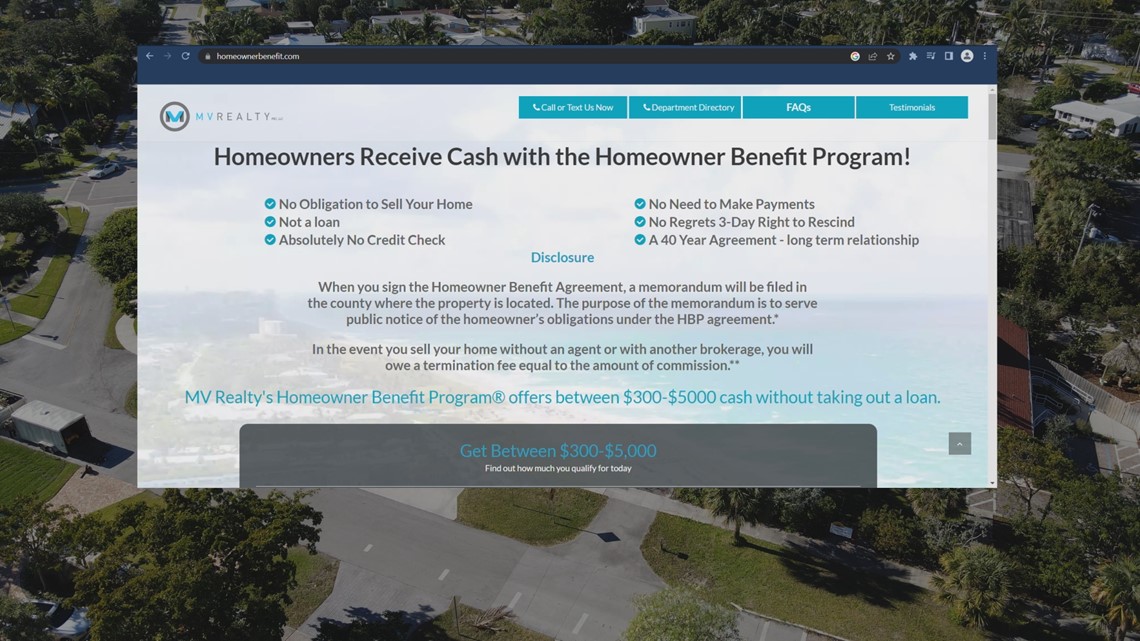 MV Realty declined an interview with 10 Investigates but said in an email:
"MV Realty has helped more than 35,000 satisfied homeowners nationwide through our Homeowner Benefit Agreement (HBA) by providing up to $5,000 that can be used to pay for mortgages, utility bills or a child's school supplies. We are proud that our teams in states are built with local, licensed real estate agents who have developed client relationships with households across 33 states.
"New and innovative business models, like the HBA, can transform established industries and can sometimes draw questions from critics or outright hostility from those whose existing business model is threatened. However, to suggest that MV Realty has engaged in unfair or deceptive practices is simply false.
"MV Realty is committed to working with policymakers, regulators, and attorneys general where needed to discuss these questions and demonstrate our commitment to transparency and oversight in the work to help homeowners buy and sell homes. We are confident that after a full airing of the facts, these discussions will reinforce how MV Realty's business transactions are legal and ethical and that our team operates in full compliance with state and federal laws."
The company also said it is important to clear up misconceptions about the Homeowner Benefit Program. A spokesperson said the agreement recorded is not a lien, although the attorney general's lawsuit shows screenshots of the company's website previously saying it was.
MV Realty also said while the Homeowner Benefit Agreement does last 40 years, the window to represent a seller is just for six months. If the company can't sell the house, the homeowner is free to find another agent.
However, many homeowners want to list and sell their homes as soon as possible and say MV Realty does not act to put their homes on the market in a timely manner.
"They really just wanted to wait till someone broke, breached contract and then collect their 3%. And that's basically what happened," said Skinner, who now lives in Georgia.


Protecting your property
:
How to check your property for liens.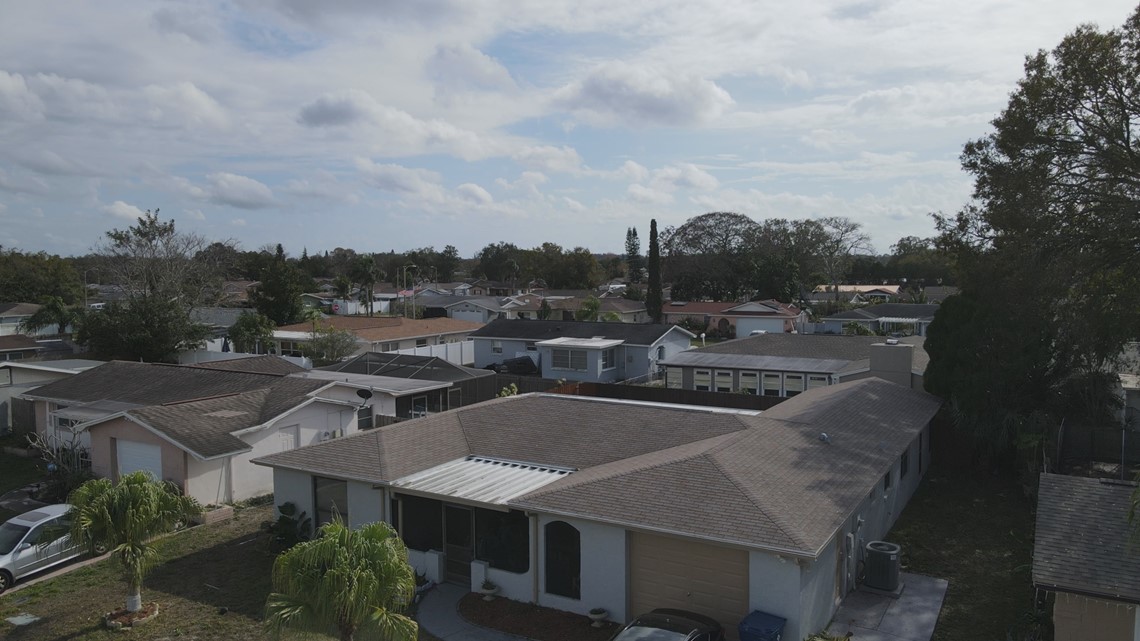 For most people, a home is the most expensive purchase they'll ever make. Torrens says homeowners must be vigilant in protecting their property.
"Never, ever sign any kind of a legal agreement without speaking with an attorney," he said.
Torrens also suggests an annual title search to make sure your property is clear of liens.
"It'll usually cost around $125 to $150," he said. "So, it's worth incurring that little extra expense every so often just to make sure that your title is cleared and that no one has recorded a bogus lien against your property."
If you're hit with a lawsuit, Torrens says it's important to act immediately. Florida law says you have just 20 days to file a response with the courts.
"If you do not file that within 20 days from the day you were served with that lawsuit, you lose that lawsuit automatically," he said. "You could end up with a lien against your home confirmed by a judgment of the court if you don't respond timely."
Torrens says he'd rather see the judgment on MV Realty.
"Those people should not, in my opinion, should not be allowed to work in real estate," he said.