TAMPA BAY, Florida - Law enforcement officials tell 10Investigates WTSP most local wrecker companies follow the letter of the law...but some leave room for improvement when it comes to the spirit of the law. And knowing about predatory towing could help prevent you from becoming a victim.
When you park at privately-owned parking lots, such as those at apartment complexes and shopping plazas, you are subject to whatever rules the property owners decide to create. But state law requires several consumer protections that will alert you to a possible tow.
Signs at every entrance and exit to the lot must prominently display the warning, "TOW-AWAY ZONE." And without them, tow trucks aren't allowed to patrol the lot and snatch your car.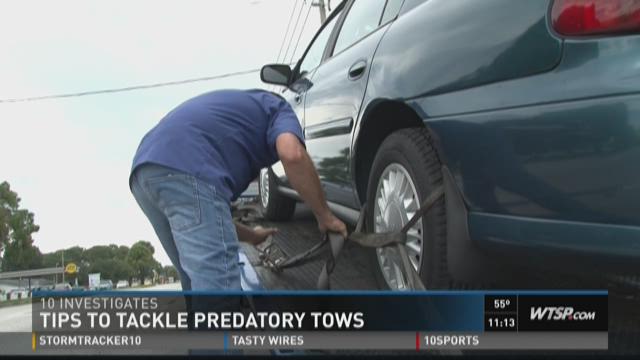 "If there's an absence of a sign, we want to know about it," said Kyle Cockream, executive director of Hillsborough County's Public Transportation Commission (PTC), the only county-level organization in the state that regulates taxicabs and wreckers.
10News was alerted to a frequent tow spot without the proper signage by viewer Gary Koepfer, a visiting nurse whose Mustang was towed while he was visiting a patient in the Tampa Park Apartments. He didn't know he needed a visitor's pass for the appointment, so he was towed by Split Second Towing while he was inside.
10Investigates brought the problem to the attention of the PTC, which was willing to open an investigation. But the owner of Split Second Towing, Jeff Peters, quickly said he'd provide Koepfer a refund instead.
"We were not wrong with this tow," Peters said, "this was a good tow ... but I'm doing this (refund) because it's cheaper ... than dealing with you."
The PTC wants drivers to know their rights when it comes to towing, and if they're infringed upon, they promise to investigate and cite guilty parties. But outside of Hillsborough County, fewer regulations mean you need to be careful:
Tips to avoid getting towed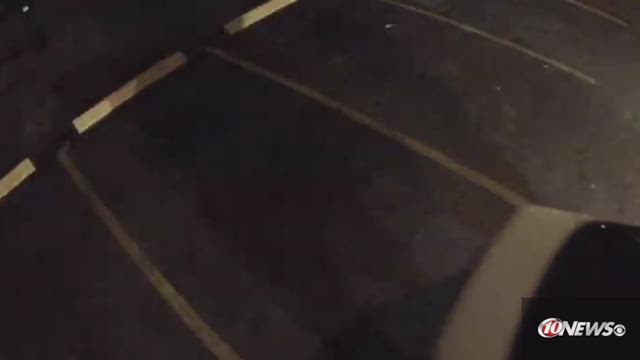 1. Don't cheat the system. Parking in a business' parking lot - if you are not patronizing that business - is a recipe for disaster.
2. Follow the rules. Be mindful that many apartment complexes and condo associations have zero-tolerance for cars parked on the street, parked without guest passes, or parked over the lines of an individual spot. While many responsible management companies insist initial infraction(s) receive warnings, many towing complaints are related to aggressive, but legal towing practices.
3. Get a receipt. If you are parking in a staffed lot, it can be important proof of your payment. And if it is an unstaffed lot, you can take a photo of your deposit into the honor box.
1. Check signage. Florida state statute 715.07(2)(a)(5) mandates that signs be "prominently" posted at every entrance to a privately-owned parking lot if it is to be patrolled by a wrecker. Those signs must inform drivers where towed cars get stored and of the phone number to the company so you can retrieve towed-away vehicles. The only exception is for very small parking lots, where signs that read "Reserved Parking for Customers Only Unauthorized Vehicles or Vessels Will be Towed Away At the Owner's Expense" can be posted within the lot.
2. Check with law enforcement. A wrecker company must notify local law enforcement of the impound within 30 minutes of completing the tow. They must report the time of the tow, where the vehicle is being stored, and description of the vehicle. Most tow truck drivers know to do this important step to comply with state law.
3. Don't wait to get your vehicle. If you don't retrieve your vehicle within six hours, the tow truck company can start charging storage fees (i.e. Hillsborough $25/day; Pinellas $20/day; Manatee $25/day). Bring cash, since most tow companies won't accept checks or credit cards. State law requires any site where towed vehicles are stored to be open between 8 a.m. and 6 p.m. on any day it is "open for towing purposes." Tow companies are allowed to charge a surcharge for after-hours pickup. And don't forget your photo ID and proof of vehicle ownership (registration or title) - they won't release your vehicle without those documents.
4. Check your receipt. Most counties cap their towing fees (i.e. Hillsborough $125 plus a $5/mile distance fee; Pinellas $100 plus $3/mile; Manatee $125 plus $4/mile; Sarasota $125 plus mileage). But the state law prohibits wreckers from taking your vehicle - in most cases - more than 10 miles in any county of 500,000 population or more, or more than 15 miles in counties of less than 500,000. Hillsborough, Pinellas, and Polk counties all have more than 500,000 residents. The only exception is if no wrecker company is located within the given radius in a rural area.
5. Contact the wrecker company. Sugar often works better than spice, and many local companies pride themselves in customer service. They may be able to work with you on your dispute.
6. File a complaint. If you suspect you've been towed improperly, file a criminal complaint with your local law enforcement agency. In Hillsborough County, that's the county's consumer protection department. Report which provision of state statute 715.07 you believe was violated - illegal towing is considered a criminal misdemeanor. And if that isn't enough, you can turn to small claims court, armed with the state statutes in-hand. The state statutes even allow victims of wrongful towing to collect damages and attorney's fees if victorious in court.

INTERACTIVE: Towing hot spots, Nov/Dec 2015
Map note: Map includes private impounds reported to local law enforcement. Some agencies did not provide records in time for publication, including Bradenton and Clearwater police, and the Pasco Sheriff's Office.