FEMA's new flood maps are causing some confusion. New preliminary maps for Pinellas County came out in June.
Before then, the maps hadn't been updated since 2009.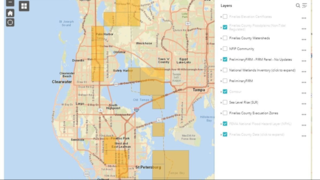 It gives us a more accurate understanding of the water damage properties could see if a major flood event were to happen in our area.
The bad news for homeowners is these new flood maps could mean higher rates for people who live in flood-prone neighborhoods.
Some are having a hard time understanding the changes.
Aside from that, the county is hosting a series of meetings to help people understand how their properties may be affected and learn more about financial steps that they may need to take to protect their investment.
The meeting dates are as follows:
- Tuesday, Sept. 25: YMCA at Lealman Community Campus, 5175 45th St. N., St. Petersburg, 6 – 9 p.m.
- Wednesday, Sept. 26: Countryside Recreation Center, 2640 Sabal Springs Drive, Clearwater, 6 – 9 p.m.
- Thursday, Sept. 27: Seminole Recreation Center, 9100 113th Street N., Seminole, 10 a.m. – 1 p.m. and 6 – 9 p.m.
Representatives from FEMA, Pinellas County, several cities and the Southwest Florida Water Management District (SWFWMD) will be in attendance. A customer service representative will be available to answer basic questions in Spanish.
If you have flood insurance and your risk increases with the new maps, then you can be grandfathered into your old rate.
It will save you money, but remember every year flood insurance rates go up. The new FEMA maps have not been enacted but officials with the county say they will let homeowners know when they make a decision.
Pinellas County has received questions from people asking if these flood maps are also evacuation zones.
They are not. Your evacuation zone stays the same. This is only for flood insurance purposes.