WIMAUMA, Fla. — On Thursday, hundreds of people across the Tampa Bay area, Florida and the country took to the streets for what's being called "A Day Without Immigrants."
People are participating in a protest against legislation signed by Gov. Ron DeSantis, which critics say is anti-immigration.
The governor explained SB 1718 does a number of different things such as expanding requirements for businesses with more than 25 staffers to use E-Verify, a federal system that determines if employees can legally work in the U.S.
"If you're knowingly transporting illegal aliens into Florida, you can be facing up to five years in prison and a $5,000 fine per offense," the governor previously explained. "If you're caught transporting five or more illegal aliens or an unaccompanied illegal alien minor or you have a prior conviction for human smuggling, you can get a $10,000 fine and up to 15 years in prison.
"At the end of the day, you wouldn't have the illegal immigration problem if you didn't have a lot of people who were facilitating this in our country."
The measures are considered among the toughest in any state to discourage illegal immigration.
For Thursday's protest, many people in the local area didn't show up at construction sites and tomato fields and scores of restaurants, shops and other small businesses never opened their doors to demonstrate what they say could be the potential economic impact in Florida when the law goes into effect in July.
Organizers dubbed the protest "A Day Without Immigrants."
There were protests seen in Tampa, Plant City and Wimauma, as well as areas in Manatee and Sarasota counties. People held signs that read "Deportations hurts families" and "Keep families together" while being covered in Mexican, Honduran and other North and Central American flags.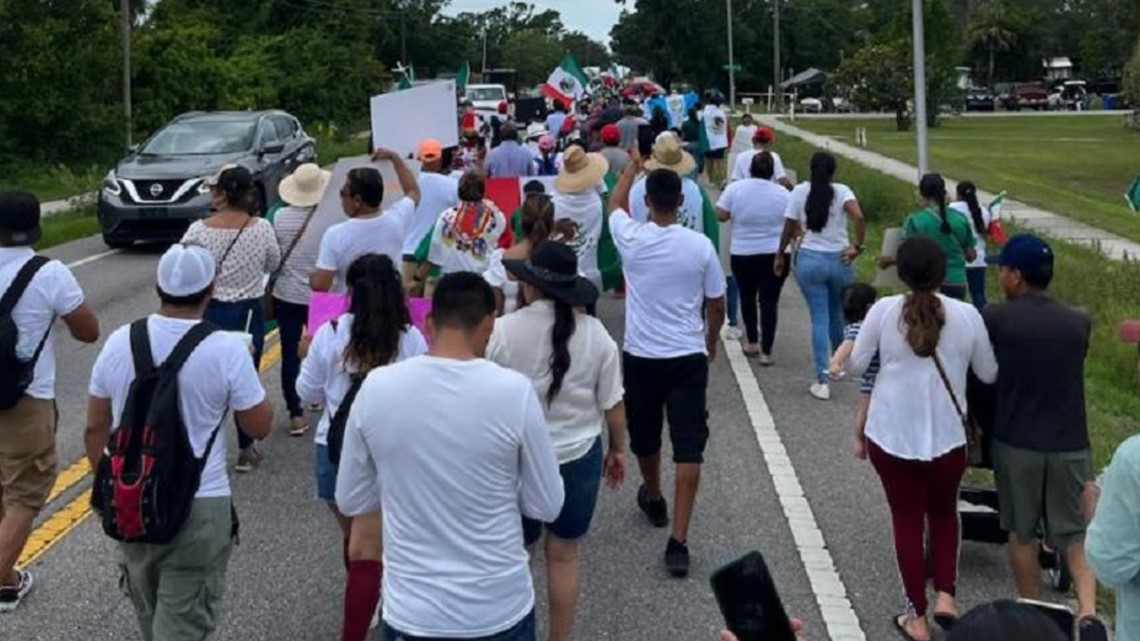 "We just want to show our government and Florida, especially in Plant City where their fresh strawberries grow, we're not here to take people's jobs," Eli Aguilar said while at a protest. "We're here to work hard and take those jobs that others don't want to do for low pay."
The bill also enhances human smuggling penalties along with subjecting offenders to prosecution under the Florida RICO Act, which DeSantis said was a recommendation from the statewide grand jury.
A spokesman for the governor's office on Thursday said the new law targets illegal immigration, not those who are in the U.S. legally.
"The media has been deliberately inaccurate about this distinction between legal and illegal immigration to create this very sort of outrage based on a false premise," said Jeremy Redfern, press secretary for DeSantis' office. "Any business that exploits this crisis by employing illegal aliens instead of Floridians will be held accountable. Every country defends its borders with a sovereign right to do so."
Last month, the Latino civil rights group LULAC issued a travel advisory for Hispanics, warning that the new law marginalizes immigrant communities and was immoral. Other civil rights groups, including the NAACP and the Human Rights Campaign, also have issued travel advisories for Florida, saying new laws and policies by DeSantis and Republican lawmakers are "openly hostile toward African Americans, people of color and LGBTQ+ individuals."
The Associated Press and 10 Tampa Bay's Courtney Holland contributed to this report.