UPDATE (12:05 p.m.): The missing child alert has been canceled.
Acting on a tip, Florida Highway Patrol tracked down the car at an American Inn motel in Jasper off State Route 6 near I-75.
Christopher Christy Sr. was arrested and Shannon Adams was detained.
All three children are OK.
--
Original Story:
DADE CITY, Fla. – Police in Florida are searching for three young, missing children.
The Florida Department of Law Enforcement issued a missing child alert early Thursday morning for Christopher Christy, 1; Justin Simonds, 6; and Jeremy Simonds, 6.
The children were last seen Tuesday at a home on Cook Avenue near 14th Street in Dade City.
Police say the home belongs to Christy's grandmother.
Investigators believe the children may be with Christopher Christy Sr., 29, and Shannon Adams, 24. Police say the two are dating.
The group may be traveling in a white 2005 Chrysler PT Cruiser with a blue front and the Florida tag 663HB, according to law enforcement.
The Pasco County Sheriff's Office said a bondsman tried to take Christopher Christy Sr. into custody around 2:20 p.m. Tuesday -- but Christy drove away in the PT Cruiser.
Dade City Police spokesperson Brian Uppercue said Christy Sr. does not have a driver's license. Adams fled with him willingly, Uppercue said.
A Dade City officer tried to use his vehicle to stop Christy Sr., who sped up and tried to hit the officer, according to Pasco County deputies.
The FDLE said the elder Christy has several tattoos with the letter "C" on his left arm and his right forearm. He also has the words "Turn 'Em Out" on his left hand and star on his right arm. Christy Sr. was last seen wearing a light-colored T-shirt and camouflage pants.
Both Justin and Jeremy Simonds have long hair that they wear in a ponytail, according to the FDLE. The two are Adams' twin sons, according to the Dade City Police Department.
Christy is the son of Christy Sr. and Adams, according to Uppercue.
Dade City police and Pasco County sheriff's deputies have seen Christy Sr. several times in Dade City, Blanton, Trilby and Lacoochee areas. The presence of children is limiting how far police want to go to arrest him, according to Uppercue.
According to deputies, Christy Sr. was seen entering a garage on Summers Ridge Drive in Dade City.
He was later seen at a church in Sumter County -- possibly heading north to North Carolina, according to investigators. Pasco County deputies say he has made threats to harm himself or his family.
New photos released of missing children from Dade City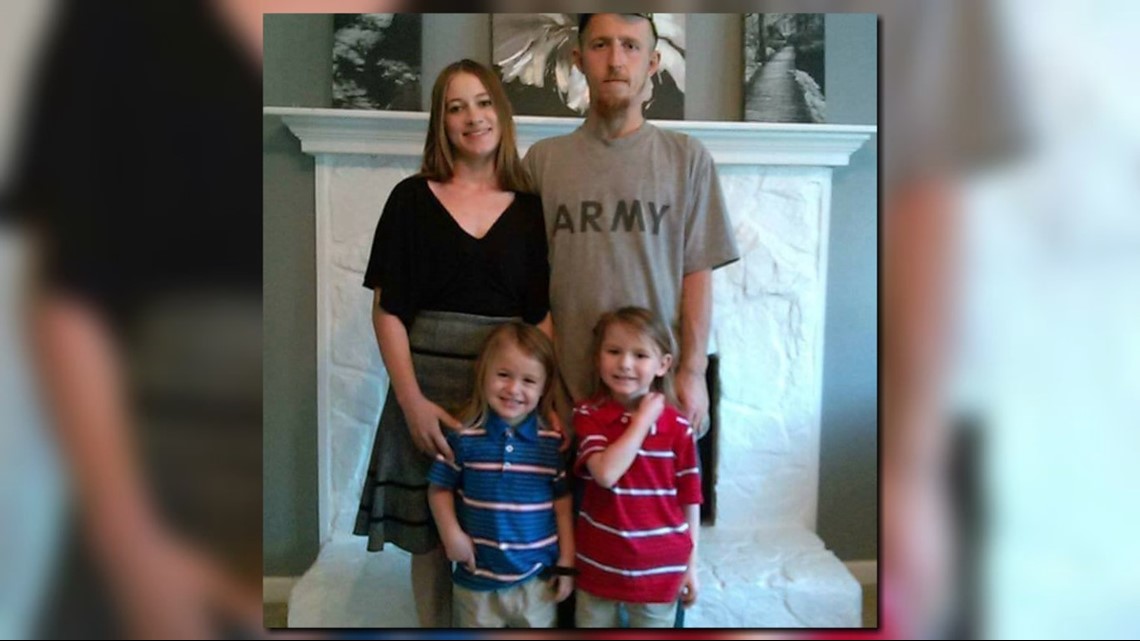 "In all the instances where he's been spotted, where we've been trying to apprehend him, he's been driving very, very recklessly and he has the children in the car with him," Uppercue said. "At the speeds he's driving, in the manner he's driving, in the areas he's driving, it's extremely dangerous to these children."
Dade City police do not believe Christy Sr. is armed. However, court records show Christy Sr. has a criminal history with arrests for attempted burglary, larceny, drug possession and child cruelty.
"We're not going to engage him because we don't want to endanger the children any further," Uppercue said.
The FDLE said for anyone who comes across the group to not approach them and to call law enforcement immediately.
Anyone with information on the children's whereabouts is asked to call 911 or 352-521-1493.
►Make it easy to keep up-to-date with more stories like this. Download the 10News app now.
Have a news tip? Email desk@wtsp.com, or visit our Facebook page or Twitter feed.