FLORIDA, USA — A seaweed bloom, so massive that it can be seen from outer space, may be headed towards Florida's Gulf coast.
Sargassum seaweed washes up on Florida beaches in large amounts and provides an important habitat for certain animals that have adapted to rely on the floating algae, such as shrimp, crab, sea turtles and tuna, according to Florida Health. The expected seaweed will give off a rotten-egg-like odor and although it poses no harm to a person's health, the sea creatures that live in the seaweed can cause blisters and skin rashes.
The seaweed is drifting between the Atlantic coast of Africa and the Gulf of Mexico, Fox News reports.
If it gets close to Florida shores, the massive seaweed bloom could reportedly have harmful consequences, such as coral being deprived of sunlight and the release of hydrogen sulfide when the seaweed decomposes -- which will impact the air and water and also cause respiratory problems for people in nearby areas.
10 Tampa Bay Meteorologist Grant Gilmore patched several satellite images from the University of South Florida Optical Oceanography Lab together to show the latest location of the massive seaweed blob and can be seen below.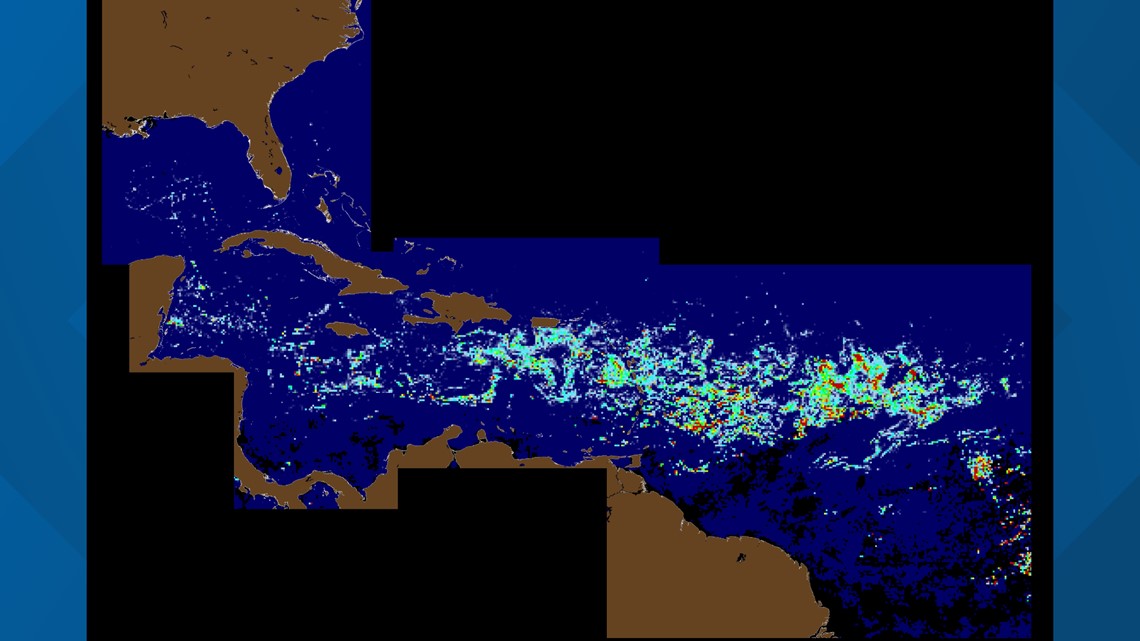 "Looking ahead, the decrease in Sargassum quantity from January to February is uncommon, and presents a glimmer of hope that the overall 2023 bloom may not be as large as previously feared although 2023 will still be a major Sargassum year," USF Optical Oceanography Lab researchers said in their latest Sargassum outlook. "Nevertheless, the large quantities already in the Caribbean Sea (and to the east) will continue to accumulate and migrate westward, creating beaching hazards along the way."
Researchers also say the Florida Keys may begin to see small amounts of sargassum seaweed in March. They will continue to monitor its movement and have another update by the end of the month.
For more information and near real-time imagery of the seaweed's path, click here.
Florida is already dealing with the impacts of red tide, including beaches in the Tampa Bay area. Red tide is a toxic alga bloom that kills marine life.
Unfortunately, the rise in dead fish washing ashore due to red tide also comes at the same time as spring breakers start to flood the area.
"It's a lot of dead fish, a lot of dead marine animals on the shore," Itamar Colon said. She's visiting from Orlando and hadn't heard about red tide prior to her visit to Indian Rocks Beach.
Some beachgoers have also reported signs of sneezing, coughing or suffering from a scratchy throat due to red tide. Symptoms may be harsher for those with asthma.
To check the conditions of red tide before heading out to the beach, click here.