ST. PETERSBURG, Fla. — It's official: Hurricane Delta has made U.S. landfall near Creole, Louisiana, as of 7 p.m. ET as a Category 2 storm.
This is a region that is still recovering from devastating Hurricane Laura six weeks ago that damaged or destroyed tens of thousands of homes and is responsible for 26 deaths. Delta could be another disastrous hurricane in that area.
On Friday evening, the National Hurricane Center, in its latest advisory, says Delta is showing maximum sustained winds of 100 mph while it moves north-northeast at 14 mph.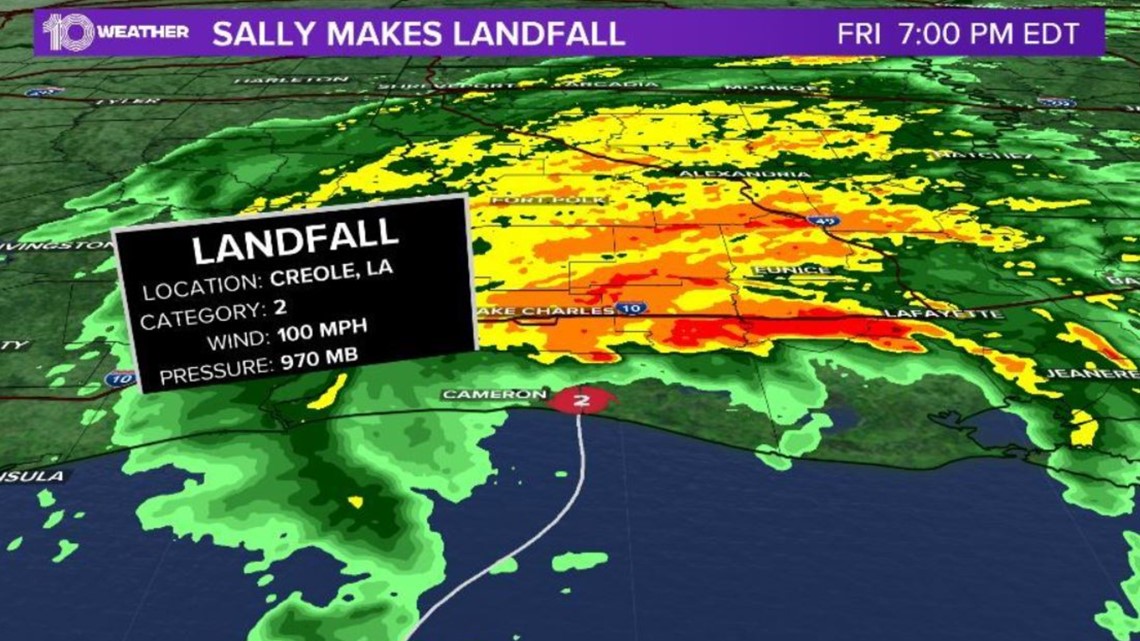 Delta made its first landfall along the coast of northeastern Mexico near Puerto Morelos Wednesday around 5:30 a.m. CDT with estimated maximum winds of 110 mph.
Hurricane Delta moved over the Yucatan Peninsula of Mexico and into the Gulf of Mexico before making it's approach to Louisiana's Gulf Coast. An area still feeling the impact of Hurricane Laura.
Gov. John Bel Edwards reported on Wednesday that Hurricane Laura caused minor damage to 58,000 homes, moderate damage to 38,000 homes and completely destroyed 10,000 homes. Thousands of those residents are still in hotels because their homes are too damaged to live in..
The trees, roofs and other debris left from Laura are still lying around outside waiting to be picked up. That debris could become flying projectiles from the wind of Delta Friday.
Delta will be the 10th named storm to make landfall on the mainland U.S. this season, setting a new record. The current record is 9 set in 1916 and tied in 2020. The named storms that made landfall this year so far are Bertha, Cristobal, Fay, Hanna, Isaias, Marco, Laura, Sally and Beta.
A storm surge warning is in effect for:
High Island, Texas to the Mouth of the Pearl River including Calcasieu Lake, Vermilion Bay, and Lake Borgne
A hurricane warning is in effect for:
High Island, Texas to Morgan City, Louisiana
A tropical storm warning is in effect for:
West of High Island to Sargent, Texas
East of Morgan City, Louisiana to the mouth of the Pearl River, including New Orleans
Lake Pontchartrain and Lake Maurepas
Tropical Depression 26 strengthened Monday morning into Tropical Storm Delta in the northwest Caribbean before quickly intensifying into a major hurricane. The other major hurricanes for the 2020 Atlantic season were Laura and Teddy.
Hurricane Delta is now the strongest Greek alphabet named storm beating Hurricane Beta in 2005 with 115 mph winds.
Nevertheless, Delta will become the fifth named storm and potentially the third hurricane this year to make landfall along this portion of the Gulf Coast.
The other storms were Cristobal, Laura, Marco and Sally.
Don't forget, we still have two months of hurricane season left, so we'll need to stay aware through Nov. 30. October can be a busy month for tropical development, especially in the Caribbean and Gulf of Mexico.
We have now had 25 named storms in the Atlantic basin this year, including four Greek letter storms.