The good news is that for Wednesday, temperatures will still be on the upswing as highs level off in the low-middle 80s before showers and storms roll in later this evening.
As a strong cold front sweeps across the Southeast, winds out of the south will draw up the warmer than normal conditions across Tampa Bay. These winds will increase through the day from 15-25 mph with gusts approaching 35 mph at times.
Skies will remain mostly sunny to partly cloudy into early this afternoon before more clouds begin to move in as the cold front approaches from the northwest.
The storm system set to bring storms to Tampa Bay this evening was responsible for several tornado reports Tuesday across Texas and Louisiana. As the system moved east overnight, more tornado reports came out of the Florida Panhandle early Wednesday morning.
A slight (2 on a 0-5 scale) risk for severe weather exists Wednesday from northern Florida through southern Georgia, South Carolina and eastern North Carolina. A marginal (1 on a 0-5 scale) risk for severe weather extends south into coastal areas of Hernando and Citrus County.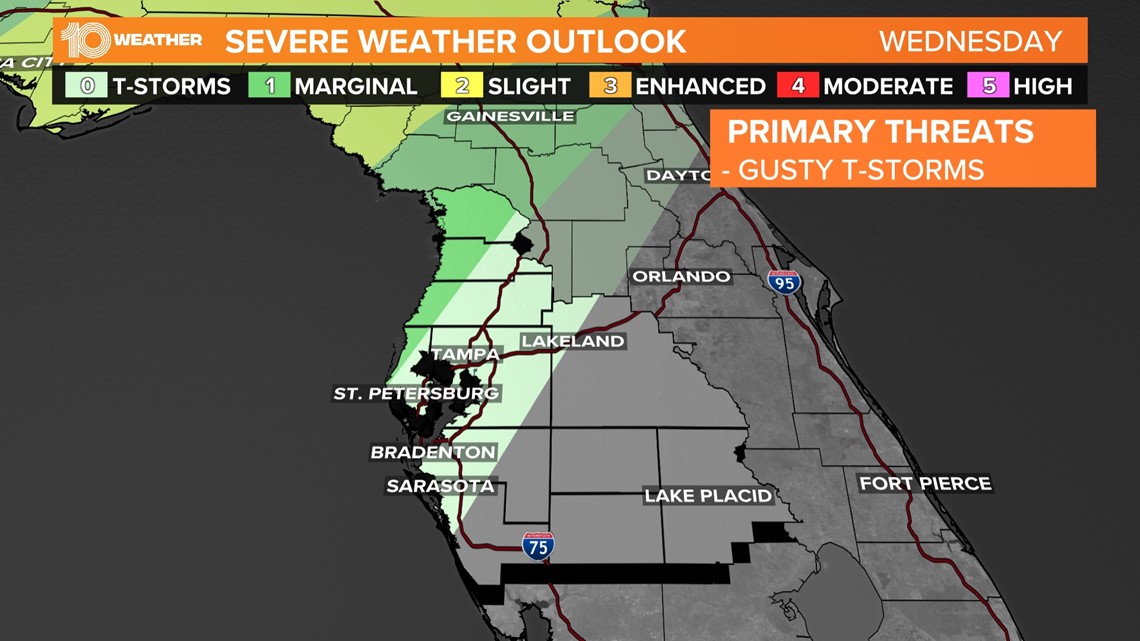 While the greatest risk for severe weather will stay north of central Florida, there will still be a line of storms diving south into this evening. Embedded within this line of storms could be a few stronger cells that will have the potential to produce damaging winds and even a little rotation that could result in a brief tornado.
The Nature Coast should expect the line of storms to move through later this afternoon between 5-7 p.m. Expect thunderstorms in the Tampa Bay area between 6-9 p.m. and locations inland into the nighttime hours.