TAMPA, Fla. — The National Hurricane Center is investigating Disturbance #1, now labeled Invest 98L, located just off North Carolina's Outer Banks.
This area of stormy weather has a 80 percent chance over the next 48 hours of becoming a named subtropical or tropical storm. While the storm will have no effect on Florida, it would break another record in the active 2020 hurricane season.
If named, it will become Fay.
This would be the earliest sixth named storm in the Atlantic on record. The current record is Tropical Storm Franklin on July 22, 2005.
On average, the first "F" name storm doesn't form until Sept. 8, two months from now.
The 2020 Atlantic hurricane season has already been record-breaking, with five named storms already in the books, two before hurricane season even started on June 1. None have been hurricanes.
Arthur brushed the Outer Banks of the Carolinas in May, and Bertha moved that way too. Cristobal brought heavy rain to the Gulf Coast, including Tampa Bay. Dolly moved harmlessly over the North Atlantic.
If Invest 98L develops into Tropical Storm Fay, it's expected to bring heavy rainfall, gusty winds and perhaps a tornado risk to parts of the Northeast into the weekend. An invest is simply short for investigative area. It's also known as an area of interest. It is a designated area of disturbed weather that is being monitored for potential tropical cyclone development. Once the National Hurricane Center declares an investigative area, spaghetti models are run on the system to project the future track possibilities.
Invests are numbered from 90 to 99, followed by a suffix letter "L" in the North Atlantic basin, "E" and "C" in the Eastern and Central Pacific basins (respectively), or "W" in the Western Pacific basin.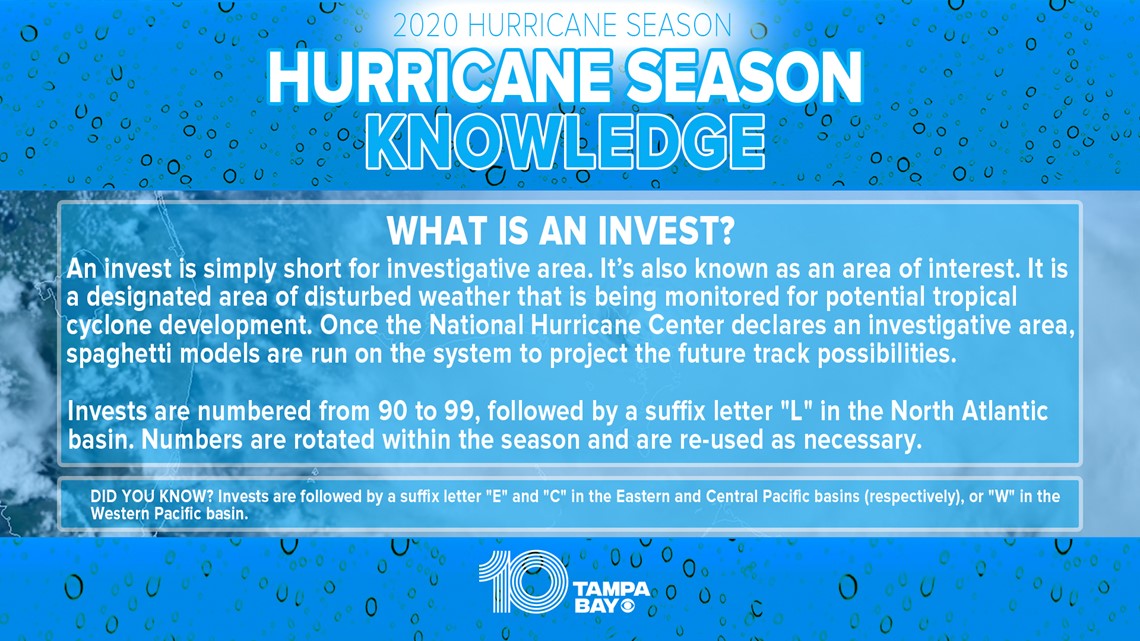 Remember, 2020 is expected be an above-average hurricane season. NOAA's official forecast calls for a 60 percent chance of an above-normal season with 13–19 named storms, 6–10 hurricanes, 3–6 major hurricanes. Above-average water temperatures and the lack of an El Niño are factors that would increase activity.