ST. PETERSBURG, Fla. — As of 5 a.m. Thursday, Tropical Depression Eleven (TD11) remains just below tropical storm status with winds of 35 mph, moving west at 15 mph. Tropical-storm-force winds begin at 39 mph.
TD11 is forecast to develop into a tropical storm Thursday, with winds between 40-45 mph. With proper storm organization, the National Hurricane Center will name the depression Tropical Storm Josephine.
The current record for earliest Atlantic 'J' storm is Jose on Aug 22, 2005. Tropical Storm Jose was a short-lived tropical storm which made landfall in central Mexico.
In the short term, environmental conditions are expected to become better for additional development. Winds are forecast to reach 60 mph by Friday morning.
The system is forecast to move west-northwestward at around 15 mph across this favorable area in the tropical Atlantic over the next few days. However, by late this weekend, conditions are expected to become harsher with wind shear and dry air, which is likely to weaken the system by Sunday.
Most spaghetti models are in general agreement that Tropical Depression Eleven will move west-northwestward across the tropical Atlantic then curve northwestward into the open Atlantic before the system reaches the Lesser Antilles. Because of that, U.S. impacts look unlikely at this time.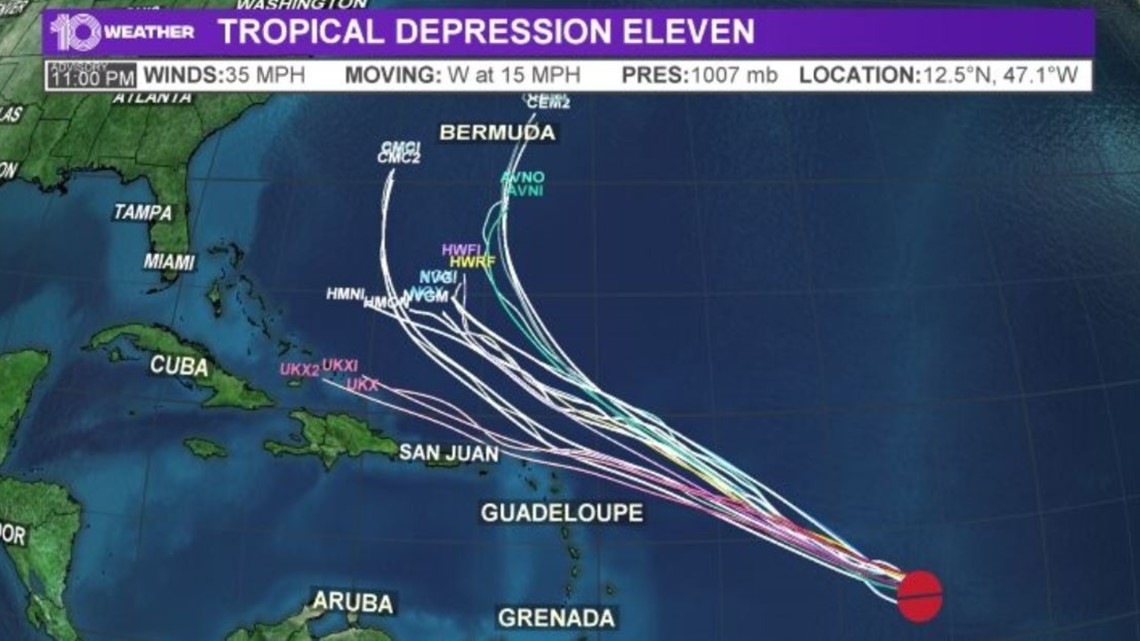 NOAA predicts an "extremely active" 2020 hurricane season for the Atlantic Basin, with as many as 25 named storms forming.
This includes the nine named storms that have already formed: Arthur, Bertha, Cristobal, Dolly, Edouard, Fay, Gonzalo, Hanna and Isaias.
The National Oceanic and Atmospheric Administration said seven to 11 storms this season will be hurricanes. So far, two hurricanes have formed: Hanna and Isaias, both of which made landfall in the U.S.