TAMPA, Fla. — Calling all of Tampa Bay's littlest pirates.
Before the adults have their big Gasparilla celebration, the kids get to shine at their very own parade.
If you're planning on participating in the Tampa Bay tradition, it's a good idea to make a plan ahead of time. From where to park to where to find the bathroom, here's everything you need to know about the 2023 Children's Gasparilla Parade:
Children's Gasparilla 2023 schedule
Noon to 2 p.m. - Bicycle & Pedestrian Safety Rodeo: Kids can get fitted with a brand new bicycle helmet (that they can keep) and ride through a mini bicycle traffic course on Bayshore Boulevard between Rome and Dakota avenues.
Noon to 4 p.m. - Gasparilla Air Invasion: The pirates are taking to the skies in vintage military aircraft. Enjoy an airshow by The Chuters parachute demonstration team.
2-3 p.m. - Gasparilla Preschoolers' Stroll: Kids 5 and under can show off their pirate garb along Bayshore Boulevard, between Howard and Rome avenues, with specially decorated wagons, bicycles and strollers.
4-6:30 p.m. - Children's Gasparilla Parade: Get your beads and candy from pirates, floats and marching bands along Bayshore Boulevard. It's widely considered the largest children's event in the country.
6:30-7 p.m. - Gasparilla Nighttime Air Invasion: Watch another incredible airshow by The Chuters. This one includes Ghostwriter Airshows' signature fireworks flight.
7-7:30 p.m. - "Piratechnic Finale": Pirates and pyrotechnics, of course. This fireworks show recreates the imaginary battle between the pirates of YMKG and the city of Tampa.
Parking
You can park in various city-run garages and lots for a special event parking rate.
Local businesses also offer parking on their properties, but you'll have to check with them individually to purchase a pass.
You can't park in the neighborhoods bordering the parade route.
A free trolley will run along Bayshore Boulevard from 11:30 a.m. to 8 p.m., picking up and dropping off at Platt Street and Bay to Bay Boulevard.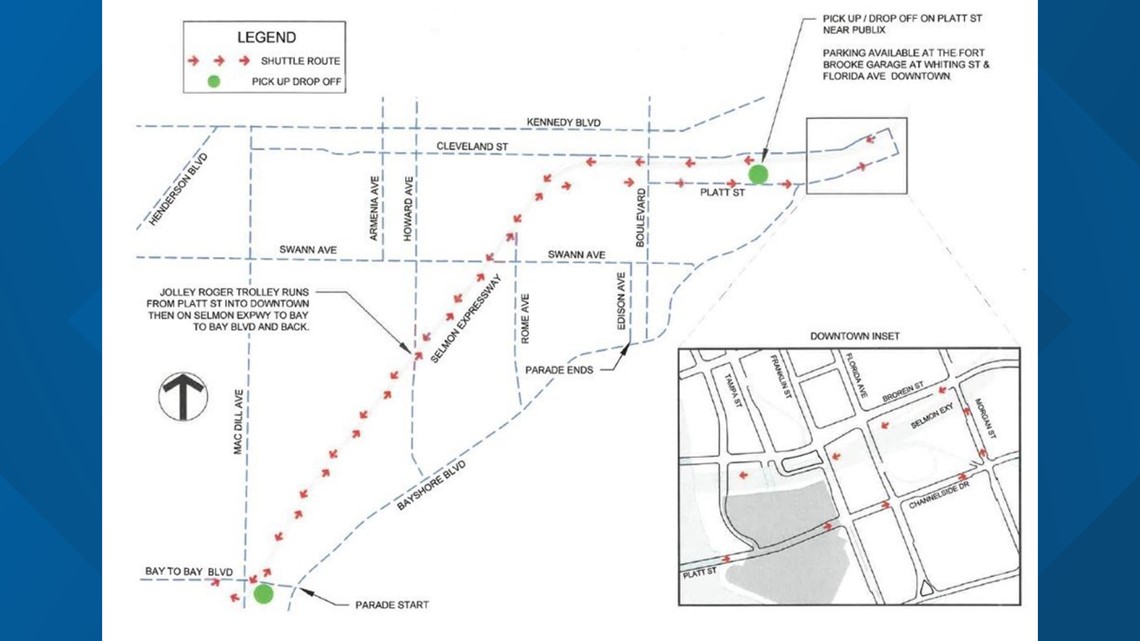 Where to stand
Families can watch the parade on the landside of Bayshore Boulevard anywhere between Bay to Bay Boulevard and Edison Avenue.
If you'd like to stand on the waterside, you'll have to go between Howard Avenue and Albany Avenue or between Rome Avenue and Edison Avenue.
There is a special ADA viewing area located at Howard Avenue and Bayshore Boulevard.
If you'd rather sit for the parade, reserved seating is available for purchase between Bay to Bay Boulevard and Howard Avenue and between Albany and Rome avenue. Seats start at $55.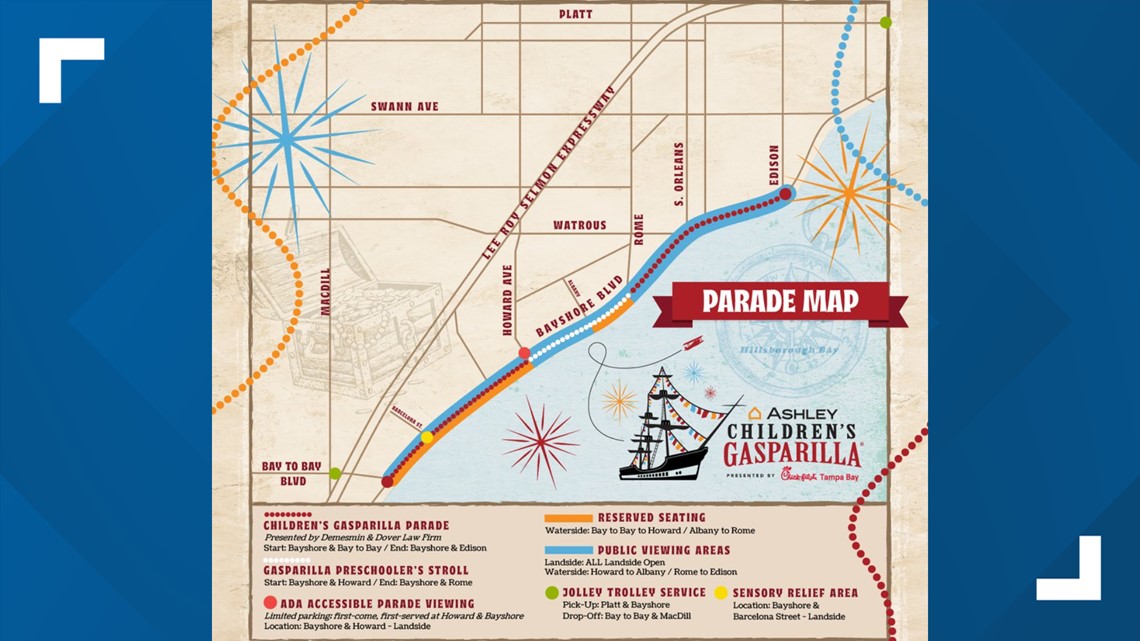 Bathrooms
Port-a-potties will be set up along Bayshore Boulevard for parade-goers to use.
Anyone not particularly fond of portable toilets can find restrooms at locations surrounding the parade area, like Armature Works, Hyde Park or the Publix on Bayshore.