TARPON SPRINGS, Fla. — Ryan Wentz is a sophomore in college. He is studying to be a biologist.
"Nothing to do with engineering," Wentz said.
"I was looking at the reels and I saw that his was the only channel focusing on something good," Wentz said.
The Guardrail Guy is Steve Eimers, a safety advocate who has located improperly installed guardrails across the county. 10 Investigates introduced you to Eimers back in February when he helped find dozens of improperly installed guardrails across state roads.
"One bolt in the wrong spot can kill you," Eimers said when talking about the dangers of improperly installed guardrails.
It was the message — and knowledge that Wentz took away from the YouTube page — that allowed him to notice something wasn't right at a guardrail located near the Pinellas-Hillsborough line on Keystone Road in Odessa.
"I just noticed that it was damaged, nothing in particular stood out to me. And then, from there, I contacted the Florida Department of Transportation. I sent them an email saying that it was hit, and I would request that it would be fixed," Wentz said.
The guardrail also turned out to be "Frankensteined" — a major problem.
"'Frankensteining' goes back to the monster Frankenstein. It's when you take parts from different systems and mix them together," Eimers said.
Then, Ryan kept running into other problems.
"They said that it was a locally maintained issue and that they would be forwarding it to the next person," Wentz said.
This guardrail was not the property of the Florida Department of Transportation. The guardrail belonged to Hillsborough County.
"Yep. I feel like sometimes I'm chasing my tail trying to figure out who do I need to contact," Wentz said.
We contacted Hillsborough County, too, asking if they track "Frankensteined" guardrails on the side of their roads. They sent us an email back saying that:
"If a guardrail is struck in a car crash or is disrupted in some other way like localized flooding or a tree fall, then that guardrail is replaced in large sections with FDOT-approved components designed to work with that guardrail."
And it's not just Hillsborough County.
There's this improperly installed guardrail on Lake St. George Drive in Pinellas County.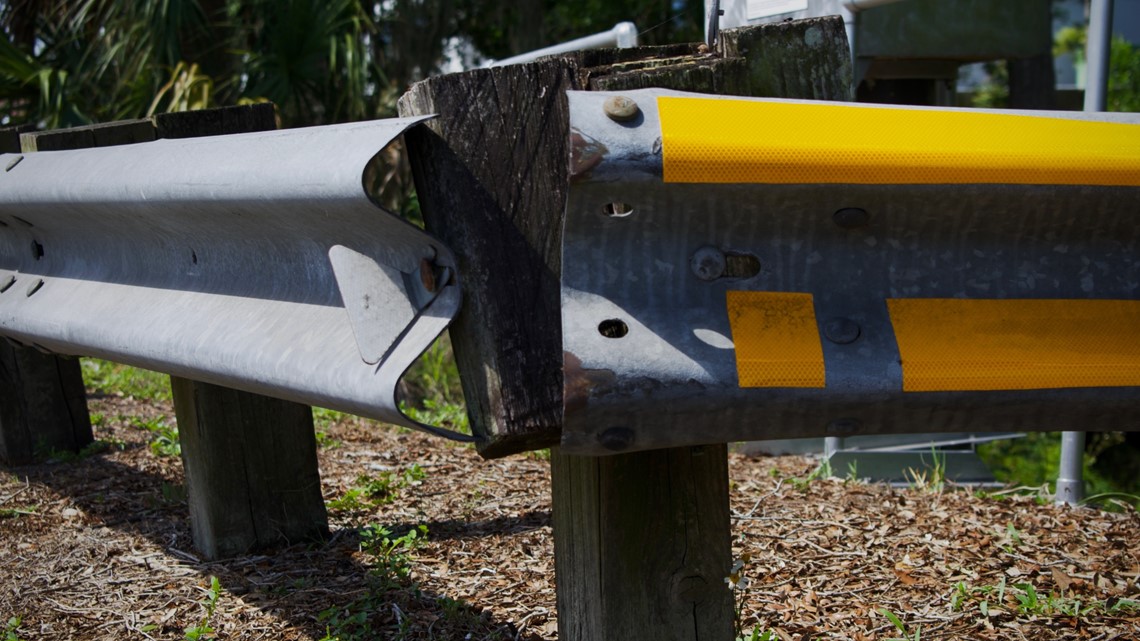 And another one in Tarpon Springs on North Bayshore Drive.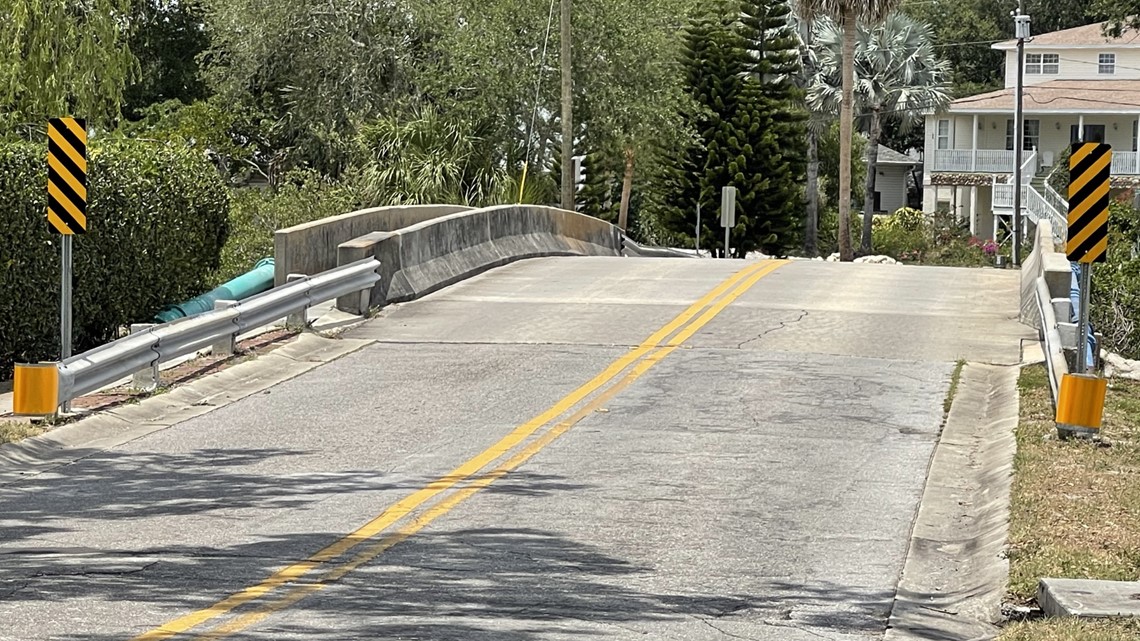 10 Investigates compiled a database together of how counties across the Bay Area inspect and track their guardrails.
Manatee County says they "do not have a proactive guardrail inspection program in place and inspect ones associated with bridges during those regular inspections at least every two years."
A Pasco County spokesperson told us, "We inspect guardrails if we receive service requests from residents/drivers indicating the guardrails need repair."
A spokesperson told us, "Polk County inspects all guardrail installations during seven-year intervals. They say they also get crash reports from law enforcement indicating whether a guardrail needs repair."
A Sarasota County spokesperson says, "Our guardrail inspection activities occur upon reported damages and repair requests."
And in Pinellas County, we were told they "inspect guardrails at a frequency of 1 to 2 years." When we asked about seeing an inspection, they referred us to FDOT.
And here's another problem, while counties and cities seem to handle guardrails differently, confusion adds up once again over ownership of the guardrail.
In an email from FDOT, "this bridge is owned by the City of Tarpon Springs (City). While FDOT provides inspection reports to the City, repairs and maintenance remain the responsibility of the City."
Wentz then sent an email to the city back on May 3. The guardrail was still not fixed two weeks later. While 10 Investigates was out with Wentz shooting video of the guardrail, contractors with the city did show up. Wentz walked them through what he noticed was wrong.
The confusion turns to frustration.
"The government is going to put out a barrier to protect you from a danger. The barrier should work as designed from the manufacturer," Wentz said.
"The counties and the cities can kind of do whatever they want, within reason. But if they don't have that expertise or that knowledge, it can create a quite a big problem that just cascades down into the contractor," structural engineer Kevin Schrum said.
Schrum has studied guardrails for years. He's not surprised by our findings on city and county roads.
"At the county and the city level, they have even fewer resources, fewer people that are aware of these things. And so trying to convince them of the importance of not drilling a hole and guardrail to bolt into the post, it's such a subtle thing," Shrum said.
It's why Wentz knows it won't be the last time he spots an improperly installed or "Frankensteined" guardrail along the roads.
The one, by the way, on the Hillsborough-Pinellas County line that contractors have come out to fix is still not properly installed. It's improperly bolted. After we contacted Hillsborough County again, they promised to make it a priority to fix it.
"This message is important for everybody because it's our job. The government, people drive and we're all the same. We have just different jobs, so we need to help each other," Wentz said.
A spokesperson for the city of Tarpon Springs did send us an email when we asked about their guardrail we spotted improperly installed, and this is how the city responded:

Do you know if and when it will be fixed? Many of the issues in the inspection have already been repaired. Several items are waiting on ordered parts and will be fixed in the immediate future as soon as they are received.
Do you track improperly installed guardrails? No, this I believe would be a function of FDOT.
How often are inspections done by FDOT? This would be up to FDOT's procedures, but it would typically be every 2 years.