ST. PETERSBURG, Fla. — Amid statewide controversy over how African American history is taught in Florida schools, a movie on civil rights icon Ruby Bridges is now under review after a St. Petersburg parent filed a complaint stating the movie teaches students racial slurs and that "white people hate black people."
The North Shore Elementary School parent filed the complaint on March 6, after about 60 second-grade students watched the "Ruby Bridges" movie as part of a Black History Month lesson.
Bridges made history as a 6-year-old child when she became the first Black student to desegregate an all-white school in New Orleans in 1960. She had to be escorted to school by federal marshals and once told CBS News she spent the entire school year in a classroom with just her and a teacher after white parents pulled their children from her class in protest.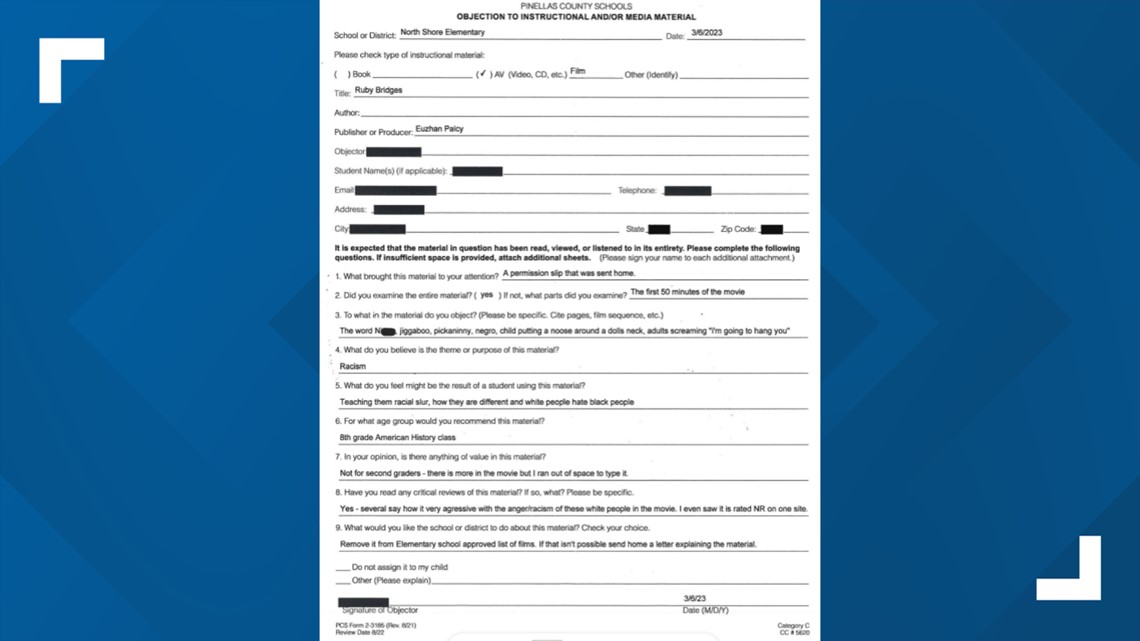 Columnist and former St. Pete Police Chief Goliath Davis first wrote about the complaint in The Weekly Challenger, and told 10 Investigates, "if [Ruby] endured that, there's nothing wrong with teaching second graders or others that behavior was wrong."

Davis, who also served as deputy mayor, told 10 Investigates he did not believe that the actions of one parent should impact the entire district. "This story's not only important to me, it's important to the nation and to the world," he said. "With the advent of MAGA and [Moms for] Liberty and anti-woke campaigns, it's apparent that individuals are trying to rewrite history and virtually erase African American contributions."
According to Pinellas County Schools spokesperson Isabel Macareñas, parents received permission slips that included a link to the "Ruby Bridges" movie trailer two weeks ahead of the viewing.
Of about 60 students, two parents opted out of allowing their children to watch. One of those parents filed a formal complaint with the district, triggering a review process by the school-based Instructional Materials Review Committee.
Macareñas said this does not ban the movie from the school but does put viewing it at the school on hold.
"The principal made the decision not to show it again, if requested, pending the committee's decision," she said in a statement.
She also clarified that this review process is only taking place at North Shore Elementary School and does not impact other schools.
"Pinellas County Schools has not removed the movie 'Ruby Bridges' from all schools. The movie remains available through the district's licensed movie library," she said in a statement.
The challenge to the Ruby Bridges film comes as the district weighs a ban on The Bluest Eye by Pulitzer Prize-winning author Toni Morrison after a parent challenged the book based on a passage about rape. The challenges within the district are a microcosm of educational changes taking place statewide.

This includes the passage of a law that mandates a review process for all school reading materials, including public libraries. In recent months, the Florida Department of Education rejected an Advanced Placement African American studies course for high school students claiming, "the content of this course is inexplicably contrary to Florida law and significantly lacks educational value."
New rules from the Florida Department of Education telling media specialists to "err on the side of caution" have created confusion for many districts across the state as it relates to books and instructional material related to race, sexuality and gender.
Mascareñas said a final decision is expected on The Bluest Eye by April.

The North Shore Elementary school-based committee is set to meet April 3 to make a decision on the Ruby Bridges film. Decisions made by this committee can be appealed to the District Committee for Challenged Materials.