Semi-Safe: Other drivers often pay the price in deadly large truck crashes
The number of crashes involving a medium or heavy truck like a semi continues to increase both nationally and in Florida.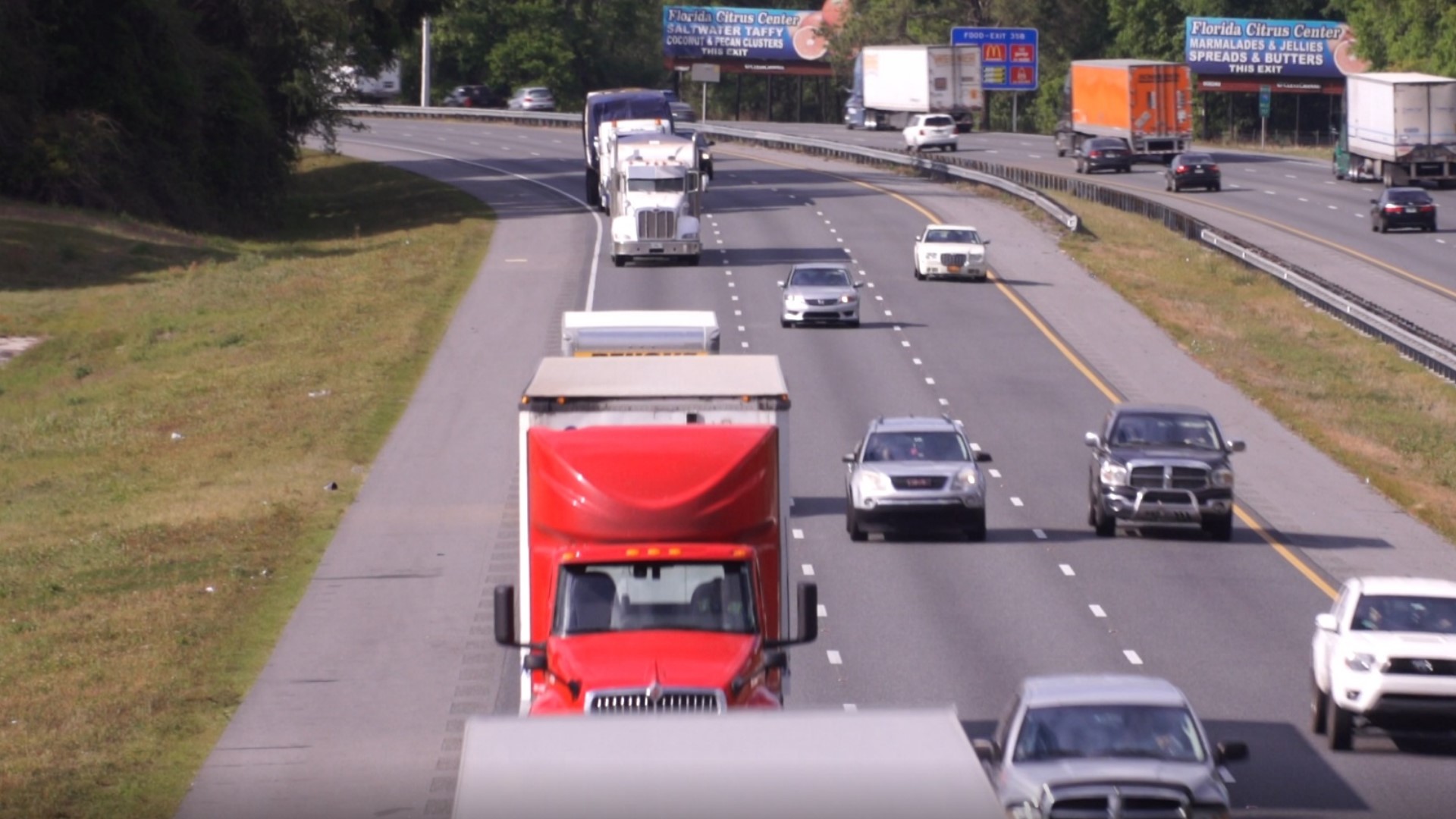 The year was 2014. You may recall the horrifying images from a semi-truck crash in New Jersey. Comedian Tracy Morgan was seriously injured.
This past January, five children were among seven whose lives were cut short while on their way to Disney World. The fiery crash happened right here in Florida on Interstate 75.
The number of crashes involving a medium or heavy truck like a semi continues to increase both nationally and in Florida.
Out of control
: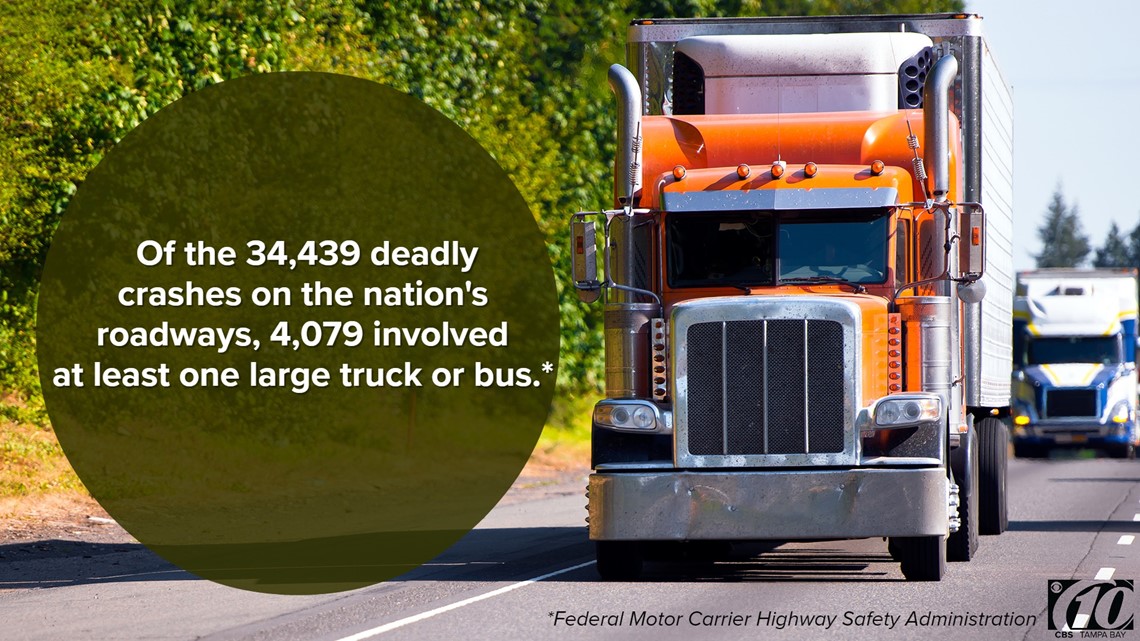 "There's truly no word in any language I believe to describe what it feels like to see your child and knowing that will be the last vision you ever see of him," said Lisa Tereskun, who lost her 25-year-old son Jarrett in a crash on I-75 two years ago. "There's a name for everything. You're an orphan if you lose your parents. There are titles for everything. There're not titles for a parent who has lost their child. Because there isn't a word that can describe the intensity of loss. Part of my soul has been ripped out."
Her son died after his car was hit by an out of control semi-truck.
"I never had a problem in the past driving on any other roads with trucks," Tereskun said. "I avoid them now. I just don't want to be next to them. Every time I see a truck it's a reminder of my son's death."
Part 1 of Semi-Safe
Drivers pay the price
:
10Investigates learned truck crashes in the state of Florida have gone up from 23,515 in 2014 to 32,513 in 2018.
But it's not the truck drivers who are paying the ultimate price.
The National Highway Transportation Safety Administration says 72 percent of those who died in these crashes were in the other vehicles.
So, why the increase? In 2017, a report from the Florida Department of Transportation shows that speeding was the most frequent driver-related factor in crashes involving large trucks.
That's why Steve Williams, the CEO of Maverick Transportation, a mid-sized trucking company based in the Midwest, goes above and beyond with safety technology on his vehicles.
"We've historically tested and beta-tested different safety technology and that's been very beneficial for example collision avoidance system, lane departure alert, roll stability control a lot of critical even recordings, forward-facing cameras," Williams said. "The whole platform you know there are those have historically been done and now there are companies aggregating all the safety systems and selling those as packages if you will. And those have been very, very, very, very evident on improving our safety performance."
With the 1,800 trucks the company has on the road every day, it had only one reportable department of transportation accident last year. A reportable accident involves either an injury or the truck having to be towed.
"We put up some of the best safety records in the 40-year history of the company," Williams said.
One piece of technology that Williams uses in all his trucks is a speed limiter. It caps the speed a truck can travel. It's in every single truck built since 1992, but there's no federal requirement the limiter be turned on in a truck.
"Our speeds are set at 65 and that's all done with software in the truck. I think there are 8 or 10 different computers on a truck today," Williams said.

A push to slow down
:
After a decade-long push by trucking and safety advocates, the National Highway Traffic Safety Administration proposed a rule that would require heavy-duty vehicles to have their speed-limiting devices set. The proposal failed in 2017.
"At Maverick we're going to run at 65 regardless of what the speed is in excess of that," Williams said.
Williams says being able to monitor how fast his trucks are going is important.
"What we do is important to this nation. To the quality of life we've all grown accustomed to, but how we do it is much more important," Williams said.
He knows that the roads we drive on are busier than ever.
"Just because we've always done things a certain way doesn't mean that we roll down our window and act however we want. Those days are over," Williams said.
A federal law did go into effect in December requiring truck drivers to have a digital log for driving hours. The problem: Most truck drivers' pay is based on mileage, not hours worked.
So safety advocates argue speed limiters should be a requirement because the only way drivers can make up lost miles given restrictions on time is by speeding.
The Truck Safety Coalition advocates for victims of deadly truck crashes and the families of those who lost loved ones. They have partnered with the Citizens for Reliable and Safe Highways Foundation and Parents Against Tired Truckers.
Road Safe America was founded in 2002 after Steve and Susan Owings' son was killed by a speeding tractor-trailer. The organization proposes numerous changes that other countries use to keep their highways safer.
Tereskun hopes somebody will look at the latest statistics involving a rise in deadly truck crashes. She asks if technology may be the answer, then why question it?