The list of issues ran the gamut: holes in the wall, no fire alarm, stained carpets and jagged metal exposed from holes in the flooring. They were horrific conditions Carol Bickhardt and her daughter, Tammy, have been living with from the start.
"When we first moved in, we had air conditioning problems and the maintenance guy only put the freon can in my mom's closet," Tammy Bickhardt said. "Almost every single day, that's what he would do.
"He would not repair what was the problem."
Stained carpets, no fire alarm at Clearwater apartments
Tammy Bickhardt used her own money to pay for the $264 repairs for her air conditioning. It only got worse from there.
"Then we had the carpeting which was flooded because of the toilet that did not work for two months," Tammy Bickhardt explained.
The apartment complex billed the family for plumbing repairs after that flood. 10Investigates shared those bills with the Pinellas County Housing Authority, who tell us those repairs are the responsibility of the apartment manager.
10Investigates went to Rogers Square Apartments to speak with the manager. We were told she was out of the office and to reach out to their corporate offices.
We haven't heard from management at the apartment complex, but the housing authority immediately took action. Their director of compliance went out on his own to conduct surprise inspections at each of the units where four families live -- all of them failed.
Rogers Square is now on the housing authority's "do not work with" list.
More: Below is the list of landlords the Pinellas County Housing Authority has "banned" from their housing program. If someone is looking for affordable housing, these places are not eligible through the program. A facility can be put on this list for a variety of infractions.
Rogers Square soon will appear on the official list.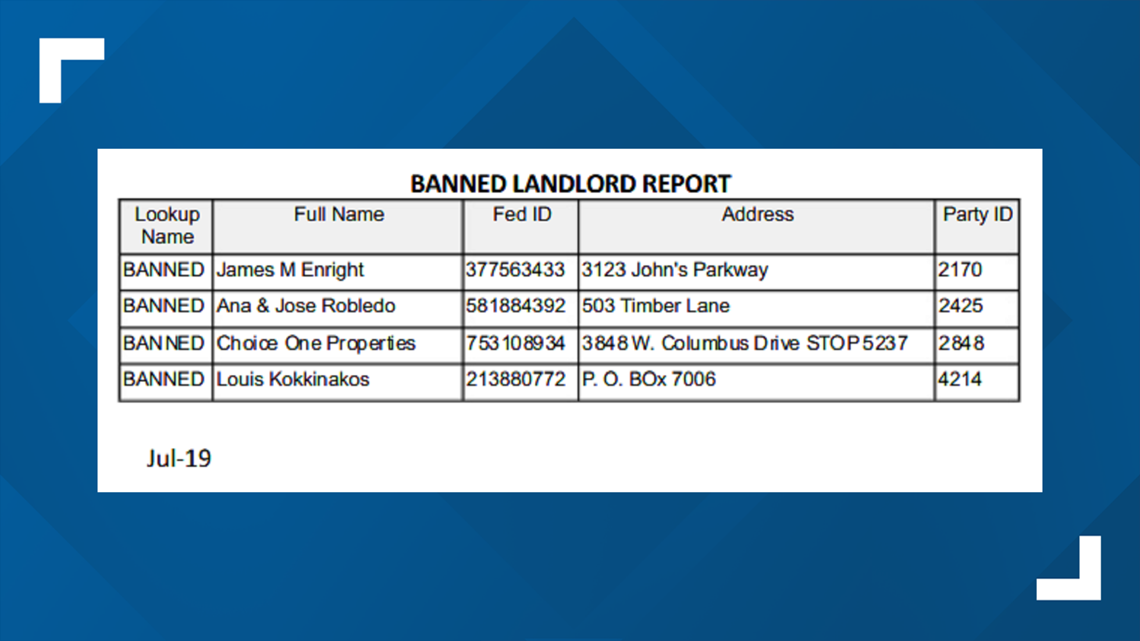 Tammy Bickhardt also is waiting to hear back. She and her mom have since moved out, but she's still out hundreds of dollars from the repairs she made to their apartment.
10Investigates also found out the apartments which failed inspection were inspected by an outside agency called CGI Federal, who was contracted by the housing authority. Officials tell us they will be keeping tabs on the inspections to make sure nothing is missed going forward.
They also say they won't hesitate to terminate their contract with CGI if needed.
The Pinellas County Housing Authority provided this complete statement:
After our recent review of four units at Rogers Square Apartments in Clearwater, we are very concerned with the quality of inspections performed by our Housing Quality Standards inspection contractor, CGI Federal as well as the quality of the management and maintenance provided by the owner of Rogers Square. It is extremely important that the individuals and families that receive assistance through our housing voucher program have good, quality affordable housing, and we intend to ensure that is the case.
"As such, we have put CGI Federal on notice that we will be increasing our quality control monitoring of inspections moving forward. We will put particular emphasis on those inspections performed within the past thirty days, to further document non-compliance, if any, by CGI Federal's inspectors, and we will move toward termination of the contract if necessary."
Do you have a consumer concern? Want us to look into something for you? If you do, you need to turn to 10!