A $4.1 million taxpayer-funded dredging project along with Weeki Wachee River in Hernando County could have been avoided if state officials better enforced rules on the water, a local environmentalist said.
"It's public land and $4.1 million of our taxpayer dollars are restoring this public land and there's been a way identified to protect it and we need to do it," river advocate Shannon Turbeville said.
This month, the Southwest Florida Water Management District is overseeing a dredging project along the river, outside of the Weeki Wachee Springs State Park boundaries. Crews will use machinery on the river's bottom to suck out harmful sand and sediment.
A 2020 capacity study shows this comes in part from excessive recreation on the river as Weeki Wachee becomes a growing tourist destination.
"Out-of-vessel recreation is what's destroying the river. They're climbing up on the shorelines. When they're in the water, they're kicking up the sedimentation. This sedimentation is not normal," Turbeville said.
The report shows that with more visitors, the river has changed over time. There's less vegetation which impacts wildlife and water quality. Additionally, some parts of the river have become more difficult to navigate with the growing accumulation of sediment.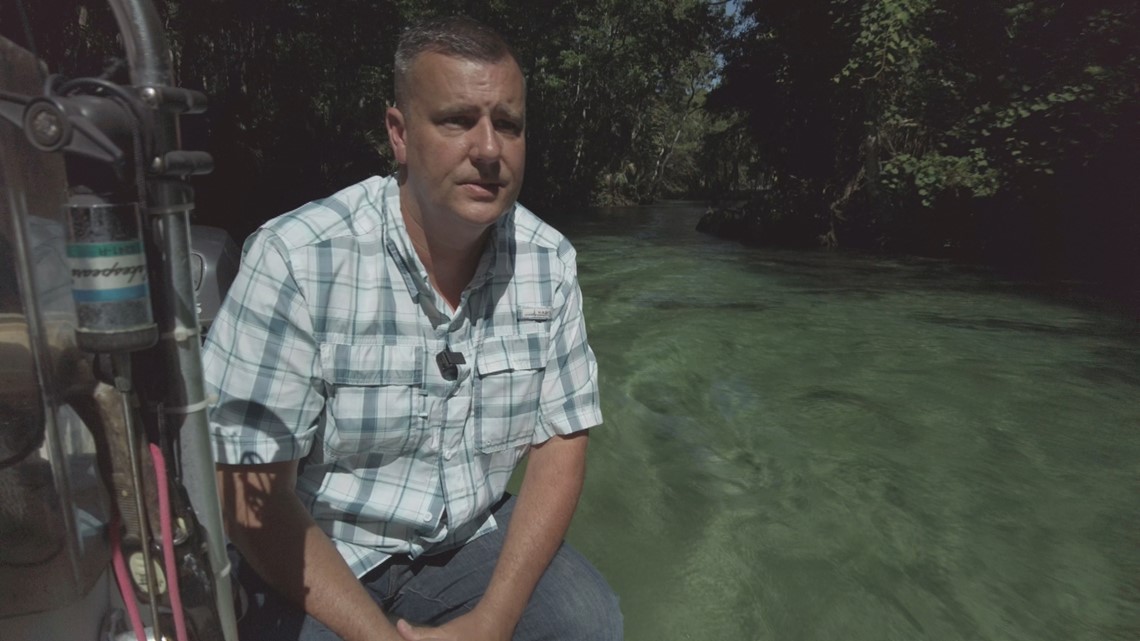 "The only way to protect it is to keep people off the bottom of the river," Turbeville said. "You're not restricting access. You're just changing the way in which you enjoy the river."
According to the Florida Department of Environmental Protection, "Florida State Park rules prohibit boaters from exiting their vessels or mooring, anchoring or tying up to trees or any other objects along the shoreline while on the portion of the river that is within Weeki Wachee Springs State Park."
A spokesperson for the agency also said, "there are numerous signs posted both throughout the state park and at multiple points along the river to make visitors aware of these prohibited activities."
However, Turbeville says the Florida Fish and Wildlife Commission, which one of the agencies with the power to enforce river rules, could be doing a better job.
"The FWC told (former) Senator Simpson, who disseminated it to the public six years ago, that the FWC was committed to increasing patrols on the river and enforcing existing rules. But we see that's not necessarily happening," Turbeville said.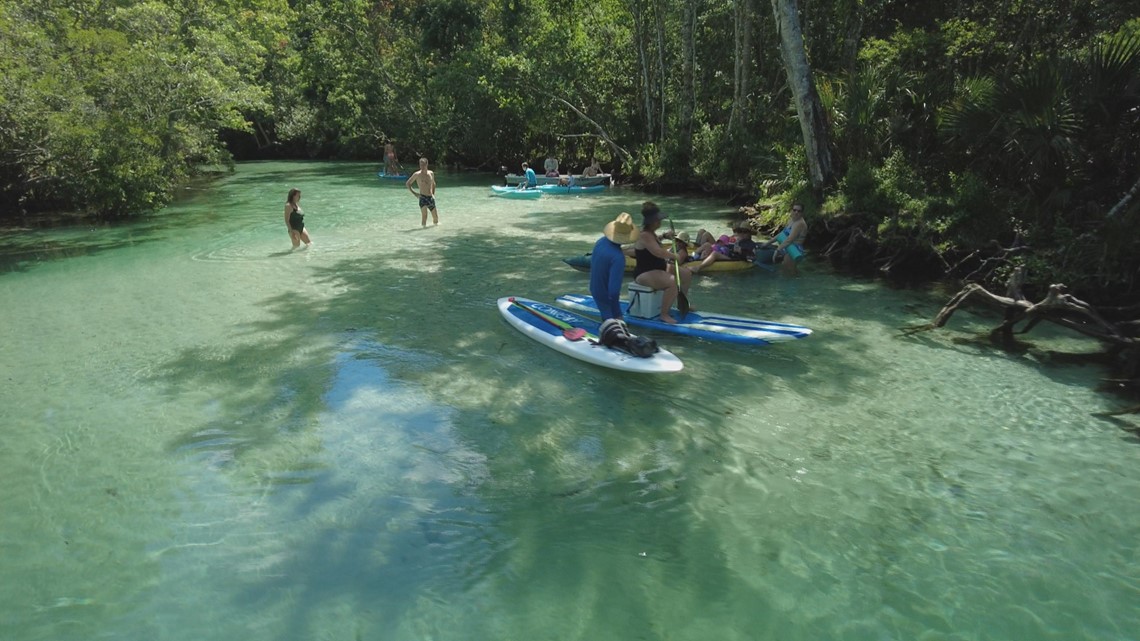 The Florida Fish and Wildlife Commission has the power to cite visitors who don't follow rules within the state park boundaries, but 10 Investigates got records that show between 2017 and 2022, FWC issued about 260 citations at the park. Many of the citations were for having drugs or alcohol. Few were for violating rules related to anchoring, mooring and out-of-vessel recreation.
10 Investigates received the following response from FWC:

The Florida Fish and Wildlife Conservation Commission (FWC) Division of Law Enforcement bases its patrol efforts on resource protection, environmental protection, enforcing boating rules regulations and public safety. FWC officers have statewide jurisdiction along with local law enforcement to patrol rural, wilderness, inshore and offshore areas. The Weeki Wachee River is included in their jurisdiction and will be patrolled accordingly to enforce the laws protecting Florida's resources.
Turbeville said issuing citations is not ideal but stronger enforcement might be one of the only ways to slow the erosion of natural resources along the river.
"Who's really in favor of more rules? I'm not," Turbeville said. "But when it comes down to losing something, and if the rule is common sense and not so obtrusive where it's limiting my access as a taxpayer, I don't see where this is."
FWC is considering making part of the Weeki Wachee River a Springs Protection Zone that could bring changes for visitors.
"It would prohibit the vessel operator from anchoring or tying up, mooring, etc.," Turbeville said. "That's what the proposal would do."
Some say it doesn't go far enough and should cover even more parts of the river than what the proposal includes.
However, it's not just what's happening in the water that's impacting Florida's springs and the rivers that flow from them.
10 Investigates tested water from Weeki Wachee Springs last year, and lab results showed nitrate levels at .80 mg/L. That's more than twice the state standard for springs of .35 mg/L.
Nitrates are known to be harmful to the ecology of the springs and harmful to humans if consumed in high amounts.
Michael Cammarata, manager at Advanced Environmental Laboratories in Tampa, said the trend of higher nitrates in the springs has a lot to do with the growing population.
"It's because of the urban agriculture Florida's growing so fast, right? When the urban development encroaches around that area, then those natural areas that would filter the water before it made it down to the springs, that's gone," he said.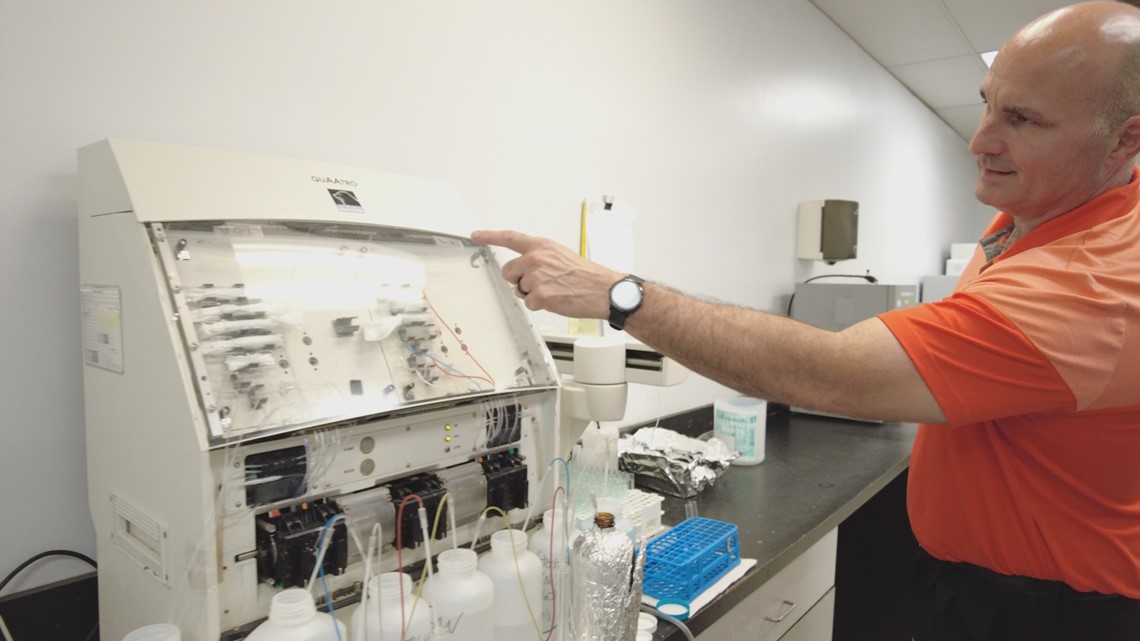 "Plus you have agricultural livestock and septic tanks. So, all those things together, we're kind of seeing an increase in the spring. And I don't know if it's going to go down because Florida is a growing state."
It's all the more reason why Turbeville hopes state environmental leaders will do more to protect its sparkling springs and rivers.
"Everyone, including myself, is loving this river to death," he said. "We all want the same thing and that's to come out here to enjoy it. Enjoy what God's given us and in this public land that's ours to enjoy. But we're going to have to change the way that we do enjoy it."
FWC recently heard public comments on some of the proposed changes to the Weeki Wachee River and will make a final decision later this year.
DEP also says it has taken on projects to protect and restore natural resources along the river: "These efforts include a retaining wall and stormwater control project at the springhead, as well as replanting native vegetation along point bars within the park boundary. These projects will reduce erosion and sediment accumulation and improve the overall health of the Weeki Wachee River," a spokesperson said in an email.