ER testing gap leaves people in the dark on horse tranquilizer
Overdose deaths involving xylazine are skyrocketing. Emergency rooms don't test for it, leaving people who don't know they're taking horse tranquilizer in the dark.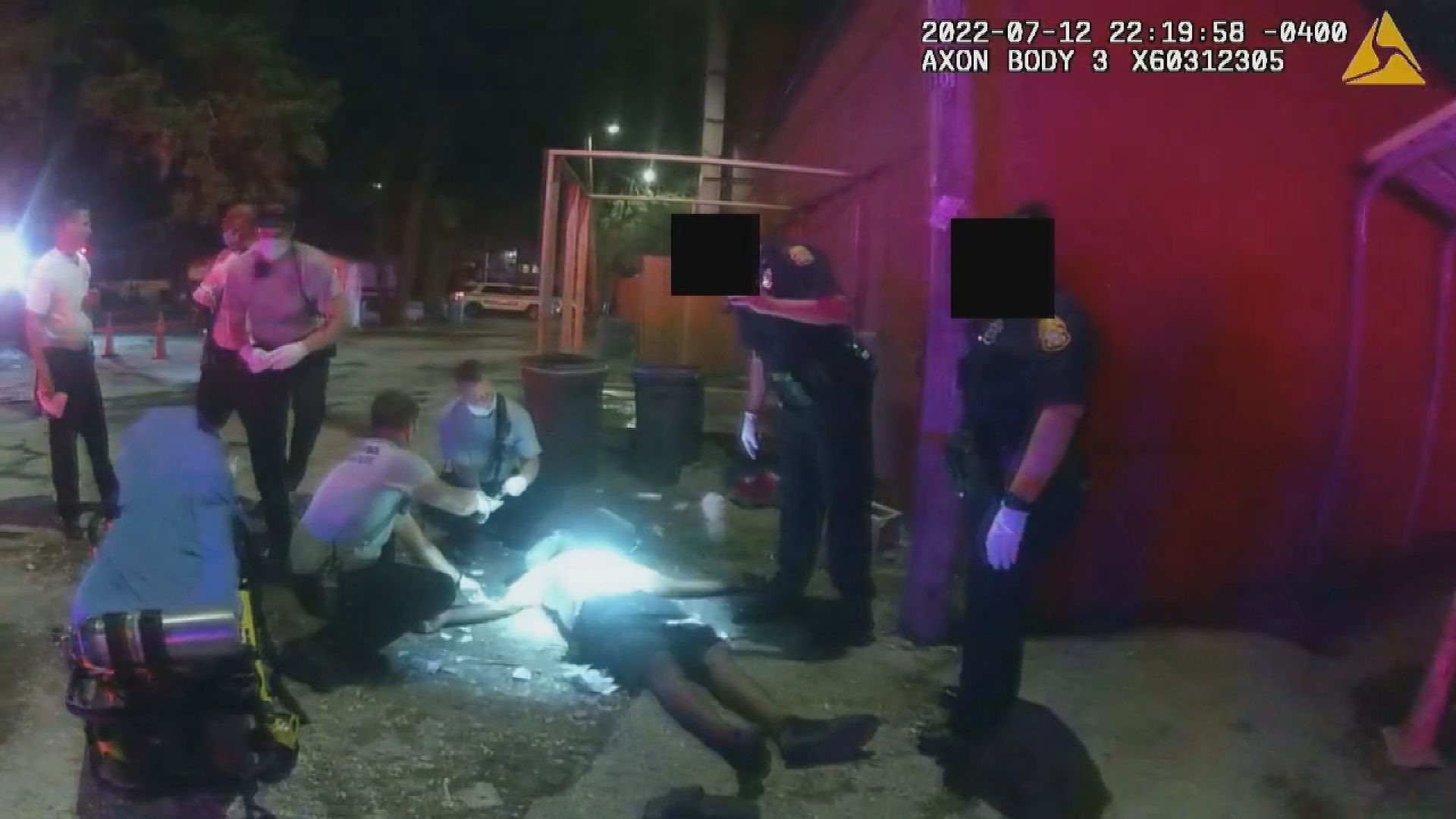 "I think my friends might have got a hold of some fentanyl," a Tampa man told the 911 operator. "Y'all hurry up here, please. I can't wake them up."
Tampa Police and Fire Rescue were called out to 34th Street North and Osborne Avenue.
Officers' body camera recordings show family members rushing to the Jackson Heights crime scene before officers had a chance to put up tape.
"That's my son," said one elderly man.
"That's my brother," a family member told another officer.
"We came here for one overdose, and we end up with seven," a TPD officer told a woman who'd driven over to look for her brother.
"What the hell's going on?" she said.
All seven people who were overdosing that night survived.
"They all fell like flies. I've never seen anything like it," a paramedic can be heard saying to an officer in a TPD body cam recording. "We thought it was just one guy. And when we got out here, they were just falling out the truck as we got here."
Some of the patients told police they thought they were taking cocaine.
It wasn't cocaine. Tampa Police claim the substance they found tested positive in the field for fentanyl and xylazine. Xylazine is a horse tranquilizer that's been quietly creeping into the street fentanyl supply for years.
Police arrested Albert "Berto" Wyche that night. He lived down the street from the crime scene.
"Seven people overdosed tonight, seven – now, I'm looking you dead in the eyes and I'm being honest, alright – off of what you gave them," an officer told Wyche in a recorded interview after his arrest.
"You can't tell me I gave nobody no drugs tonight," Wyche told the officer.
No witnesses showed up for Wyche's trial, according to the State Attorney's Office.
He took a plea deal for felony distribution of a controlled substance.
Wyche was sentenced to one day in jail but got credit for time served. Jail records show he spent less than 12 hours locked up.
Wyche told 10 Investigates he has no comment.
The lowdown on xylazine
:
How the horse tranquilizer interferes with life-saving medication during an overdose
So, why would anyone take a horse tranquilizer?
People who are using it on purpose have told researchers that xylazine gives fentanyl "legs" – meaning the feelings of euphoria they get from fentanyl last longer.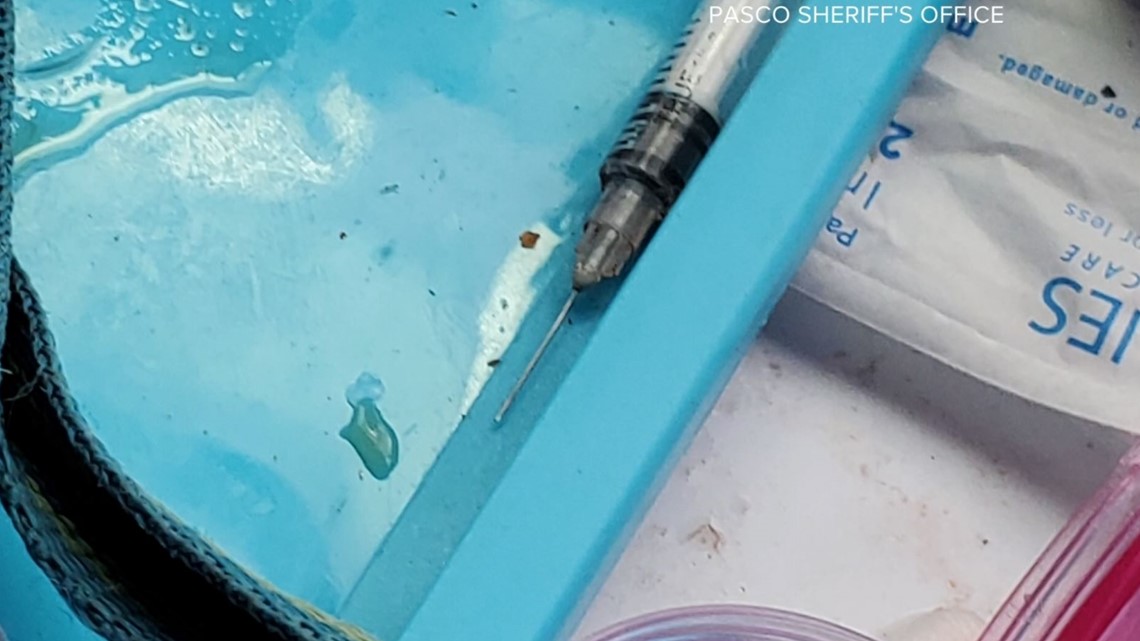 But a lot of people don't know they're taking xylazine. And if they don't overdose, they might just think they got "the good stuff."
Xylazine also makes the go-to overdose-reversal medication for opioids less effective at saving lives.
We're talking about naloxone, better known by the brand name Narcan.
"So, if someone is overdosing due to fentanyl and xylazine, the Narcan will only mitigate the effects of the fentanyl and not the xylazine," forensics toxicologist Dr. Bruce Goldberger told 10 Investigates last year. "In practice, it makes the treatment and the saving of lives more difficult."
Xylazine overdoses are skyrocketing
:
CDC data shows U.S. overdose deaths involving xylazine were 34 times higher in 2021 than in 2018
The Sunshine State's xylazine problem is getting worse.
Florida medical examiners were required to report when people tested positive for xylazine after death for the first time in 2022.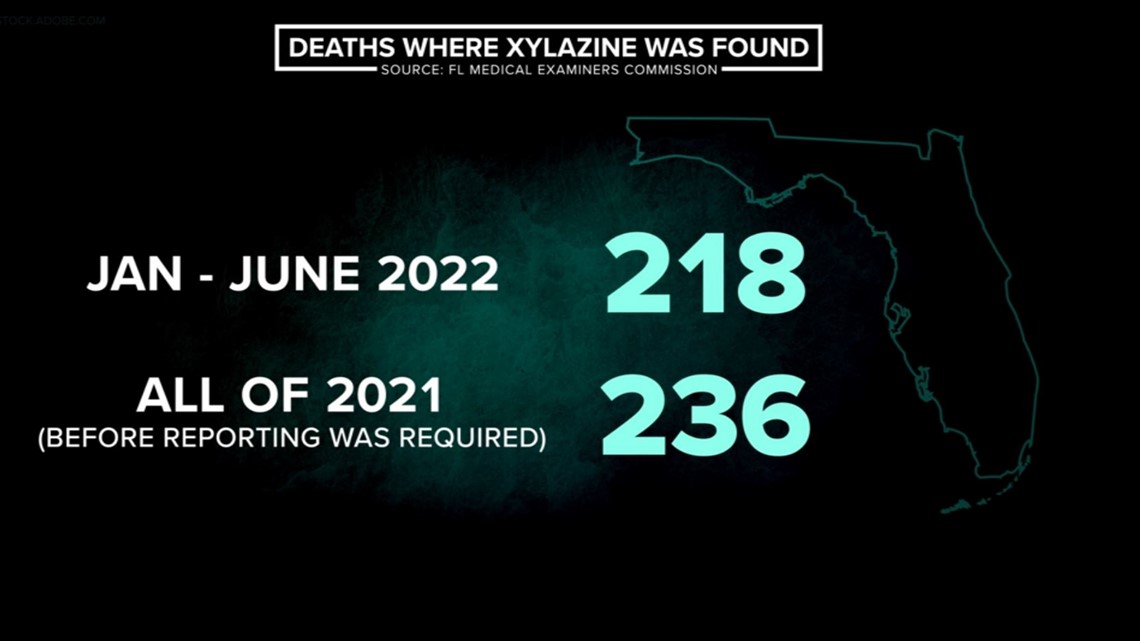 We've now learned that in the first six months of 2022, medical examiners reported 218 people died after taking xylazine.
Compare those six months to all of 2021 – before reporting xylazine was required – when Florida medical examiners voluntarily identified 236 deaths.
And a new CDC data analysis released in June 2023 found the number of overdose deaths involving xylazine in the U.S. was 34 times higher in 2021 than it was in 2018. That's an increase from 102 deaths to 3,468.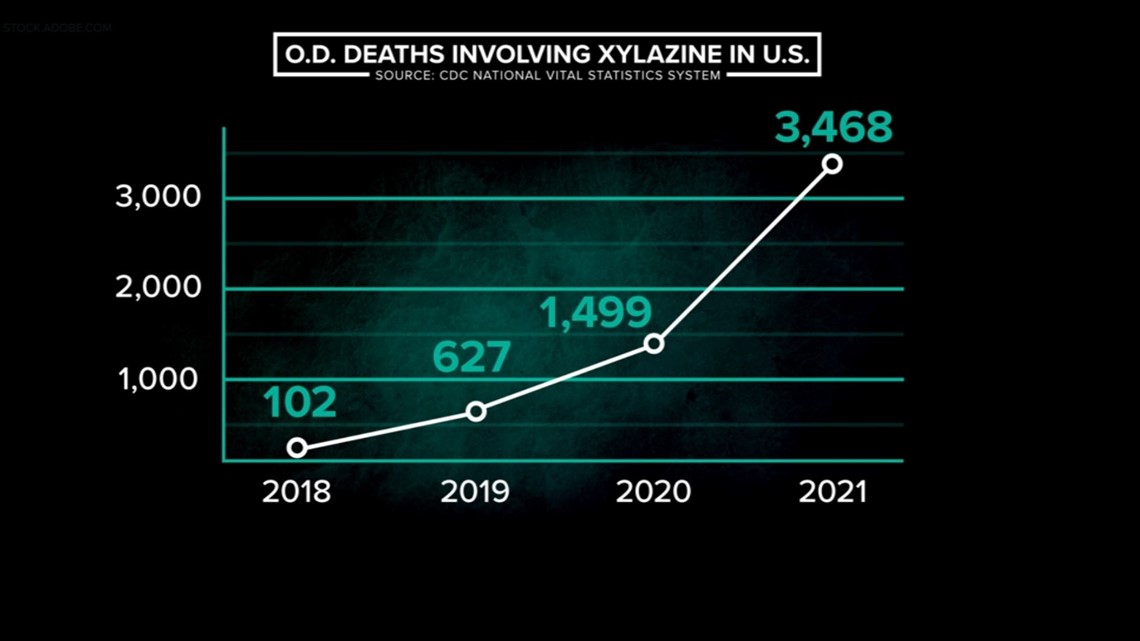 A gap in testing
:
Lack of ER testing for xylazine leaves out people who are still alive and don't know they're taking it
Even though xylazine is spreading, 10 Investigates found that emergency rooms don't test for it.
"Well, xylazine's not routinely tested in labs. They require special analytic techniques that, right now, are more expensive and harder to get," said Dr. Charlie Sand, the Medical Director at Hillsborough Community College's EMS Training Program.
Sand is also chair of Hillsborough County's Emergency Medical Planning Council.
"Xylazine is what we call a quick metabolizer. Its half-life is 25-50 minutes. So, even if we had the testing available, after an hour, it might not detect it," Sand said.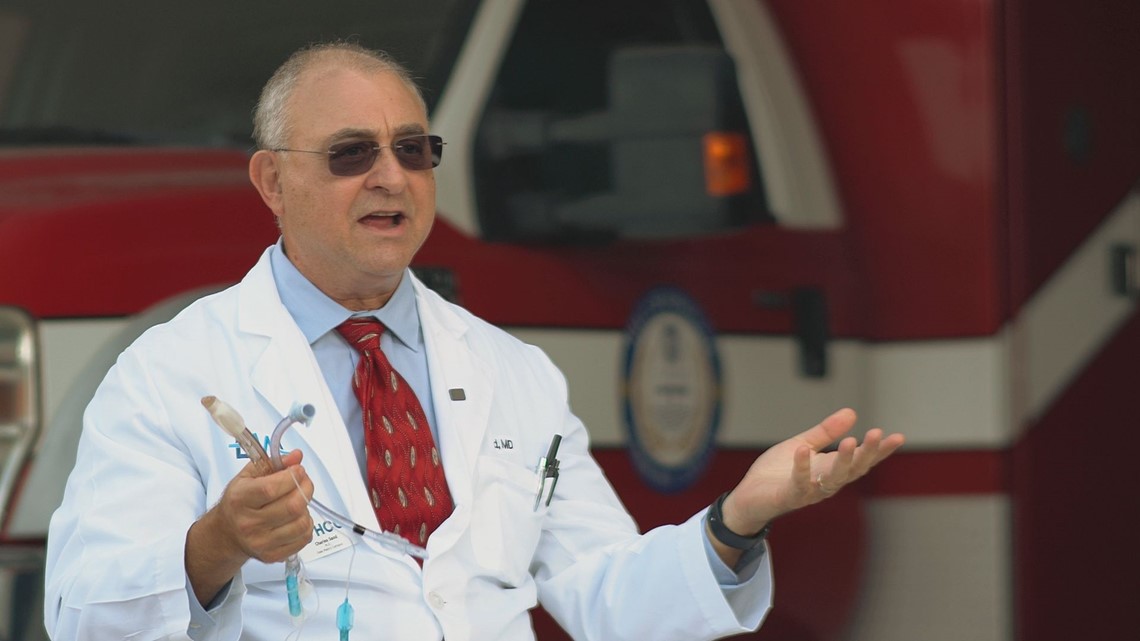 An American College of Emergency Physicians spokesperson told 10 Investigates in an email that emergency physicians don't wait for lab results when treating a patient who appears to be overdosing.
"We may have just a very few minutes to administer naloxone to a patient with a life-threatening opioid overdose. If there is suspicion of opioid overdose, we administer the naloxone to save their life.  In the case of possible xylazine, we may need to rapidly place the patient on a ventilator and use other critical care support, and we would not wait for a positive test," an ACEP spokesperson said in an email.
So, who does test for xylazine? Crime labs test evidence and toxicologists test dead people. That leaves out people who are still alive and don't know they're taking xylazine.
"We can counsel people that this is being mixed in your drugs… that there is an increase in overdose fatalities. So, they need to know this," Sand said.
"Open wounds that won't heal"
:
How a horrible skin wound may be the only way someone might find out their drugs are mixed with xylazine
Without testing, the only way someone might find out their drugs are getting mixed with xylazine is if they develop horrible skin wounds where the tissue dies – a sign of chronic xylazine use.
They're really tough to look at, but if you do need to be able to identify them, you can see some examples here.
"They just eat away at the flesh. They go down to bone. They're huge lesions of just open wounds," Sand said. "If we can't treat them with skin grafts and antibiotics, sometimes we need to do amputations."
Amy Hicks said she's seeing those wounds more and more often in her role as Regional Outreach Director for the Recovery Epicenter Foundation.
"I'm seeing a lot of open wounds that won't heal, especially in the homeless community," Hicks said.
She tells us she gives those people first aid supplies, encourages them to get professional medical care, and talks to them about xylazine.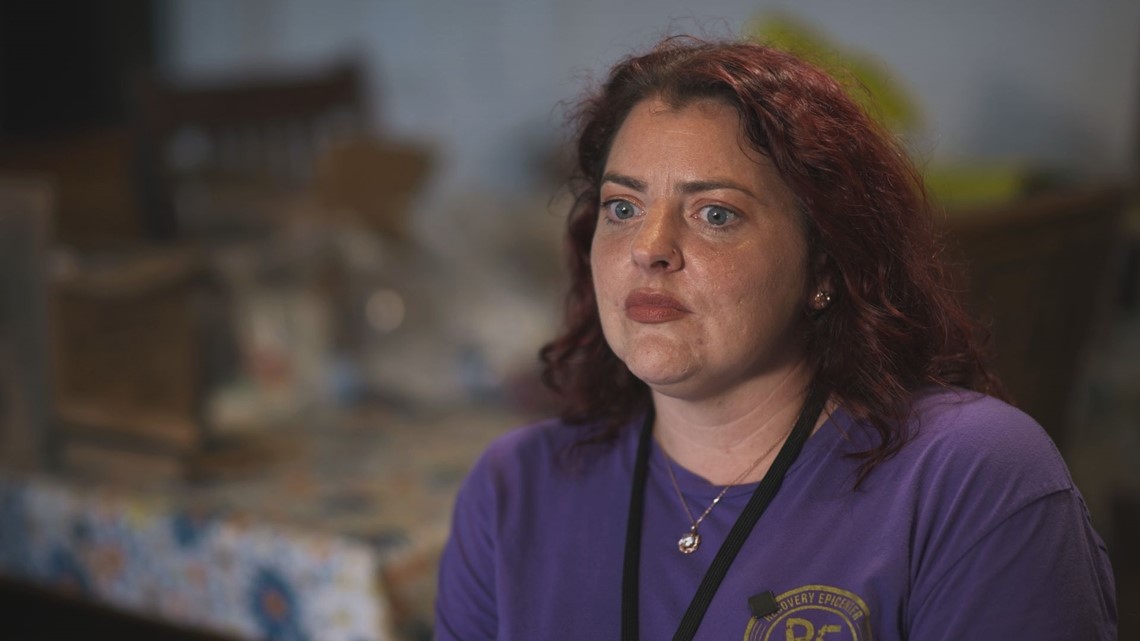 "It's important to me because, in my life, I have needed help to get sober and maintain my sobriety. And there were certain people that, I think, without them, I wouldn't have made it. And so, I want to give back," Hicks said. "They need more help than I can give them. So, that can be hard."
Hicks and her colleagues give the homeless what they call "recovery starter kits."
"Basic hygiene items… raincoats, washcloths, cooling towels, nail clippers," Hicks said. "And then we include Narcan."
When every second counts, the homeless can use Narcan to help each other until first responders get there.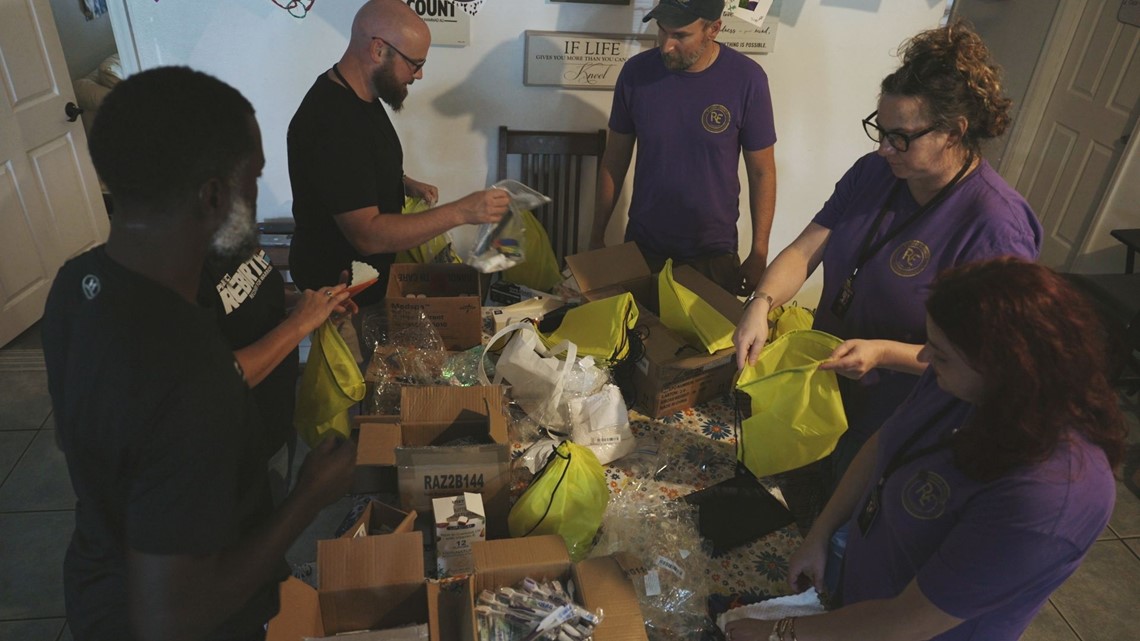 Even though naloxone doesn't affect xylazine, experts stress it's still a good idea to have it around in case of an opioid overdose.
You can also see all of 10 Tampa Bay's in-depth reporting on the fentanyl epidemic in our series, "Overdosed." These stories explore possible solutions like drug testing strips, safe places to use, and tougher prosecution for those who deal deadly drugs.