ST. PETERSBURG, Fla. — A committee at North Shore Elementary unanimously approved to keep the film, "Ruby Bridges," following a parent's complaint about the movie on the civil rights icon that was shown to second-graders.
A School-Based Review Committee met Monday to determine the film's fate. Every committee member watched the film, reviewed the objection form provided by the parent, and was given District Policy and professional review materials, Pinellas County Schools said in a news release.
The committee also heard from the teacher that used the movie for classroom instruction and a district content specialist. The parent was invited to speak with the committee but did not attend Monday, Pinellas County Schools added.
During the review process, the committee considered factors such as grade-level appropriateness, the educational value of the materials shown to the students and parental permission requirements. The meeting was open to the public. Decisions can be appealed to the District Committee for Challenged Materials.
News that the school had pulled the movie quickly made headlines nationwide. A parent at North Shore complained the movie taught racial slurs and that "white people hate black people."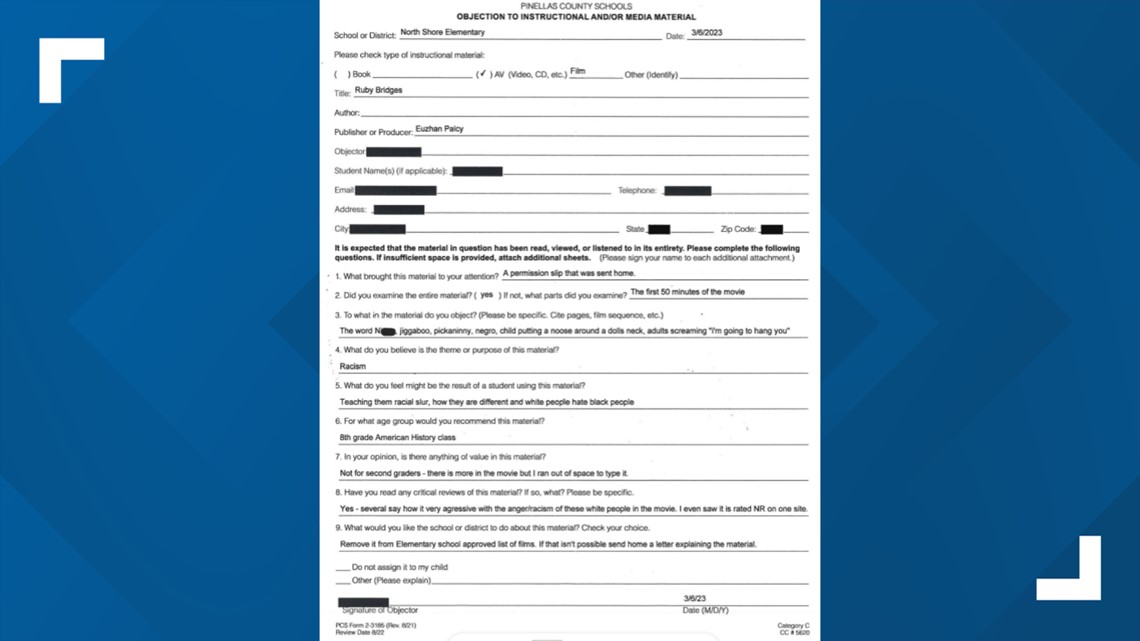 "It's apparent that individuals are trying to rewrite history and virtually erase African American contributions," Goliath Davis said, a columnist and former St. Pete deputy mayor, who first wrote about the complaint in The Weekly Challenger.
According to Pinellas County Schools spokesperson Isabel Mascareñas, about 60 second-graders watched the movie, with parent permission, as part of a Black History Month lesson. The permission form included a link to the movie trailer.
The parent who filed the complaint did not allow his or her student to watch the movie and said it is more appropriate for 8th graders.
The parent's actions, however, did not just impact their child but led to the movie being pulled until a School-Based Instructional Materials Review Committee can weigh a decision.
Ruby Bridges made history as a 6-year-old when she integrated an all-white school in New Orleans. This inspired the iconic Norman Rockwell painting titled, "The Problem We All Live With."
Federal marshals escorted Bridges into her school where she learned alone with her teacher for the entire school year because white parents had pulled their children in protest.
"If [Ruby] endured that, there's nothing wrong with teaching second graders or others that behavior was wrong," Davis said.
Following the decision to keep the film in Pinellas County Schools, the committee will prepare a report of its findings that will be available on the district's Library Media Technology webpage.