TAMPA, Fla. — Three new toll routes are planned for Florida: One entirely new road from Polk to Collier County, an extension of the Florida Turnpike west to connect to the Suncoast Parkway and an extension of the Suncoast Parkway to the Georgia border.
The task force in charge of these plans is called the "Multi-use Corridors of Regional Economic Significance" or M-CORES. They met for the first time to unveil plans for all three tollways and outline responsibilities.
The Florida Department of Transportation also accepted public comments during the meeting at the Tampa Bay Convention Center.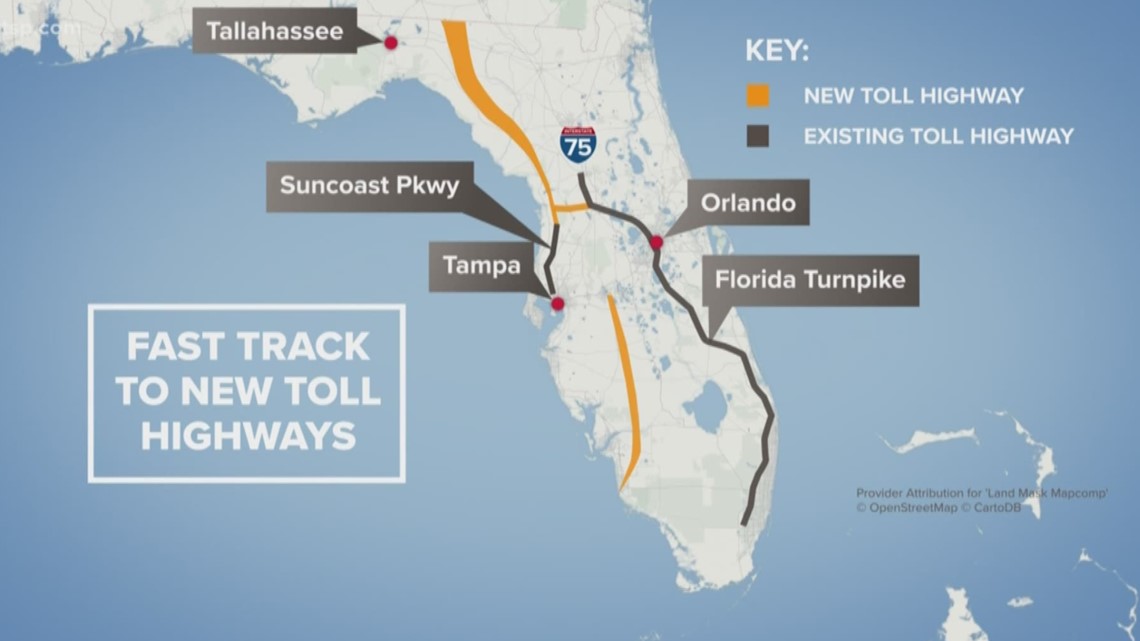 Supporters of the new routes say they will create jobs and spur economic growth in rural areas, ease traffic congestion and improve hurricane evacuation routes. The new routes have large support from legislators in Florida, including Senator Bill Galvano.
People against the creation of the new tollways say the roads will increase urban sprawl and drive out wildlife in the undeveloped areas. Progress Florida is calling this project "Roads to Ruin" saying, "We won't stop until this boondoggle is stopped once and for all."
The M-CORES task force is spending the next year traveling the state to research and hear from the public. That's because the plans are not definite and FDOT is looking at all options.
Kevin Thibault, Secretary of Florida DOT said, "We're not stuck on just a highway road. We're looking at all options for transportation modes because it is multi-use, multi transportation corridors."
The secretary says freight rail or truck-only lanes are all on the table. While the future of these roads is unclear, one thing is certain -- you'll pay for these toll roads every time you're on them. Our environment will pay, too.
Just outside the Tampa Convention Center where the task force meeting was held Tuesday morning, people protested the project, even stopping traffic to make a point.
"We're here to let folks know that we cannot let these people go through indigenous land," said Zulema Ramos, a rally organizer with Extinction Rebellion Tampa Bay.
In addition, opponents say it will drive out wildlife and handoff too much money to the highway construction industry.
There will be six other M-CORES task force meetings across the state over the next year. They must submit a report to the governor by Oct. 1, 2020. Construction is expected to start no later than December 2022.
The public is encouraged to voice their opinion by e-mail to FDOT.Listens@dot.state.fl.us or by mail to:
Ann Howard
Communications Director
605 Suwannee Street
Tallahassee, FL 32399-0450
What other people are reading right now: