LAKELAND, Fla. — A 7-by-9-foot painting hanging on the side of the Miller Building shows Greek god Dionysus surrounded by dark figures as he falls.
Some have said the art is inappropriate for public display and appears "dark and satanic."
The piece's creator, Aaron Corbitt, wrote in a March 23 Facebook post that his art has to be taken down. Corbitt said, "never in my career would I intentionally insult or offend a religion or culture with my artwork."
"My intentions for this painting were strictly personal, dealing only with my abuse with alcohol that led me to a downward spiral that almost cost me everything," Corbitt wrote.
Lakeland painting of Dionysus removed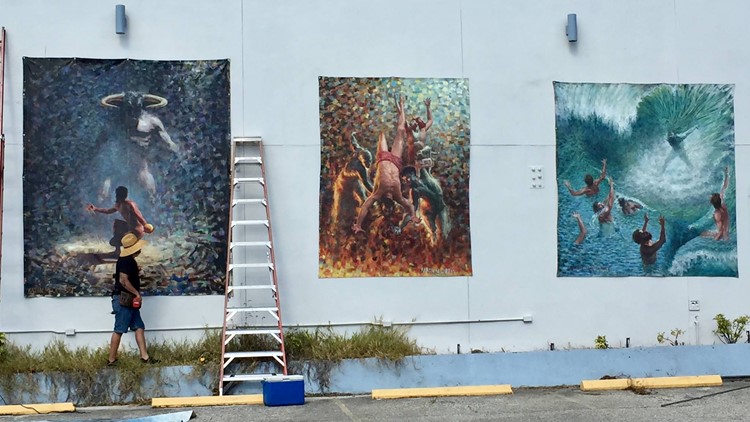 The Lakeland Ledger said Corbitt has been sober for nearly two years. Corbitt said the figure of Dionysus falling is a "self-portrait" and the dark figures around him represent aspects of Corbitt's psyche.
The Ledger said the painting was one of five in a mythological series displayed on the building at 401 S. Florida Avenue in Lakeland. Others depicted scenes involving Hades and Zeus.
Dionysus is the Greek god of wine and wine-making.
The Ledger said the painting's imagery was criticized in a Facebook post by resident Joel Vann. His comments caught the attention of city officials and Mayor Bill Mutz, according to the Ledger.
Vann also responded to Corbitt's Facebook saying, "The best I could interpret from looking at it, was that it seemed confusing, dark and satanic like to me."
"In my opinion, you have many great pieces that are suitable for a public space, however this particular piece is too subjective & made for a gallery not the busiest street in Lakeland," Vann wrote. "I know nothing about Greek mythology, and I would assume many people in Lakeland don't either."
The Ledger said the Tapestries Lakeland series was commissioned by David Nelson Collins. Collins said Corbitt's piece was taken down last week after the two discussed the criticism on social media.
What other people are reading right now: