'In the jaws of a beast': Tampa Bay triathlete recovers and recounts attack by massive alligator
After surviving an attack that could have taken his life, the road to recovery has been another battle J.C. LaVerde is facing head-on.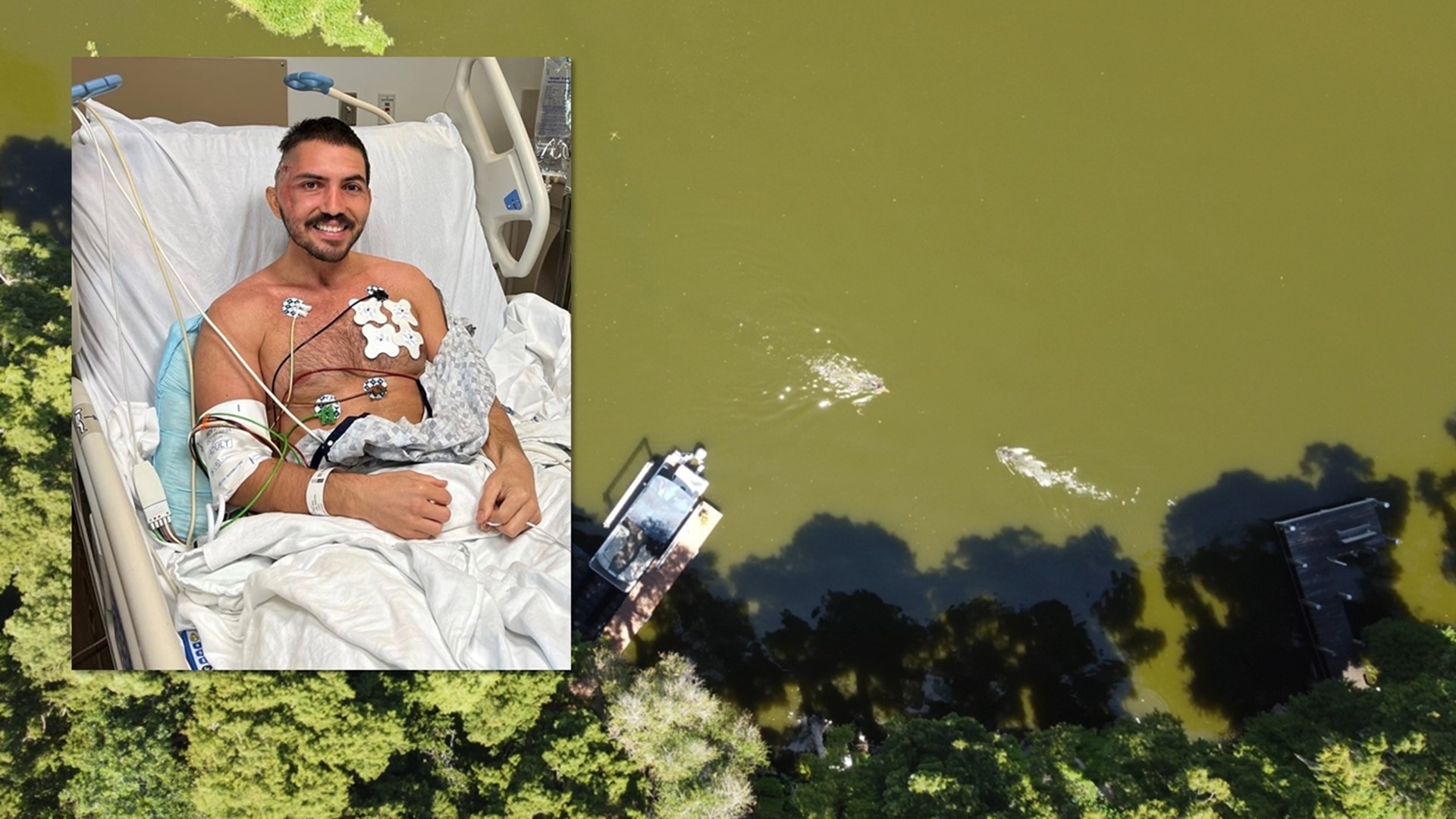 In the backyard of world-class triathlete J.C. LaVerde, you will see blow-up alligators floating in his pool. It is dark humor from LaVerde's friends and a reminder of an attack that nearly took his life.
On Aug. 3, LaVerde was at Lake Thonotosassa preparing for an upcoming swim, bike, run adventure race. The plan was for a drone to capture video of LaVerde swimming the course.
"The goal was to get that video done and show the athletes via the website what the route actually looked like," he said.
LaVerde said his first mistake was not having safety precautions in place.
"It's my job to mitigate the risks of that adventure," LaVerde explained. "I was going to have three boats and five kayakers."
Lake Thonotosassa is the largest natural lake in Hillsborough County.
"There's tons of gators in there," said 16-year-old Seth Wynn who fishes on the lake.
As LaVerde swam alone near the shoreline, drone video shows a massive alligator swimming toward him.
"I had no idea that dinosaur was there," LaVerde said describing the encounter. "I immediately felt scales, scales, scales and then teeth. I was inside its mouth. It's whole mouth. I felt teeth. I felt his tongue."
Survival training
:
"There was no time for feelings."
During those harrowing moments after the attack, LaVerde relied on his life-saving experience as a paramedic rescue specialist in the Air Force. That training, along with being an Oldsmar firefighter, kept him calm after coming face-to-face with the alligator.
"There was no time for feelings," LaVerde said.
Drone video shows LaVerde swimming to a dock and walking toward a house to find help. The first person he saw was 8-year-old Ella Wynn.
"He was facing the other way," Ella said. "So, I didn't know he was hurt."
The right side of LaVerde's skull was crushed and blood was running down his face.
"I didn't want to scare her and I didn't want to cause her any trauma because I knew, I realized what this would look like," said LaVerde who asked Ella to get her mom. "I would look like a monster probably."
Family that helped LaVerde following attack
"I could see definitely half, like the upper portion of his skull was bit through. He was bleeding. It was coming down his face," Alison Wynn said.
LaVerde told Alison he had been attacked by an alligator and needed to get to his vehicle.
"I was very worried that we weren't going to get him help in time because he was losing a lot of blood," Wynn said.
LaVerde's immediate concern was finding the drone pilot to assure him he was alive.
"He thinks I'm dead. He thinks I'm dead," LaVerde recalled. "So the mission changed from going to the hospital to, I have to make sure that Matt knows I'm not dead."
Trauma and terror
:
LaVerde's wife remembers thinking her husband was gone.
At Tampa General Hospital, CT scans revealed LaVerde's skull was crushed and his jaw broken by the jaws of the gator.
His wife, Christine LaVerde, is an oncology nurse and arrived not knowing if her husband was dead or alive.
"He was in the ER," she said. "I didn't, at this point, know if he was alive or dead."
Hospital staff escorted Christine to a private room where there was a chaplain.
CT scans showing LaVerde's skull
"And I thought, okay, I've seen this movie," she said, replaying what went through her mind. "They're going to tell me he is gone."
After surgery, with a piece of his skull missing and his mouth wired shut, LaVerde was talking and grateful to be alive.
"Hey guys, I've had surgery. I'm all good," LaVerde said from a hospital bed. "Thank you so much for your prayers."
In the days that followed, recovery was painful and painfully slow for a man who lives for speed.
"He's literally a walking miracle," Christine LaVerde said. "God's truly blessed him."
Reunion on Lake Thonotosassa
:
A family in the right place at the right time.
Three weeks after the attack, J.C. LaVerde reunited with the family that saved his life. J.C. and Christine brought orchids and a card with a handwritten note, "To the best of what humanity can/could produce," he wrote.
As J.C. hugged Alison Wynn, she said, "I'm so glad you're here."
"I don't even hardly recognize you to be honest, Alison's teenage son, Seth, told LaVerde. "He's looking a lot better than when we found him."
Eight-year-old Ella Wynn hugged LaVerde and responded, "It's cool." Afterward, LaVerde commented, "It's really nice to see them."
Food and faith
:
From training advice, to pureed food, LaVerde's support system helps with recovery.
Following the attack, LaVerde wears a helmet to protect his brain. Part of his scalp is missing.
In his garage, his bikes sit unused while a trainer offered LaVerde advice on how to heal.
"Let's back away from the physical stuff," the trainer advised.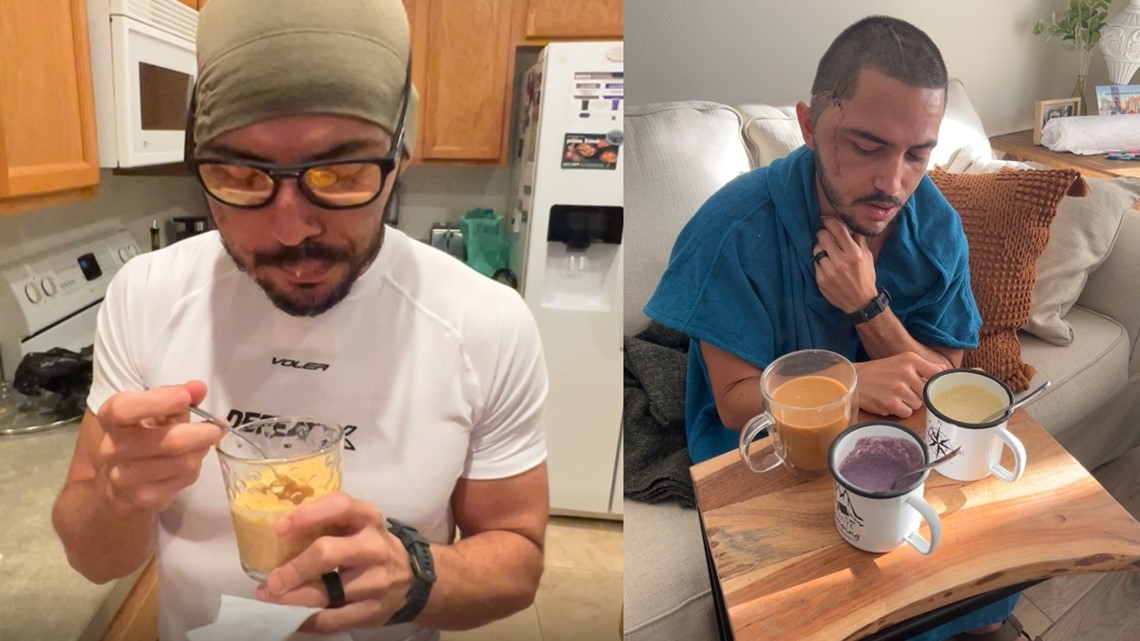 With his mouth wired shut, Christine LaVerde pureed food.
"We've got some eggs, bacon and hash browns," said Christine with J.C. responding "Oh, man! I love you."
Setback
:
Bacterial infection causes concern.
In October, while on vacation in North Carolina, J.C. and Christine LaVerde noticed puss oozing from his head. It was a bacterial infection that required immediate attention.
"An infection in an area where you don't have a skull. Yeah, I could have a brain infection," he said.
They immediately flew back to Tampa and carried their suitcases into Tampa General Hospital. LaVerde could see the concern in the emergency room.
"Mainly because I saw the worry in my wife's face and also the doctors," he explained. "The way they were, I know that look. I was like, I guess this is how I'm gonna die."
After reopening his skull to clean out the bacteria, LaVerde was sent home. For six-weeks, he is self-administering IV antibiotics.
Strength & recovery: J.C. LaVerde's story after being attacked by an alligator
LaVerde spends his day reading, writing and reflecting.
"If Christ is not in my corner, there's no corner at all," LaVerde said.
His long hair has been shaved, his skull is misshapen and there is a prominent scar on the right side of his face.
"It's one of the times I felt depressed a little bit and insecure about myself," he said, "Cause I was looking at myself in the mirror. Sometimes I see a monster. I do."
How he survived
:
"I never went to alligator wrestling school in the military."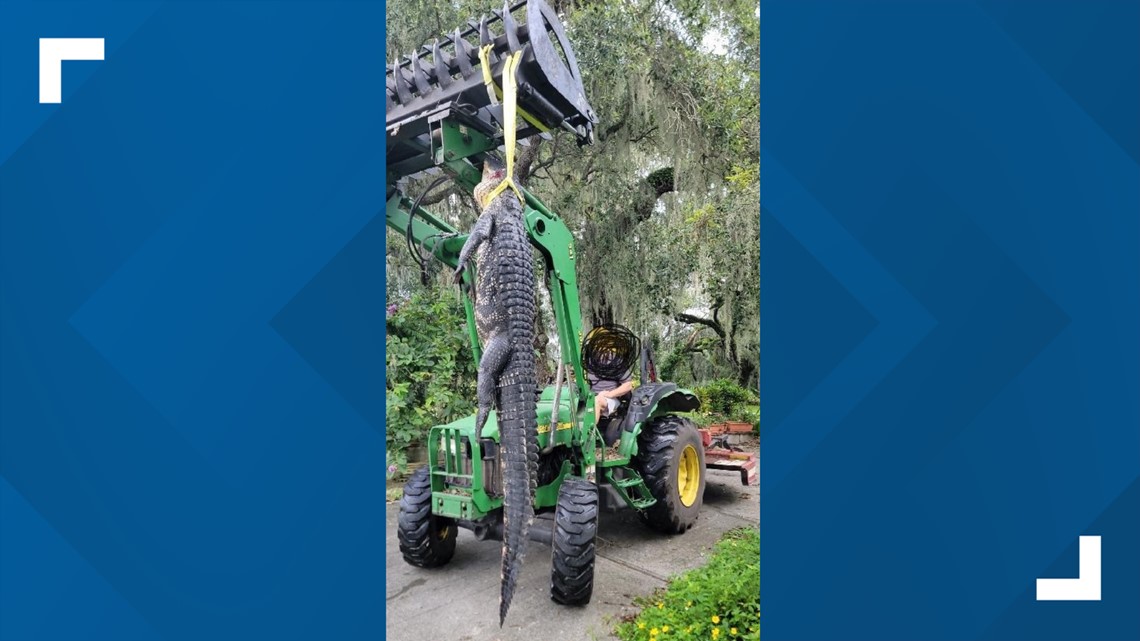 "As I turned it, it goes into this momentary phase of tonic immobility and then it must, at that point, just kind of let his jaw probably loosened up." LaVerde said he was acting on instinct. "I never went to alligator wrestling school in the military."
The journey ahead
:
Using his story to inspire others.
After six weeks of antibiotics, LaVerde is hopeful doctors will give him the all-clear to replace the missing piece of his skull. He hopes the attack can inspire others to persevere.
"It's a gift in so many ways," he said. "Even the scar."
LaVerde owns an adventure company called "Defeat X" that helps train athletes.
The "X" stands for that struggle in all of our lives that we hope to conquer.
LaVerde said the X he defeated is the massive alligator in Lake Thonotosassa. He plans to resume his training of athletes in January.
"Life is a blessing," he said. "Life is a blessing and I'm blessed to still live here."