TAMPA, Fla. — Major hurricane-force winds of 120 mph are forecast as Hurricane Laura makes landfall sometime late Wednesday or early Thursday along the Texas/Louisiana coastline, according to the National Hurricane Center.
In addition to the destructive wind threat, "potentially catastrophic damage" from storm surge also is said to be possible from about San Luis Pass, Texas, to the mouth of the Mississippi River.
As the storm continues churning over the central Gulf of Mexico, the ingredients -- including warm sea surface temperatures and low wind shear -- remain there for the storm to rapidly intensify, forecasters said.
This means the 90-mph Category 1 storm, as of the NHC's Tuesday night advisory, could become at least a Category 2 or 3 hurricane in no time. A storm is considered "major" at Category 3 or higher, with maximum sustained winds of 111 mph or greater.
Laura is forecast to be the first major, Category 3 storm of the 2020 Atlantic season.
People who live along the upper Texas and Louisiana coastline, roughly from the Houston metro area to central Louisiana, are warned to finish storm preparations now.
Hurricane Laura is located about 405 miles southeast of Lake Charles, Louisiana, moving west-northwest at 17 mph.
Laura is forecast to bring a dangerous combination of storm surge, rain and wind to the east Texas and west Louisiana coast.
The combination of a dangerous storm surge and the tide will cause normally dry areas near the coast to be flooded by rising waters moving inland from the shoreline. Some areas could see storm surge as high as 9-14 feet.
The deepest water will be along the immediate coast near and to the right of the landfall location, where the surge will be accompanied by large and destructive waves. Surge-related flooding depends on the relative timing of the surge and the tidal cycle and can vary greatly over short distances, according to the NHC.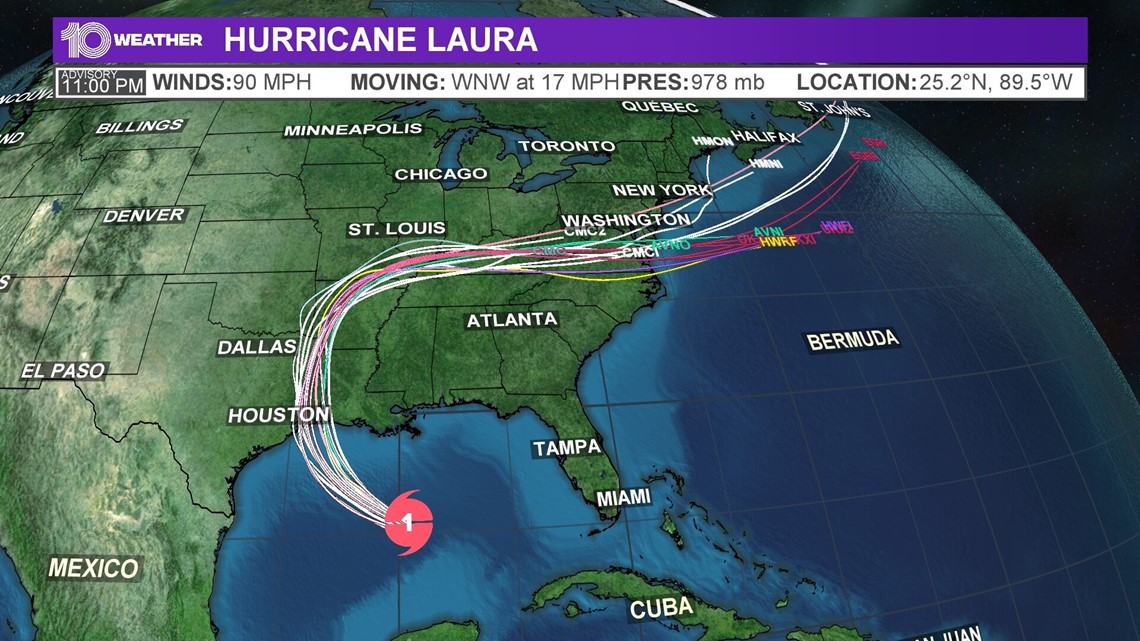 From Wednesday afternoon into Saturday, Laura is expected to produce rainfall of 4-8 inches, with isolated maximum amounts of 12 inches across parts of the west-central US Gulf Coast near the Texas and Louisiana border north into parts of the lower Mississippi Valley. This rainfall could cause widespread flash and urban flooding, small streams to overflow their banks, and minor to isolated moderate river flooding.
Watches and warnings
A storm surge warning is in effect for:
San Luis Pass, Texas, to the Mouth of the Mississippi River
A hurricane warning is in effect for:
San Luis Pass, Texas, to Intracoastal City Louisiana
A tropical storm warning is in effect for:
Sargent, Texas, to San Luis Pass
East of Intracoastal City, Louisiana, to the Mouth of the Mississippi River
A storm surge watch is in effect for:
Freeport, Texas, to San Luis Pass
Mouth of the Mississippi River to Ocean Springs, Mississippi
Lake Pontchartrain, Lake Maurepas, and Lake Borgne
A hurricane watch is in effect for:
East of Intracoastal City to west of Morgan City, Louisiana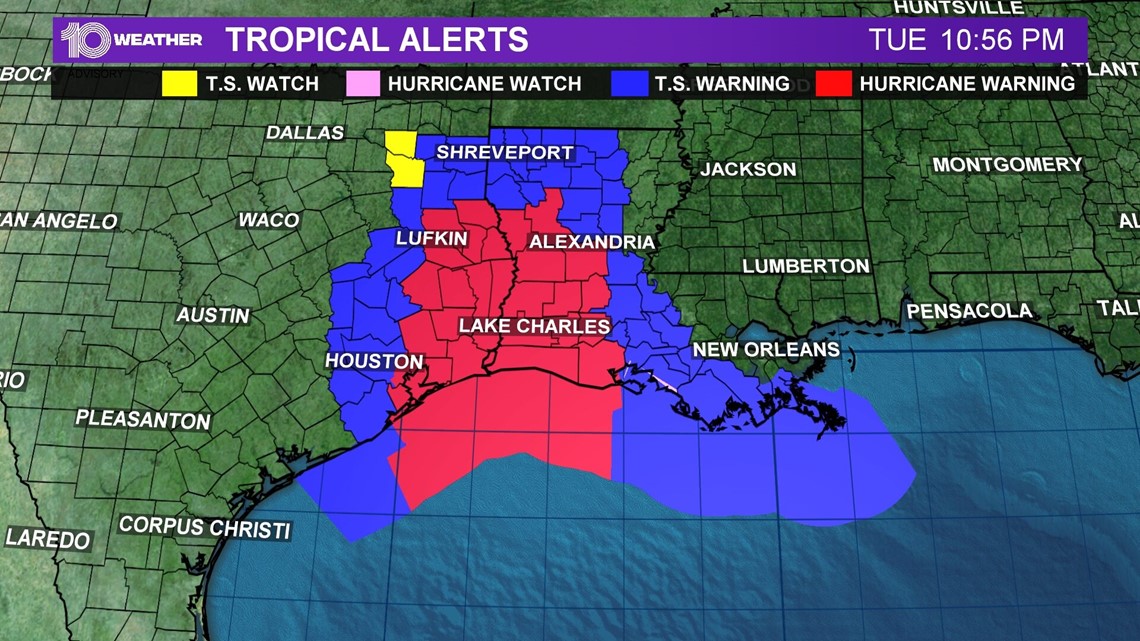 This year, the tropics have been especially active. There already have been 13 total named storms in 2020.
Hurricane Laura is the earliest "L" name on record, beating Hurricane Luis, which formed on Aug. 29, 1995.
The National Oceanic and Atmospheric Administration (NOAA) updated its 2020 hurricane season forecast earlier this month, indicating one of the most active seasonal forecasts that NOAA has produced in its 22-year history of hurricane outlooks.
The updated forecast call for 19-25 named storms, 7-11 hurricanes and 3-6 major hurricanes.
Of course, forecasts can change, especially when we're talking about the tropics. So, keep an eye on the free 10 Tampa Bay app for weather updates in the coming days.