ST. PETERSBURG, Fla. — Tropical Storm Laura has finished its trek across the Caribbean Sea and Cuba, making its way into the Gulf of Mexico.
Now in the gulf, Laura could strengthen into a category 3 hurricane. With warm sea surface temperatures and lower wind shear, ingredients for further intensification are be in place.
It's because of that threat, and perhaps a period of rapid intensification, the National Hurricane Center has issued hurricane and storm surge watches for a portion of the northwestern Gulf Coast.
In the meantime, Tropical Storm Laura is located about 85 miles northeast of the western of Cuba, with maximum sustained winds of 65 mph, according to the National Hurricane Center's latest update.
Forecasters note heavy rainfall and flash flooding are ongoing across parts of Cuba.
The Tropical Storm Warning for the Florida Keys from the Seven Mile Bridge to Key West has been discontinued.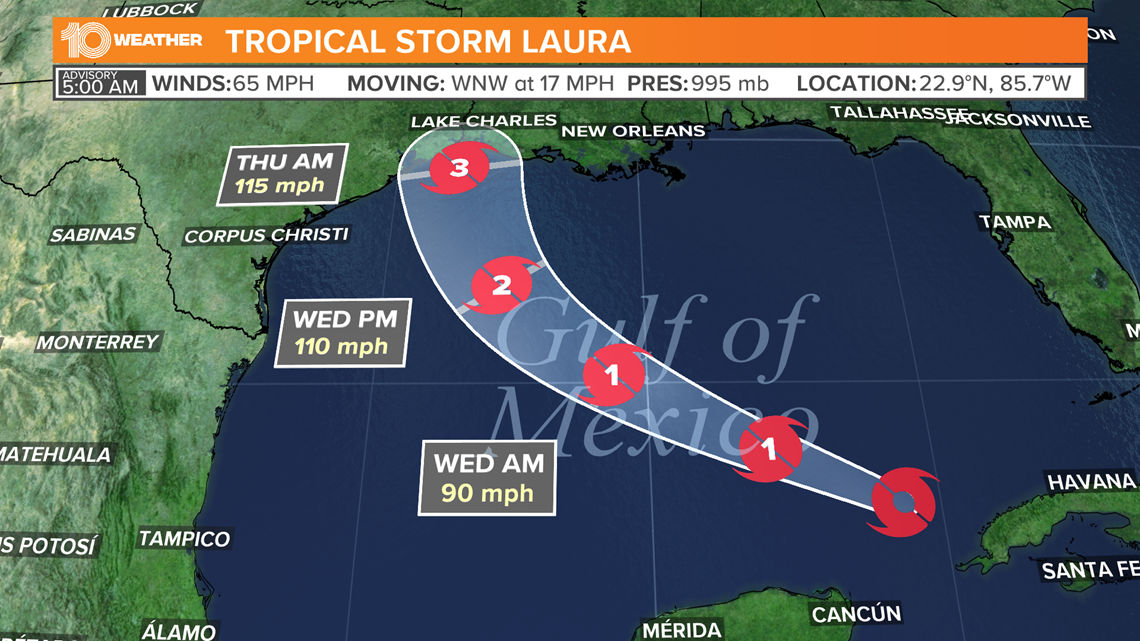 A storm surge watch is in effect for:
San Luis Pass, Texas, to Ocean Springs, Mississippi
Lake Pontchartrain, Lake Maurepas, and Lake Borgne
A hurricane watch is in effect for:
Port Bolivar, Texas, to west of Morgan City, Louisiana
A tropical storm warning is in effect for:
The Cuban provinces of Villa Clara, Cienfuegos, Matanzas, Mayabeque, La Habana, Artemisa, Pinar del Rio, and the Isle of Youth
The Florida Keys from the Seven Mile Bridge to Key West
Dry Tortugas
A tropical storm watch is in effect for:
South of Port Bolivar to San Luis Pass, Texas
Morgan City, Louisiana, to the Mouth of the Mississippi River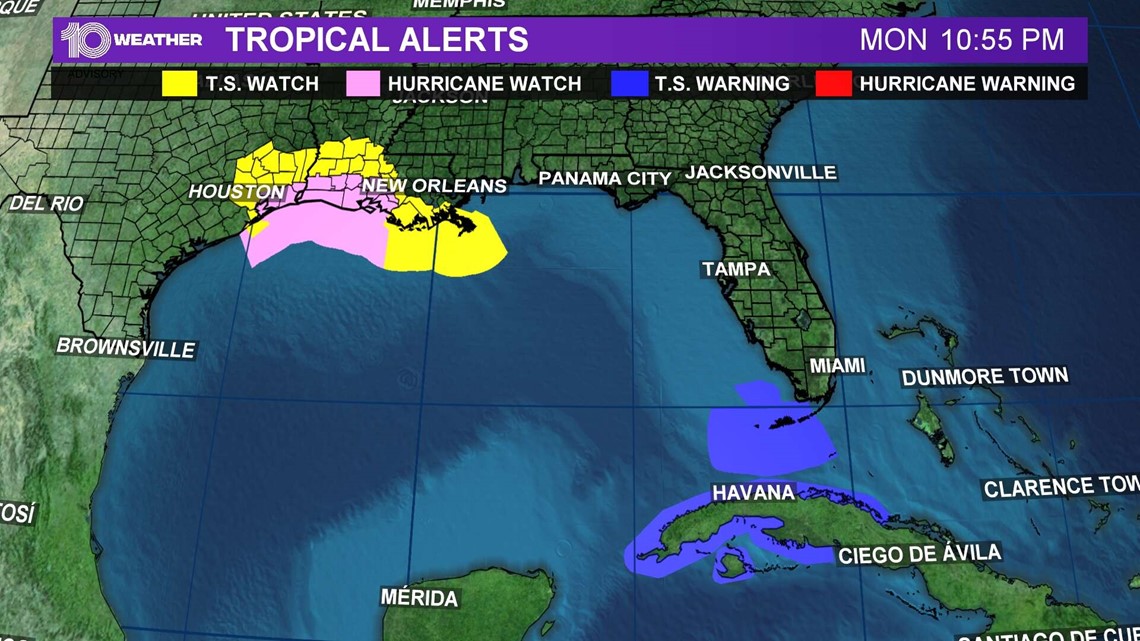 Forecasters say Laura is generally expected to keep moving west-northwest, although it will slow down a bit. The storm is expected to turn northwest by Wednesday and begin heading to the north-northwest through Wednesday night.
On the forecast track, Laura should approach the U.S. by Wednesday and grow stronger as it gets closer.
Presently, meteorologists believe Laura will become a hurricane on Tuesday and will continue to strengthen on Wednesday.
Of course, forecasts can change, especially when we're talking about the tropics. So, keep an eye on the free 10 Tampa Bay app for weather updates in the coming days.
Marco, once a hurricane, made landfall Monday evening as a tropical depression. On Tuesday morning, Marco became a remnant low just south of Louisiana.
This year, the tropics have been especially active. There already have been 13 total named storms in 2020.
Tropical Storm Laura is the earliest "L" name on record, beating Hurricane Luis, which formed on Aug. 29, 1995.
The National Oceanic and Atmospheric Administration (NOAA) updated its 2020 hurricane season forecast earlier this month, indicating one of the most active seasonal forecasts that NOAA has produced in its 22-year history of hurricane outlooks.
The updated forecast call for 19-25 named storms, 7-11 hurricanes and 3-6 major hurricanes.
We are heading toward the peak of hurricane season, and 10 Tampa Bay wants you to be prepared. Head to your Hurricane Headquarters at 10TampaBay.com/tropics for everything you need to know.