TAMPA, Fla — We're only 23 days away from the official start of hurricane season, and the countdown is on.
June 1 may be the official start date, but pre-season storms are not out of question. In fact, within the last seven years, a storm has formed outside the official hurricane season window, including Tropical Storm Ana in 2021.
That brings our attention to a low pressure system off the eastern seaboard generating some buzz online. While it may look concerning on computer models, it is unlikely to develop into our first storm of the year.

Baroclinic low pressure (a low drawing from both a warm and cold air mass) situated over the cool waters of the mid-Atlantic is nothing out of the ordinary in early May. Typically, these systems move to the north and east, but due to a blocking high over New England, the low will retrograde down the southeast coast and find itself adjacent to the Gulf Stream, a warm current of water traveling up the eastern seaboard. Storms typically need to be over 80 degree or above Fahrenheit waters.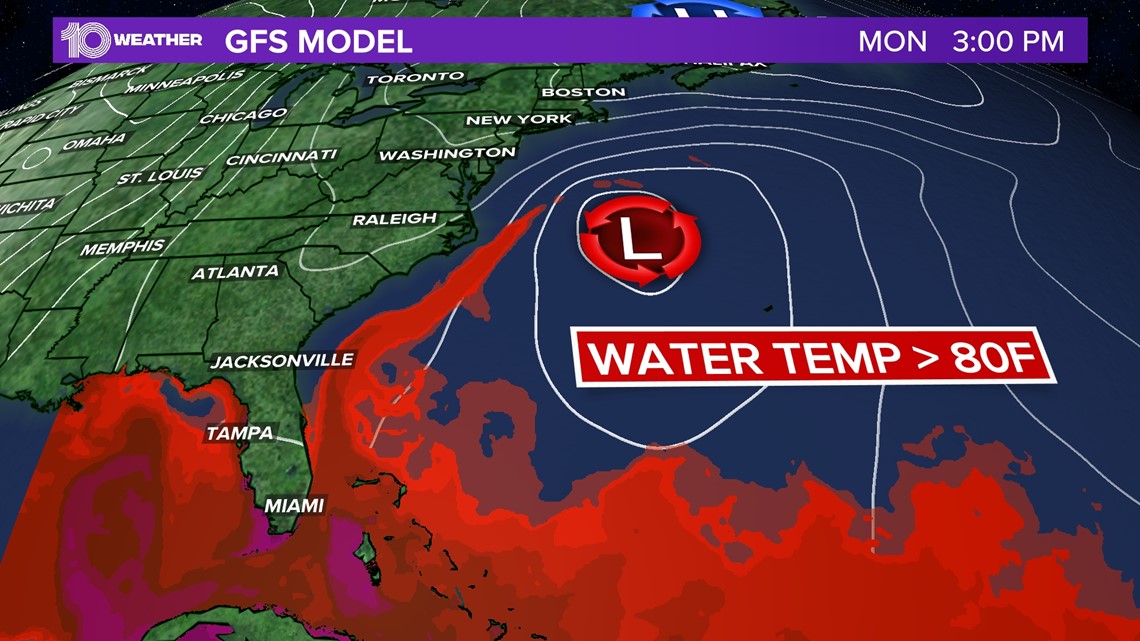 There has been some chatter regarding this low and it developing some tropical characteristics by the end of the week. While the low will tap into slightly warmer waters, experts at the National Hurricane Center say a named storm is unlikely.
"The area is a cold-core system and shows no signs of tropical or subtropical cyclone development," says Dennis Feltgen with the National Hurricane Center. "Should this change, NHC would issue a Special Tropical Weather Outlook (TWO)."
Tropical storms need warm cores (sub-tropical systems are usually hybrids of both warm and cold-cores); and while non-tropical systems like this one have acquired warm cores via shallow convection in the past, in this case, it is unlikely.

As the area of low pressure nears the Florida coast, the most it will do is bring in additional moisture and bump up our rain chances slightly, with most showers focused on the eastern part of the state.
Meanwhile, the National Hurricane Center has marked and started tracking the first tropical wave of 2022.
The wave is located in the eastern Atlantic and has "weakened steadily" over the last 24 hours as it moves west around 20-25 mph.

We're still a few weeks away from June 1, but storms in the past have formed beforehand.
The first named storm of the season will be called Alex.
Regularly scheduled TWOs begin for both the Atlantic and eastern North Pacific basins on May 15, a couple of weeks before the official start of hurricane season on June 1.